« Unable to Start Processing Services | Main | Windows XP Search Companion Sucks »
March 25, 2008
Windows Genuine Headache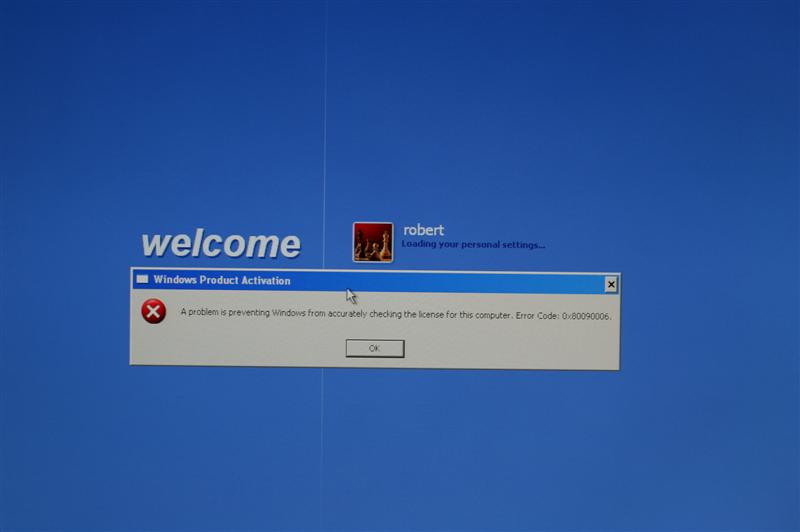 After giving up on trying to repair my previous installation of Windows XP, and recovering my old data files using a Linux live CD, I did a clean re-install of Windows XP with Service Pack 2. During setup, the hard drive was formatted (regular, not quick).
Windows installed without incident. After applying about 90 security updates, I rebooted the computer, and got the following error message:
Windows Product Activation
A problem is preventing Windows from accurately checking the license for this computer. Error Code: 0x80090006.
When I try to log in, I get taken back to the logon screen, with the same error message. Over and over and over.

Related Posts:
Technorati tags:

Delicious tags:

Folksonomy:These icons link to social bookmarking sites where readers can share web pages.

Posted by Robert Racansky on March 25, 2008 at 09:55 AM
Trackback Pings
TrackBack URL for this entry:>
http://www.peeniewallie.com/mt/mt-tb.cgi/1670
Comments
Reading about this is like reading someone's step-by-step descent into the seven levels of Hell.
Only prayer or a new computer is going to save you, I think.

Posted by: Barry on March 25, 2008 at 12:34 PM
Well, my MacBook is my primary computer, so I'm not at a total loss. However, I do have a few (non-critical) Windows applications that I'd like to use.
But yeah, for some reason this does seem like a descent into Hell. And I administer Windows servers for a living! I'm not sure what any prospective employer is going to think if a web search for my name leads him here. (That, and it makes it hard for me to deny that I know Rob Kiser).
As I stated in an earlier post, this all started when I applied the March 2008 security updates for Windows. I was hoping that an operating system re-install would be quicker than troubleshooting, as it usually is, but that hasn't turned out to be the case.
There's an update to this post that I'll add later, when I have some more time. I'd definitely like to get it written down while it's still somewhat fresh in my mind. Hopefully, recording this experience for posterity will help somebody in the future.
Posted by: Robert Racansky on March 25, 2008 at 01:39 PM
And, just for clarification, Robert and I are both grappling with major computer problems. In different places for different reasons. My Windows XP machine is a few years old and kept getting slower and slower and I finally tried to speed it up by running some shareware utilities to clean out the registry and archive the old .dll files. Somehow, this hosed it royally so I had to reinstall XP from scratch. For the record, though, I've turned the corner. After 2-3 days of hard work, my PC is back up and running and my files are all restored and it's much faster than before, for what it's worth. I still have some tweaks to do going forward, but it's working and has my files on it so I'm going outside to put up some Western Bluebird houses. :)
Posted by: Rob Kiser on March 25, 2008 at 02:44 PM
Post a comment