« Hillary Poised to Destroy the Democratic Party | Main | BigDog - DARPA's New Toy »
March 20, 2008
Windows
A while back, I wrote about the problem I had with Ubuntu, and my decision to re-install Windows XP on my workstation at home.
After installing the Windows updates for March 2008, my home computer will not start up properly.
It will go through POST (power on self test) normally. But instead of starting Windows, I am presented with a menu for
Safe Mode
Safe Mode with Networking
Safe Mode with Command Prompt
Last Known Good Configuration
Start Windows Normally
No matter which option I select, the computer will just POST again.
At least my MacBook hasn't let me down yet.
UPDATE: I tried the fix recommended by The Great Nair in the comments section below. Unfortunately, neither fixboot nor fixmbr worked. As before, it just keeps starting over and over.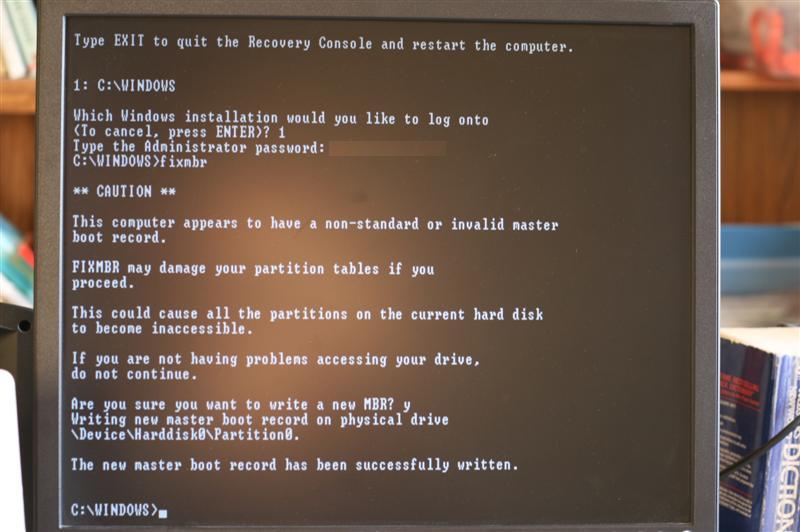 ANOTHER UPDATE: Somewhere on the web (I'll post the link later), I found an article suggesting to run a setup and repair of Windows, rather than using the recovery console (just like this guy tried to do). When prompted to either "set up Windows XP now" or "repair a Windows XP installation using the Recovery Console," press the ENTER key to set up Windows XP.

Setup gives the option "to repair the selected Windows XP installation" or "continue installing a fresh copy of Windows XP without repairing." Press R to repair the current installation of Windows XP.

After completing the setup and repair process, Windows would appear start normally, but then go to a blank screen with the mouse cursor.

The mouse would move the cursor about the screen in a normal manner, but neither the mouse click buttons nor the keyboard had any effect. The startup process never got past this stage, even after several hours.
At this point, I decided to do a clean re-install of Windows, since it would be less time consuming than trying to fix the problem with the existing Windows installation. But first, I needed to recover the data files I had on that computer. Fortunately, I was able to use PC Linux OS 2007 to do that. You can read about that here.

Related Posts:
Posted by Robert Racansky on March 20, 2008 at 11:40 AM
Comments
hi...
The best option for you is trying to fix the boot sector through Recovery console.
The detailed process is given in http://nairswindow.blogspot.com/
Pls try this and all the best.
Posted by: The Great Nair on March 20, 2008 at 1:19 PM
Post a comment