« OMG - This is Why I hate Computers! | Main | Hillary Implodes »
February 27, 2008
Ubuntu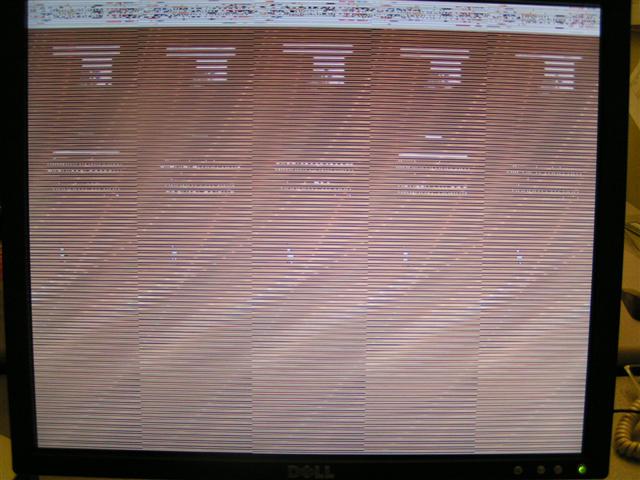 December 8, 2007: Ubuntu 7.10 at startup
This is my computer on Ubuntu 7.10.
It worked fine for about 2 weeks. After 2 weeks, it would only display in 800 x 600. Then after another week, for some unknown reason, it displayed this on startup -- which rendered it unusable.
Video card is an Nvidia GeForce 6800 GT.

Back in November 2007, my Windows XP desktop computer at home finally died, due to a hard drive failure.
Having switched to Mac OS X 3 years earlier, I wasn't too upset about the loss. The PC had been relegated to a few secondary tasks anyway; and I rarely used my home office anymore, since the acquisition of a laptop in September has allowed to me work from any room in the house.
Instead, I considered this an opportunity to finally banish Microsoft from my home, and convert my desktop PC to Linux. After installing Ubuntu 7.10, everything worked fine for about two weeks; except for trying to get some QuickTime videos from the Apple Trailers site to play properly. But I figured it was nothing I couldn't fix.
Then I had the problem where it would only display 800 x 600, and then finally the scrambled screen shown above.
At that point, I re-installed Windows XP. Which is too bad, because I really wanted to like Linux.
December 9, 2007: Installing Windows XP from the CD-ROM
But at least my MacBook hasn't disappointed me.
UPDATE (March 20, 2008): Click here to read about what eventually happened to the Windows XP install.
Related Posts:
Posted by Robert Racansky on February 27, 2008 at 1:47 PM
Comments
Post a comment