« Things That Go Bump in the Night | Main | Repairing Synology DiskStation DS413 »
September 13, 2013
The Neighborhood Car
So, my Tahoe is in the shop because the fuel pump went out last week. It has an arsenal of guns inside of it, which is somewhat concerning to me, as I'm not sure how they would handle it if they figured this out.
Today I have to go pickup Jen, so I finally crawl out of bed. Load the dishwasher, run it, clean up my bedroom as best I can, and run down the hill to get Jen.
Now, the car I'm driving is essentially a "neighborhood car". It's a car that the neighbors maintain, and loan out as needed for emergencies. The closest thing to it that I'm aware of is the "airport car", which is so cool there aren't words, but I don't really feel like going into it at this point. Basically, it's a free car to drive. Treat it good. Fill it with gas. Keep the karma flowing.
I'm rolling down the hill in a light rain. It has rained all week, and I'd wager money this week has been the wettest on record in Colorado's history. The Climate Change zealots were calling for a drought, and instead we got a flood, but no matter. All they have to crow is that "it changed!", and then they pat themselves on the back for being such disciplined scientists.
Head down the hill and swing through Morrison for gas as the car is below Empty. Fill up with 10 gallons of gas in the Subaru, but now I notice a bunch of sight-seers checking out Bear Creek. Ogling and taking pictures of the flooded creek with iPads and such.
Pick up Jen from school, go to the Chevy dealership to pick up the truck, but of course, Jen and I test drive it, but they haven't fixed it, so we head back to the shop. At the shop, Jen has an idea.
"Let's get the guns out while we're here..." she offers.
I'm like "Bingo!", so we start transferring the guns between vehicles, from the Tahoe to the Subaru, one at a time, covered by a leather jacket. Eventually, Jen says "Is that all?" and I'm like....laughing...."No. Not even close."
Finally, we get the entire arsenal moved over just as a guy comes out from the Chevy dealership to see what's going on. Jen quickly covers the arsenal and slams the hatchback shut as he arrives.
I close up the Tahoe and announce flatly, "It's from when y'all replaced the U-joint....the driveline isn't balanced..." and toss him the keys.
Jen and I drive home through Morrison, and stop to shoot the raging Bear Creek. Talk to a few people. Everyone pretty much agrees that it hasn't been like this since the '70's. Really ripping.
Head back home, and just before we get to our house, police and ambulances and fire trucks everywhere.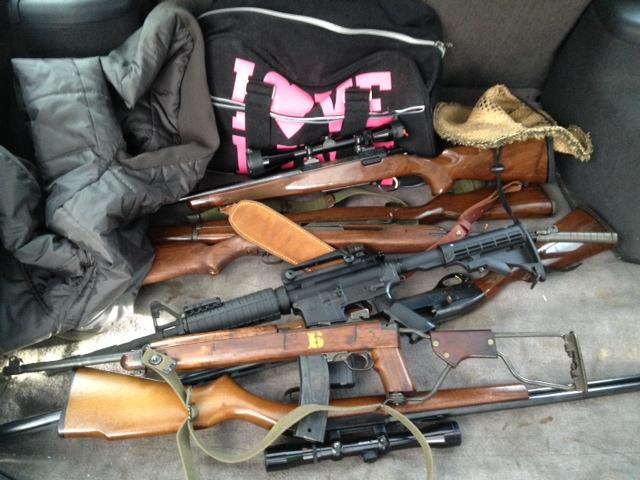 Now, keep in mind that we've got more weapons in the vehicle than the national guard. Oh...and I don't have a driver's license. When I got it reinstated, they said they'd mail it to my house, but I've never seen the thing. And, the 30 day temporary license they gave me expired some time ago. So, yeah.
We stop and ask some rubber-neckers what happened.
"Some woman lost control and ran down into that house....she's not inside of it, but right up against it I think."
Jen and I laugh about this for some time. Like it's a one car accident. How could that happen?
Drive home and unload the weapons, one at a time, dispersing them throughout the house in preparation for the zombie apocalypse.
Last night scared me. I'm glad to have my .45 back in my nightstand. Probably most people don't know what it's like to have wild animals tearing the birdfeeders down from the eaves, but it's not fun. It's scarey as hell.
Now, into the Tahoe and off to pick up Piper, just a short way up the canyon.
Grab Piper, and now up to Evergreen to see what Bear Creek looks like there. The Highway 74 through the canyon is closed. Upper Bear Creek is closed. Lots of people taking pics. Lots of police standing around looking down on the people they're supposed to serve.
We only have two guns in the car, as there were a couple in the front seat I'd missed. But we get out and take a few shots. Jen ducks under the yellow tape to get some shots of Bear Creek before the Colorado State troopers start bellowing at her in a baritone thunder to get back away from the bridge.
Down the hill towards Costco, but there's a crazy rainbow across the sky, so I pull over onto the shoulder of I-70 for some panoramic shots of the rainbow. Jennifer has to show me how to take a panorama with my iPhone.
Then down to Costco for $400 in groceries because I'm tired of living on Ramen noodles.
Drive home slowly, praying that the rain won't push loosened boulders down onto us in the canyon the way it did a while back.
By the time we get home it's dark, and we unload the groceries in a light rain. The girls go upstairs to change, and I hear a caterwauling in the dark. I tell Jennifer to call for Pokey, as her cat door is open, grab a trillion candle-light spotlight and head outside to see if the cat is still alive.
Shining the light up into the trees...this is not good. This is how we spent our nights with Timmy. We'd find him up in a tree and spend hours calling him down, before I finally gave up and left him alone to figure it out on his own.
But this is Pokey, and I know there will be a full-scale grade-A meltdown if Pokey doesn't come home tonight. No one will sleep tonight in this house if that cat isn't found.
Shining the light in the trees...looking....looking....looking....thinking about the predators up here....coyotes, foxes, mountain lions, bears, hawks, owls...I've seen all of these animals with my own eyes up here...cats don't survive long in these hills. Timmy and Pokey are the only two cats alive in Peaceful Hills. The trees are all plastered with posters of missing cats, but it's no use. They're all gone and they're not coming back.
Shine the lights into the neglected flower garden, and two glowing eyes.
"Pokey...come here baby...."
Pokey runs off behind the house, and up onto the redwood deck. Now, she's caterwauling and hissing again at Timmy, who's hiding beneath the BBQ grill. Aha. So that was the noise I heard. Not Pokey being eaten by a coyote, but Pokey screaming at Timmy to go home.
Whew. That was a close one.
Repair and replace the bird feeders.
Bring Pokey in the house, lock all the doors, turn off the outside lights, and then I load the guns, placing the around the house so I won't ever be too far away when the zombie apocalypse comes.
I plug in the spotlight so it will be recharged and put an AR-15 with a 30th round mag, collapsible stock, flash suppressor, and light mounted on the rails beneath the bed.

I won't mention the bear to the girls, I'm sure the bear will return. He's getting ready to hibernate for the winter. He loves sunflower seeds. Lots of calories. He'll be back for more. No doubt about it.
I knock on the girls' bedroom door.
"Night girls, I'm going to sleep."
And I slip into bed, hoping the bear doesn't return.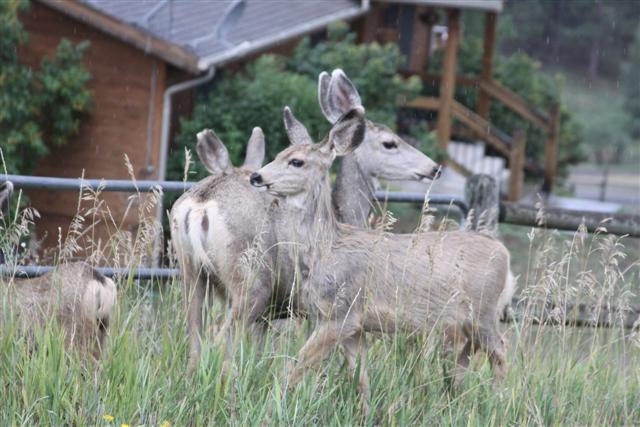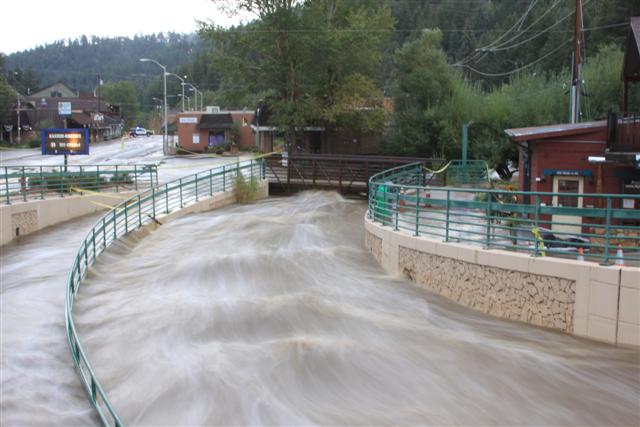 Posted by Rob Kiser on September 13, 2013 at 8:54 PM
Comments
Post a comment