« Walking In - 10/02/12 | Main | Building a Keyboard You Can Wear »
November 5, 2012
Postcards From Nowhere: Monticello - Colorado
These are some shots from when Carrie came out to Colorado in September, and also two trips where I was in Monticello, MS in September and October of 2012.
The images were all captured on a Canon EOS 50D frame and a Canon EF 100-400mm f/4.5-5.6L IS USM image-stabilized, ultra-sonic telescopic zoom lens, or on a Canon EOS 50D frame with a Canon EF-S 17-85mm f/4.0-5.6 IS USM lens.
Although I shot most of these images, Carrie shot a few good ones, including the photo above, an antique enameled oven, and the old-school coffee pot. I've attempted to call out her photos in the extended entry. Also, Alyssa and Mary took the photos the two of us at Cooper's Ferry.
This slideshow features a song by Gorillaz called Stop The Dams.
The images are compiled into an 8 Meg (3:42) Adobe Flash slideshow (Carrie2.swf) that you should be able to open and view with any browser (Internet Explorer, Firefox, Safari, etc.). To view the slideshow, just click on the photo above. If you want to view the slideshow as a Windows executable, you can play this version (Carrie2.exe), and it allows you to play, pause, skip forward, backwards, etc.
Image post-processing was done in Adobe Photoshop CS5 Extended. The slideshow was created using Imagematics Stillmotion Pro.
Click here to view the other slideshows.
Lyrics in the extended entry.
Above: Carrie took this shot of me shooting some mature bulk elk in velvet in the yard.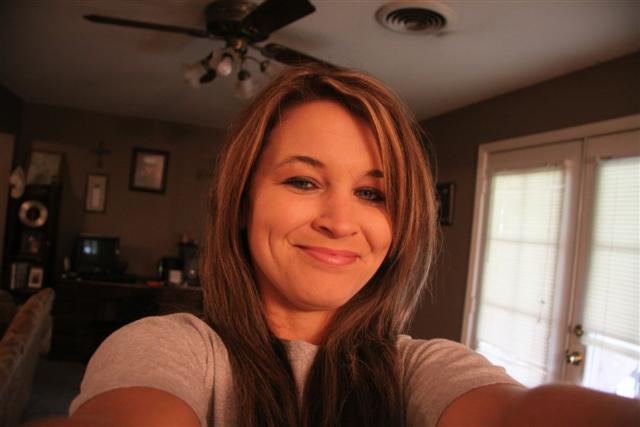 Above: Carrie self-portrait.
Above: Carrie's photo of an abandoned house in Monticello.
Above: Carrie's photo of the abandoned Monticello railroad depot, rotated 1 degree counter-clockwise.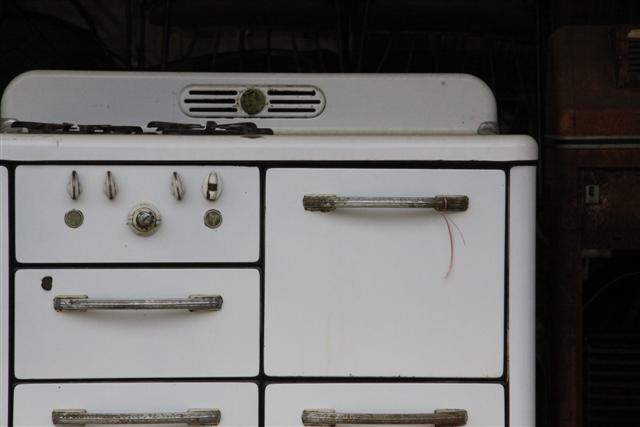 Above: Carrie's photo of an antique enameled stove near Cowboy Jim's Riverside Restaurant - Collins, MS.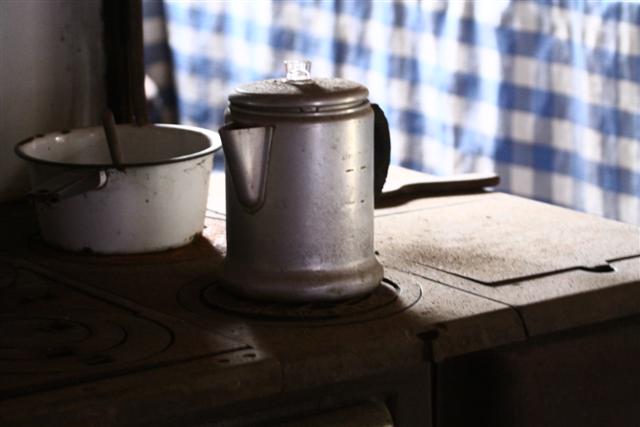 Above: Carrie's photo of an antique coffee pot.
When you're smoking tinfoil in the morning
It's gonna be a cold day
When you're keeping everything inside you
It can only hurt you
Unrelated sounds
The sun will shine again
You hold it in your hands
This young land is a young land let it stay that way
It's pollution only turns you into something
You don't want to see in the water
A reflection of them that you receive
You don't own the sun
And the sun won't shine again
So maybe you're all in love
With aluminium
The cling and a clang
Is the metal in my head when I walk
I hear a sort of this tinging noise
Cling clang, the cling clang
So many things happen while walking
The metal in my head clangs and clings as I walk
Freaks my balance out, so the natural thought
Is just clogged up, totally clogged up
So we need to unplug these dams
And make the the natural flow
It sort of freaks me out
We need to unplug the dams
You cannot stop the natural flow of thought
With a cling and a clang
Wake me up again until
We're aluminium
You hold it in your hands
The sun will shine again
The sun will shine again
The sun will shine again
The sun will shine again
The sun will shine again
The sun will shine again
Posted by Rob Kiser on November 5, 2012 at 2:20 PM
Comments
Posted by: Molly on November 11, 2012 at 9:37 AM
I LOOOOOVE this photo of the Monticello, MS Train Depot. Is there any way that I can get a high resolution copy? My husband's family is from Monticello and I'd like to blow this up as a photo in our home. :)
Beautiful work!
Posted by: Heather on October 31, 2016 at 11:43 AM
Post a comment