« Cold Busted | Main | For the Record... »
November 11, 2010
Coyote Trap on Order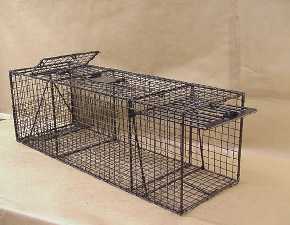 Tonight, I finally broke down and ordered the largest "live animal trap" that Minnesota Trapline Products sells. (Many thanks to David for putting me onto this outfit).
Heavy Duty Cage Traps - Dog/Coyote/Orangutans - 19" x 19" x 48" - This is our largest live cage trap. It's the real ticket for medium-sized dogs, bobcat, etc. With bait door.
Should be here in 3 business days. :)
Posted by Rob Kiser on November 11, 2010 at 5:15 PM
Comments
Minnesota Trapline no longer offers this trap, can you advise me where I can find it?
Posted by: joyce connor on October 4, 2017 at 11:20 PM
Post a comment