« Peenie Wallie Lives! | Main | Chautauqua Park, Crystal Springs, MS »
August 18, 2012
Rob's Home Network
As Rob Kiser wrote yesterday, his he has two Internet Service Providers (ISP); Wispertel/Skybeam and Century Link.
This was done because of frequent outages, which cause this web-site to go off-line for days at a time. It's not so much that the network and/or power outages last for days, but nobody is around to reboot the I.S.P. modem and/or P.C. when Rob is traveling. I've often suggested that he plug everything into one of those outlet-timers, that will automatically cycle power to his equipment once-a-day at zero-dark-thirty.

Below is a simplified diagram of his network, based on talking to him, and what I saw when I was at his place yesterday :
What Rob wants is to have two internet connections, so that
(1) he doesn't lose connectivity to the internet if one ISP fails, and
(2) connections from the internet to his web site, www.PeenieWallie.com (perhaps you've heard of it?), work if one ISP fails.
# 1 was accomplished by setting up dual network connections on each P.C..
# 2 is trickier, because even though the web server has dual network connections, there is only one DNS entry, pointing to the I.P. address owned by Wispertel/Skybeam. So if connectivity to Wispertel is lost, incoming connections to www.PeenieWallie.com are still going to be directed to the Wispertel I.P. address. Is there a DNS service which will direct incoming connections to a secondary I.P. address if the primary fails?

UPDATE & EDIT : Based on my conversation with him, I think what Rob wants is a device that can accept two WAN connections. See diagram below.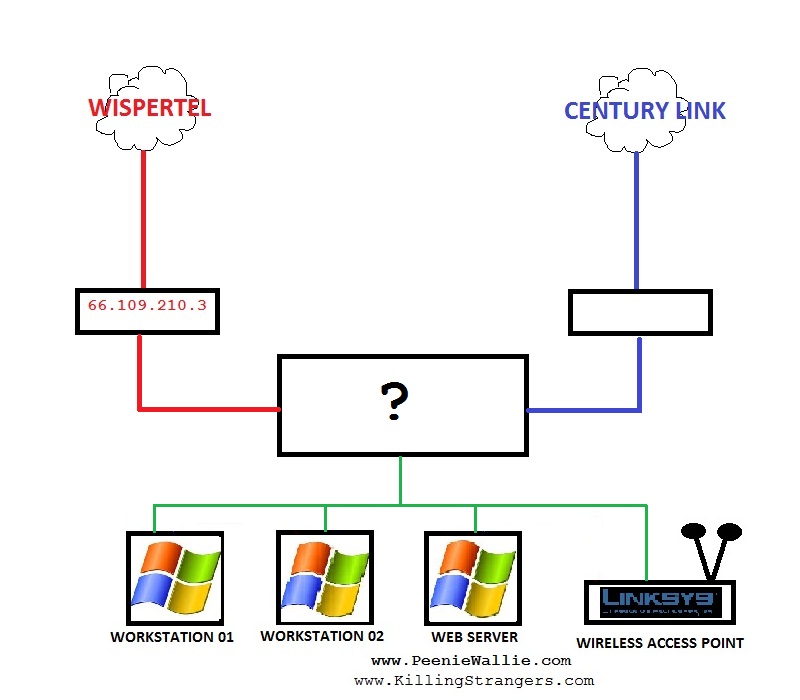 While the current setup of running a connection from each ISP to each P.C. works, it's convoluted. I believe that he would be better served with a routing device that can accept dual ISP connections, but I don't know if such a thing exists for the home user. Perhaps a P.C. -- whether running Windows or Linux or BSD -- can be configured to do that. *
Of course, my recommendation for the web server problem would be to not run the web site on a P.C. at home, but simply host it with a service like Amazon Web Services.

* A long, long time ago, when I first got DSL, the modem connected directly to the P.C. via USB instead of ethernet, so it was impossible to use an off-the-shelf router. I configured a Windows 2000 P.C. (I told you this was "a long long time ago") to be the router and firewall for my home network. Why Windows? Because it's what I knew. But that was with only one ISP; I never had to deal with dual WAN connections.

Posted by Robert Racansky on August 18, 2012 at 11:56 AM
Comments
I agree. For three time, money and effort he puts into his current setup, he could have one serious Web host.
Posted by: mgb on August 19, 2012 at 7:13 AM
Secondly, he could run it on blogger for free. Even using his domain name.
Posted by: mgb on August 19, 2012 at 7:31 AM
Post a comment