« Rob's Home Network | Main | Postcards From Nowhere: Monticello »
August 19, 2012
Chautauqua Park, Crystal Springs, MS
Lake Chautauqua
One of the oldest man-made lakes in Mississippi still in existence, the 34 acre Lake Chautauqua was constructed in 1895 by the Illinois Central Railroad for the purpose of supplying water to steam locomotives. The site was chosen in part due to Crystal Springs being the highest elevation along the railroad between Memphis and New Orleans, thus a logical stop for the resupply of water. Captain Frederick Y. Dabney designed the lake and supervised the clearing and construction of the earthen dam to impound the spring fed headwaters of Clear Creek. The lake was constructed before the use of modern machinery and employed mule teams and hard labor.
Water from Lake Chautauqua was pumped by a steam driver pump located east of here on the north shore of the lake. Banded wooden pipes carried the water from the pump to the railroad in town.
By the time of the construction of Lake Chautauqua, Crystal Springs was an important stop not only for the visitors to Chautauqua but also as a major freight hub for the shipment of locally grown tomatoes and other truck crops. Shipments of produce go back to 1870 when when peaches were first shipped followed by other produce and eventually tomatoes. Crystal Springs soon became known as the "Tomatopolis of the World" and shipped the tomatoes by rail to markets from coast to coast.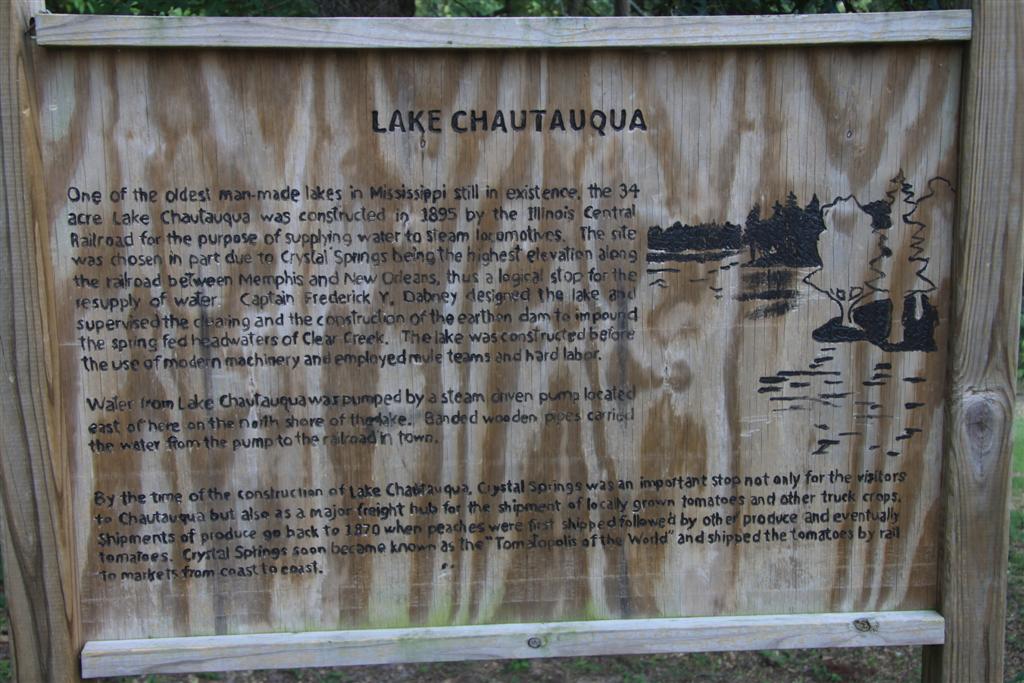 Posted by Rob Kiser on August 19, 2012 at 5:45 PM
Comments
Love this place---I used to go here with my grandparents. Dad's family goes back a few generations in Crystal Springs, and they were farmers and part of the great "Tomatopolis." There used to be a hotel at Lake Chatauqua that burned down in the early 1900s. It was quite the place to go at one time. Also, the first ever PTO met there. When you go back, if you like historical cemeteries, there is a great one on Utica Road. My grandfather and great grandparents are buried there, and there are graves that pre-date the Civil War. You can see how entire families were wiped out by the influenza outbreak of 1919. There are some really beautiful old homes in town, too. My other granddad was the principal of the high school for years (and then superintendent). It's still there, and it's really beautiful and has been maintained well. Crystal Springs is a big part of my heart. I love it. :)

Posted by: lori on August 19, 2012 at 10:02 PM
Post a comment