« Don't Look Down | Main | Southwest Pilot With Stuck Microphone »
June 22, 2011
Tomales Bay
I get off work and I'm heading across the Golden Gate toward Bodega Bay. The plan is to cut over from the US 101 to Point Reyes Station on Lucas Valley Road and head north. But as I head toward the golden gate, the sun is low in the sky and the winds are ripping across the bridge. The Marin County headlands and painted in a thick fog mayonnaise and these winds on this bridge just feel like they're going to push me into oncoming traffic any second now and this is the part I don't like. I don't like.
I dunno why I'm even going up this way. Not enough light to make the trip worth while, probably. But it's better than sitting at home in the flat, I figure. This is all that there is. I'd rather be out shooting the sunset than watching tv alone, so this is where we are. We are here.
Lucas Valley Road west through the rolling hills and then the redwood forests, emerging at Nicassio. Dogleg at Nicasio, past the Nicasio Reservoirs and now following the signs to Point Reyes Station. Now following CA 1 north along the section known as the "Redwood Highway" toward Jenner, apparently.
Once I get past Point Reyes Station, I roll downhill and come along this spectacular grassy marsh in the low angle reddish sun and it takes me a bit to grasp where I am, but as I look west, slowly it dawns on me...I'm on the east shore of the Tomales Bay, heading north. And oh my it's just spectacular. Breathtaking. The winds are pushing that mayonnaise thick fog into the crevices of Point Reyes National Seashore and who knew it would be like this? Who would have known?
Sun setting now and I'm just rolling down this little two-lane black-topped dream in Marin County. The deer are coming out now and bounding across the road hither and yon and I've never hit one but if I did, I swear it'd be the end of me. That's for certain. And they're bouncing this way and that and why on earth don't they put up Deer Crossing signs here? They're crossing at clearly defined game trails. But this is where we are.
Yerba Buena
At lunch, I made a break for the Bay Bridge just because I've never been across it on my motorcycle. No real reason except for that, really. And I'm off, heading East on I 80 toward the Bay Bridge, but I don't feel confident. Something's got inside my head and nothing's right. Nothing's right at all and I'm scared, for reasons that are not clear to me. I have no idea why I'm scared, but I'm afraid of the bike and the bridge and I don't know why I'm going across the bridge. Everything tells me not to go, but I can't think of a logical reason not to go. Only my instincts, which I ignore of course.
A motorcycle is like a woman...they're born to sense fear and I'm afraid of the bike and the bike knows this, but be that as it may, I head out across the Bay Bridge and there are no tolls when you're leaving the city. Only when you're coming in. So I'm rolling east on the Bay Bridge and I'm on the lower deck. You always get the best views when you're coming into the city. This is true of the Fort Pitt Tunnel bridge going into the Pittsburgh and the Bay Bridge going into San Francisco. The people going into the city get the view. The people leaving the city, well too bad. OK? Deal with it.
I exit at the Yerba Buena Island in the middle of the bay and this island is so large you just can't imagine. It used to be a military post, but at some point, the city of San Francisco took it over and I think a city can ruin more land than you can imagine because this place is dilapidated, run down. Just rotting and rusting away in the salt air. Endless neighborhoods of boarded up barracks and buildings and what would a city do with them anyway? To them commerce is something to be raped and pillaged. Creating value is not something that comes naturally to the public sector.
I roll around and take some photos before heading back into the city.
They have a big farmer's market every Tuesday and I'm sort of rolling through this madness, checking it out and I end up on Market Street because...well...because I'm suicidal I suppose.
Market Street
Now Market Street is easily the most dangerous surface street in the city. Every intersection is an intersection of 3 streets instead of two. Plus, there are more pedestrians than you can imagine. And the trolleys run down Market also...not the Cable Cars, mind you...the trolleys, like the ones in New Orleans. And scads of buses. So, you've got trolleys, taxis, pedestrians, buses, and six ways to go at each intersection. A boulevard to the gates of hell.
So, I'm rolling down this nightmare and ...wait for it...I hear sirens. Now, a firetruck is coming up behind me. I pull over to let it go by and then try to catch up to it. He's running the red lights, which kinda surprises me because you'd have figured that the fire trucks could control the red lights, but they can't apparently. So, he's blowing through the red lights and I'm trying to catch him, but I'm losing him and as he gets away from me, now I'm just running red lights, dodging cars and pedestrians and just acting foolish, really.
Because, if I was right in behind him, maybe it would work, but I'm far enough behind him, that it's not working at all really. Actually, what I'm doing is borderline suicidal. I'm running red lights well behind the fire truck, weaving between cars, dodging pedestrians, and not doing such a good job of it. Like, I've not hit anyone yet, but only by the grace of God and now, up from behind me comes a cop and he turns his lights on.
Now, Market Street is parsed out into separate lanes at each intersection for reasons that escape me, but it's divided in odd ways, and he's on the left and I'm on the right, and he gets about 2-3 cars in front of me, and turns perpendicular to cut off all the traffic in my lane. My assumption is that he's after me in a big way. He's seen me nearly running red lights and nearly killing pedestrians for long enough and he's furious and he's about to put an end to my little rampage.
To avoid his little trap, I do a U-turn on the sidewalk and do a quick left-right-left-right and race back to work, my heart pounding like mad.
And, it occurs to me that, I can make it here. I'll survive the project, if I just settle down and try not to draw attention to myself. But, pulling stunts like this isn't going to cut it. I'll be lucky to live another day if I keep driving like this.
But that was lunch and now it's after work and I'm heading up towards Bodega Bay because someone told me how nice it was and I'm rolling up the east side of Tomales Bay and it's just magical. Just stunning, watching the sun set and this whip cream fog rolling in and obscuring the sunset and oh...how have I not been here before, and I think I haven't. I think I have not been on CA 1 north of Point Reyes Station. This is all still the Marin coast. I want to see the Sonoma coast, but it doesn't begin until up around Bodega Bay and I'm not sure if I'll make it there before dark.
Eventually, I make it to where Walker Creek empties into Tomales Bay and the road now turns inland to follow this tributary and this creek is just stunning. Long before I make it to Bodega Bay, the sun sets and I pull over and stow my cameras and zip up my riding gear so that I'm solidly protected from wrists to ankles.
I'll have to put off the discovery of Bodega Bay and the Sonoma coast for another day and I follow the signs east toward Petaluma.
When I make it back to the US 101, I'm 40 miles north of the city and I turn south back toward the city. By the time I get back to the Golden Gate, it's freezing cold again and the city is plagued by a soaking wet fog and I feel like a rock star for wearing my full riding gear tonight. When I get home, my odometer will say I've driven 121 miles on this little trip and I feel tired and thin and I think how sad I'll be when I finally have to leave this city behind me.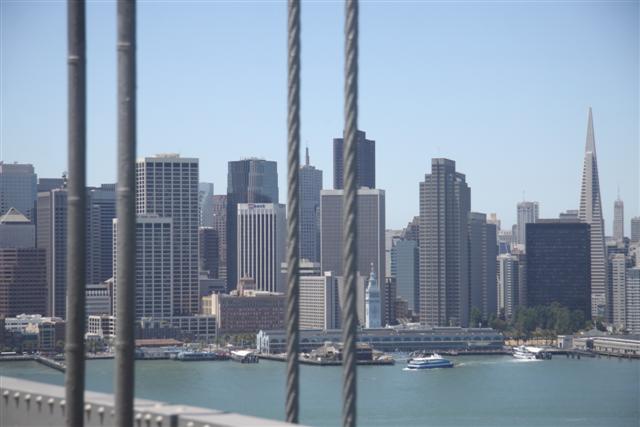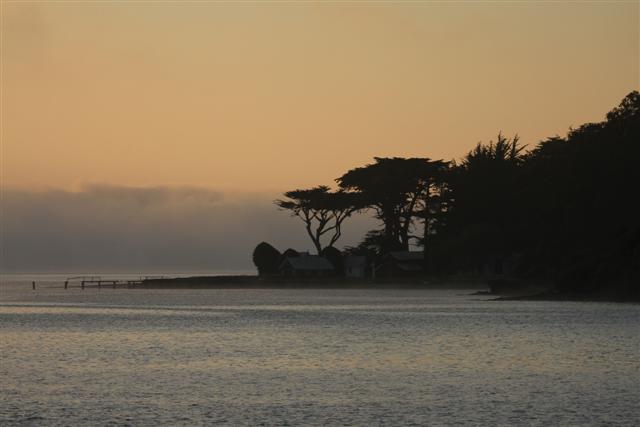 Posted by Rob Kiser on June 22, 2011 at 8:45 AM
Comments
Post a comment