« Junkers Ju 87 'Stuka' Divebomber | Main | US 285 Reopens as Roadwork Continues »
April 23, 2010
Enormous Boulder Shuts Down 285 Southbound
Jen and I were nearly killed in a massive rockslide on US Highway 285 today. At approx 5:50 p.m. MDT, this boulder nearly hit the truck about 4 vehicles in front of us. We were able to escape without injury, fortunately, but were trapped in the narrow canyon. We couldn't go forward, and we couldn't go back.
Fortunately, I was a boy scout, so I was prepared. I had extra gloves, ski bibs, hats, etc in the truck, so we got dressed in heaviest winter gear and hiked up the road a bit, past screaming police and authority figures, and Mark, my neighbor drove down and picked us up in his Audi.
My photo will be on Channel 9 news at 10:00 tonight. Also, they said it will be on their website: http://www.9news.com/
Update: Here's the link to their website where they used my image:
http://www.9news.com/news/article.aspx?storyid=137478&catid=188
Update 2: They just ran my photo on 9 News at 9. :)
Update 3: They just ran my photo on 9 News at 10. :)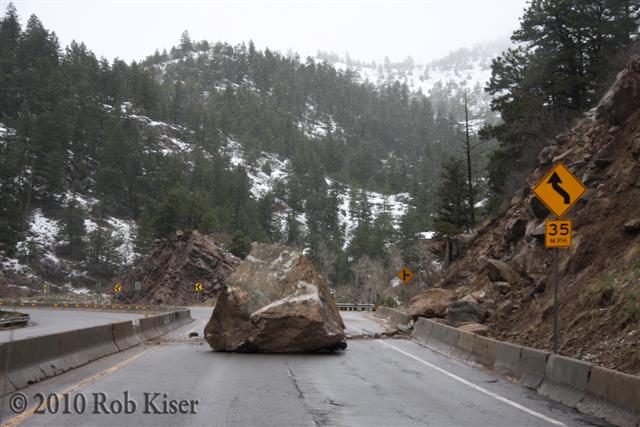 Posted by Rob Kiser on April 23, 2010 at 7:03 PM
Comments
SO glad you're okay. Great shot. Saw the 10pm broadcast. You're so "right now"!
Posted by: Chick Voice on April 23, 2010 at 10:08 PM
Yay, I'm famous. I'd rather be rich.
Posted by: Rob Kiser
on April 24, 2010 at 5:00 PM
Post a comment