« Chile Rocked by 8.8 quake - Hilo, Hawaii Under Tsunami Alert | Main | Obama Karloff »
February 27, 2010
Canon EOS 50D with Extender EF 1.4X II with EF 100-400mm IS USM f/4.5-5.6L
OK. So, I went out and shot some photos yesterday of a couple of raptors. And, I did OK with it, but I was sort of bummed that my autofocus didn't work when I added the 1.4X extender. I'd read some places that it might not work, so I wasn't totally surprised, but I wasn't exactly thrilled, either.
So, today, I thought I'd surf the web and see if this was a know issue, etc. And, sure enough, if you use the Canon EOS 50D (or similar Canon 1.6 crop factor frames) and you use the EF 100-400mm IS USM f/4.5-5.6L lens and you use the EF 1.4X extender, then then autofocus sure enough won't work. But, there is a trick you can do to make it work.
Now, this all goes back to last year when I was working out in San Diego. I was standing on the longest pier on the West coast, if you can believe it, which happens to be at Ocean Beach ("OB" in the local dialect). And there's this kid there with some Canon frame and lens on a Wimberly mount shooting surfers off of the pier. He was a typical OB punk with his ipod and ear buds and I kept asking him questions about his setup, which he clearly didn't want to answer. But he kept taking out his earbuds and answering my questions and one of the things I recall him saying was that he was using this crazy lens (I think it was a Canon 600mm lens) but with the smaller sensor (1.6x crop factor) and because of this, he could only get one autofocus point to work and he had to tape over some of the contacts on the lens to make the autofocus work at all.
So, this was the first i'd heard of the trick, but I searched today and found this post which describes the procedure to trick the camera into autofocusing correctly.
I used black electrical tape trimmed with an exacto knife. The first time I did it, I taped over the wrong 3 pins, because there are three pins off by themselves, raised up, and I thought "aha...that's them" and taped over them. But then, when I read it more closely, I figured out that the 3 pins you want to tape over run right into the rest of the pins. They're not separated or raised or anything. So, I taped over these three pins and re-attached the lens and voila. Not only does this make the autofocus work - it works with all 9 autofocus points!
This is sort of crazy, of course. What it means is that the Canon lens/camera/extender is designed not work properly, but you can break it with a piece of electrical tape, and make it work perfectly. Lunacy.
Basically, there are three contacts that you want to tape over on the 100-400mm lens. See the photos below to determine which three pins. If you can't figure it out from the photos, I can't help you.
I used electrical, but other tape may work. I have no idea if this will destroy your camera or not. It seems to work for me so far, but if it ruins your camera or voids your warranty, you're on your own. Proceed at your own risk.
(Higher resolution images in extended entry)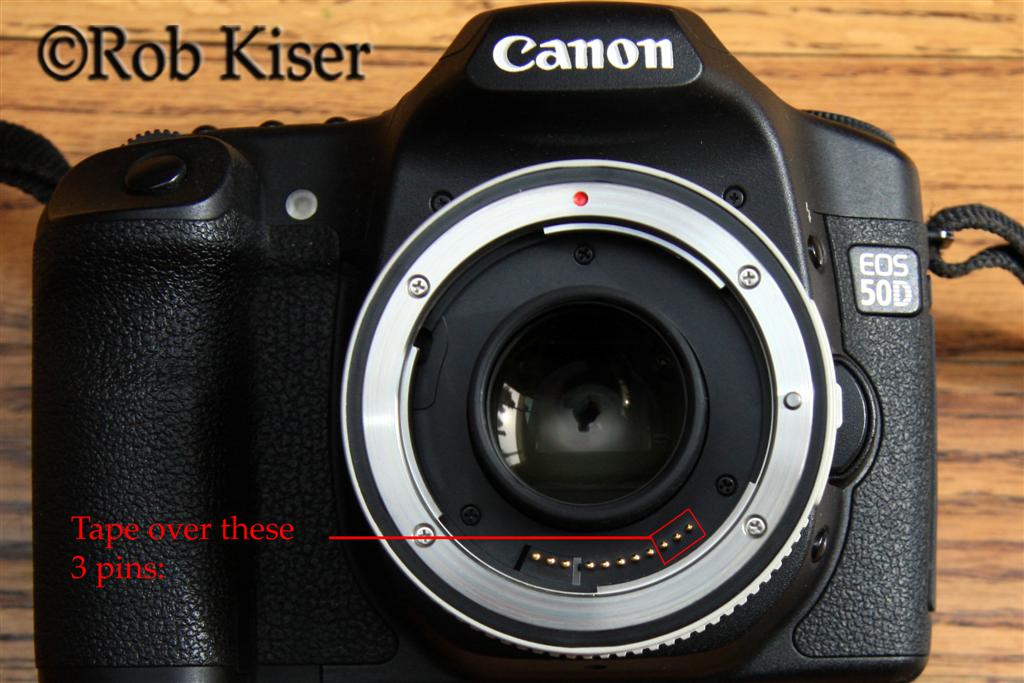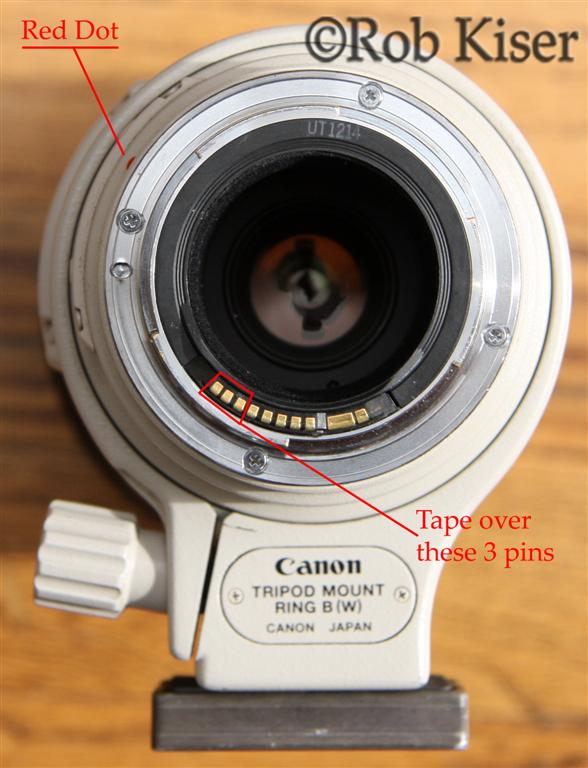 Posted by Rob Kiser on February 27, 2010 at 1:42 PM
Comments
Thanks for this - it's helpful, but I'm a little confused by your labels on the pics. The implication is that you tape over the relevant pins on BOTH the extender and the lens - no? Surely one is enough? I taped the extender pins and sure enough, the AF kicks in, but it hunts, goes through focus & will not settle on sharp focus. Any comment?
Posted by: David Tomlinson on May 6, 2010 at 11:49 AM
I was just trying to show different angles on which pins are the ones in question. Obviously, you only need to tape over them in one place. In hindsight, I should have taped over the pins on the Teleconverter, not on the actual lens. The reason is that, if you're in the field, and close enough to the subject to not need the teleconverter, you'll want to be able to pop it off and stick it in your camera bag and shoot with only the 100-400mm lens. In this case, you certainly don't want the pins taped over. So, better to put the tape on the teleconverter.
So far as the "hunting" goes...yes...it is an issue. However, it works much better in brighter light. The less light there is, the less likely you are to get a focus lock. So, I use auto-focus about 1/2 the time now. The other times, I use manual focus. I can tell you this...I've gotten a lot better at manually focusing my camera which, in and of itself, is not a bad thing.
But, your point is taken that this is not a 100% perfect setup. The problem is that there aren't a lot of easy solutions. You can certainly pick up a Canon 500mm f/4 or 600mm f/4, or even the new 800mm lens. But a new 600mm f/4 is about $8,000 and the new 800 mm lens is $11,000. Aside from the cost, however - even if money means nothing to you - there is the problem of size. These are big lenses. I see people driving around in a massive SUV and they park, kill the vehicle, and then dig out a 600mm f/4 on a Wimberly mount on a massive carbon fiber tripod. But that's not really where I want to be right now. I like something I can carry around on my motorcycle and this lens with a teleconverter is a good size for me right now.
To compensate for the sporadic auto-focusing issue, when I have to use a manual focus, I tend to shoot more frames and change the focus ring subtly as I shoot. This tends to work well for steady objects, although shooting flying birds is obviously a little more tricky.
Posted by: Rob Kiser
on May 6, 2010 at 10:45 PM
Post a comment