« Postcards from Nowhere: North Carolina | Main | The Mandelbrot Set Revisited »
November 12, 2009
The Group Photo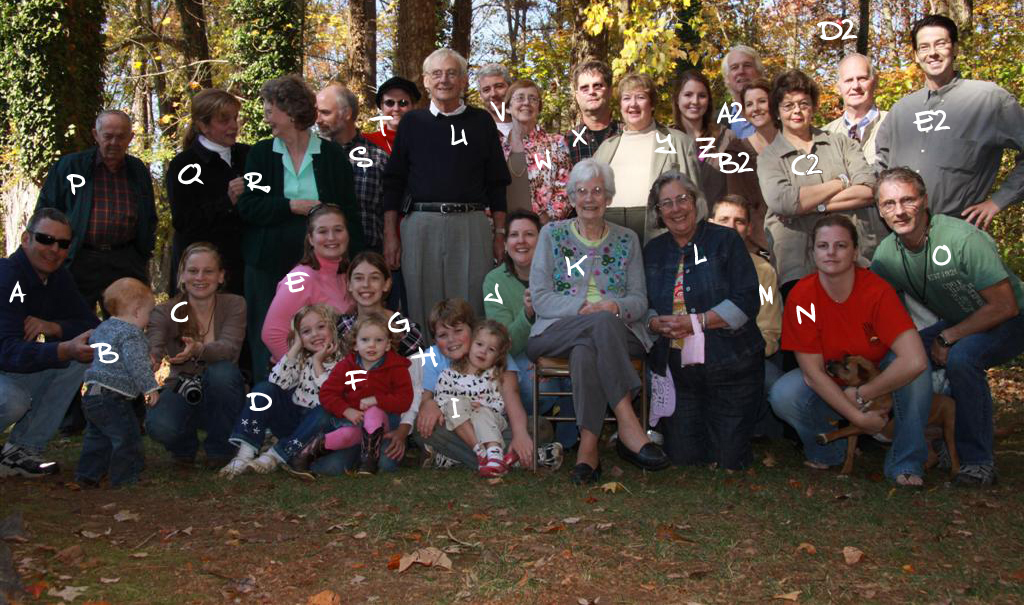 A. Carlisle Wade (Peggy and David's middle child)
B. Mick Wade (Carlisle and Mary's youngest child)
C. Mary Wade (Carlisle Wade's wife)
D. Caroline Kiser (Jonathan and Tatia's middle child)
E. Rachel (Mindy's daughter)
F. Olivia Wade (Carlisle and Mary's oldest child)
G. Jennifer Nicole Kiser (Robert's only child - loves killer whales)
H. Jack Kiser (Jonathan and Tatia's oldest child)
I. Kate Kiser (Jonathan and Tatia's youngest child)
J. Elise Wade (Peggy and David's oldest child)
K. Elsie Lou Sutton (Robert Bean Sutton's wife)
L. Peggy Sutton Wade (Robert and Elsie Lou's middle child)
M. Andrew Wade (Peggy and David's youngest child)
N. Lisa Sutton Niemi (Vickie and Bobby's youngest child)
O. Michael Niemi (Lisa Sutton's husband)
P. Ralph Sechrist (Vickie Sechrist Sutton's father)
Q. Vickie Sechrist Sutton
R. Jan Samuel (Elsie Lou Penner Sutton's neice - Aunt Lewis and Uncle Walt Langley's oldest daughter)
S. Ralph Flow (Mindy's husband)
T. Mindy Flow (Jan's daughter)
U. Robert Sutton (Robert and Elsie Lou's youngest child)
V. Jonathan Albert Kiser (Albert and Sarah Lou's youngest child)
W. Sarah Lou Sutton Kiser (Robert and Elsie Lou's oldest child)
X. Mike Samuel (Jan's oldest son)
Y. Mimi Sutton Hanzel (James Andrew Sutton's oldest child)
Z. Hallye Meeks (Molly and Mark Meek's oldest child)
A2. James Andrew Sutton III (James Andrew Sutton Jr.'s youngest child)
B2. Mary Athalinda Wilmerding Hanzel Barnes (Mimi and Chuck's daughter)
C2. Katherine Day Sutton (Jim Sutton's wife)
D2. Chuck Hanzel (Mimi Sutton Hanzel's husband)
E2. Robert Andrew Kiser (Albert and Sarah Lou's favorite child)
Download a high-res version of the group photo here. If anyone has a better group photo then please send me a copy. (Michael Niemi - I'm thinking you may have a good shot of the group.) Most of my group photo shots were over-exposed and Scott/Robby are not in this picture. Plus, obviously Aunt Vickie is running her mouth and distracting everyone around her, per usual.
Please post any corrections (spelling, etc). If you do post comments, please be patient. The Moveable Type software that I use to run this web site from my home is very slow. So, it will take your comments. But be patient. And then hit refresh. May take a minute or three, but it should work.
Updates: 1) Corrected Carlisle's name 2) Corrected Jan's parents.

Posted by Rob Kiser on November 12, 2009 at 4:29 PM
Comments
Jan is Aunt Lewis and Uncle Walt Langley's oldest daughter. (Not Golda. She has a sister named Golda. Aunt Golda, Elsie's aunt, did not have any children.
Posted by: sl on November 13, 2009 at 12:14 AM
Thank you Robert for the labels!! Helps tremendously!!!!!
Posted by: Tatia on November 13, 2009 at 8:12 PM
Post a comment