« Careful with that elk, Eugene | Main | GAO Spanks NASA »
September 25, 2009
The Nadir of Western Civilization

According to The Onion, the nadir of Western civilization was reached today at 3:32 P.M. I'm not sure if that was Greenwich Mean Time, Eastern Daylight Time, or local time. But figuring that things could only get better, I decided to go bar hopping after work -- something I haven't done in a couple of weeks.
There was some guy riding a motor scooter with two hot chicks in the sidecar, and towing a large sign advertising Oktoberfest. Since they were stopped at a red light, I walked over to them to ask for details. One of the women said something to me in an over-the-top German accent (or maybe it was Austrian or Swiss?), and handed me a postcard.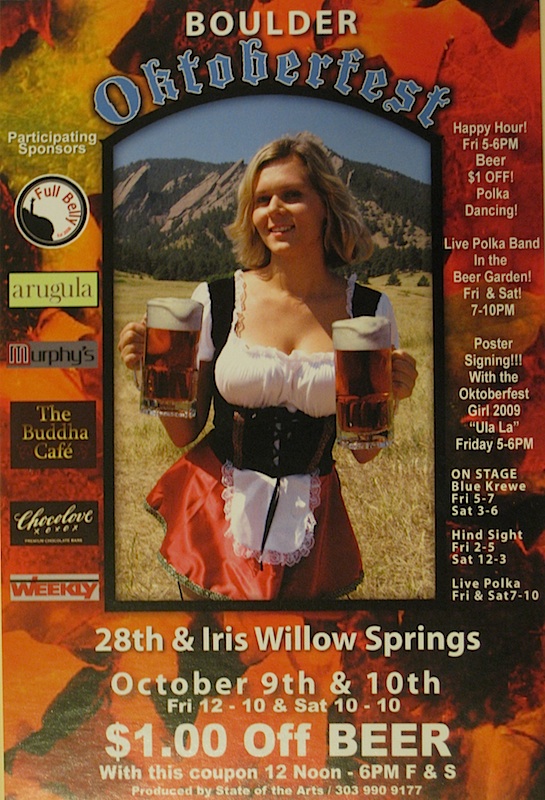 As I'm standing in the middle of the street, looking at these people right in front of me, I was berating myself for not bringing a camera. It was a perfect photo opportunity.
So after stopping at a few of my regular watering holes, I decided to go back to my truck and grab my Canon EOS 400D, a.k.a. the Digital Rebel XTi, and my 28-135mm lens, which is the only image stabilizing (I.S.) lens I have. It's a good "walking around" lens, since I didn't want to carry my camera bag, with its other lenses, around.
Of course, as I'm walking out of a bar and back to my truck, the Oktoberfest scooter drives by again, and stops right in front of the bar I had just left.

After I had retrieved my camera, and while I was walking up and down Broadway waiting for the "Germans" to appear again, I decided that this was a good opportunity to take some pictures. Photography is one of the many things I've been neglecting lately; bar hopping being another.
Since sunset occurs at 6:54 P.M., I had less than half an hour of light to shoot. Downtown Boulder is right at the base of the foothills, and the Rocky Mountains would soon be casting a shadow across town. Do they take that into account when they calculate local sunset times?
One thing I wanted to do was get a picture of a Yellow Cab in motion, with the reflective lettering appearing sharp.
If you scroll down to the eighth picture down at "Pictures from the DNC: Day 03," the Yellow Cab in the photo appears blurry, but the letters on the side of the cab are sharper. This was completely accidental, as I was trying to photograph the police officers. It wasn't until Rob and I looked at the EXIF data that he figured out what had happened.
The shutter was open for 1/25 of a second, which is long enough for the cars in motion to appear blurred. But the flash fired at the end of that time, right before the shutter closed, causing the reflective letters to appear sharp.
Unfortunately, I wasn't able to recreate that effect today, since I didn't remember what the camera settings were when I took that photo last year, until I got home and looked it up.
In the above photo, the shutter speed was 1/60 of a second (aperture = 4.34), too fast to blur the motion of the cab. It was taken at 6:47 P.M. -- 7 minutes before sunset. The cab is heading north on Broadway, at Walnut. I am facing west.
Not seeing any cabs, nor any Germans on motor scooters, I decided to photograph the fish tank in the front window of Sushi Zanmai. Much like the Germans in their Oktoberfest scooter, and the cab drivers, the fish were no cooperating, staying mostly in the corners of the tank, or out of view behind the coral.
Since I didn't want to disturb the diners inside, I turned the flash off. That, and it probably would have just resulted in glare off the glass.
The above photo was taken at 7:11 P.M; 17 minutes after sunset. Shutter speed was 1/100 of a second (aperture = 4.97). To steady the camera as much as possible, I braced myself against a lamp post. This is from the sidewalk, looking into the restaurant.
With the shutter open for 1/50 of a second (aperture = 4.97), an exposure twice as long as the previous photo, you can see the smudges on the glass.
Getting tired of waiting for the fish to do something interesting, I turned my attention to traffic. Since I didn't have a flash diffuser with me, and not wanting to blind the drivers, I still left my flash off. Most of the results are uninteresting, but I did manage to capture this Porsche(?) going northbound on Broadway.
I turned the shutter speed down to 1/20 of a second, to blur the background as I panned with the car as it sped by me. Aperture = 3.61, and time = 7:15 PM, or 21 minutes after sunset which was behind me. The car didn't come out as sharp as I had hoped, but I still think it's a very nice effect.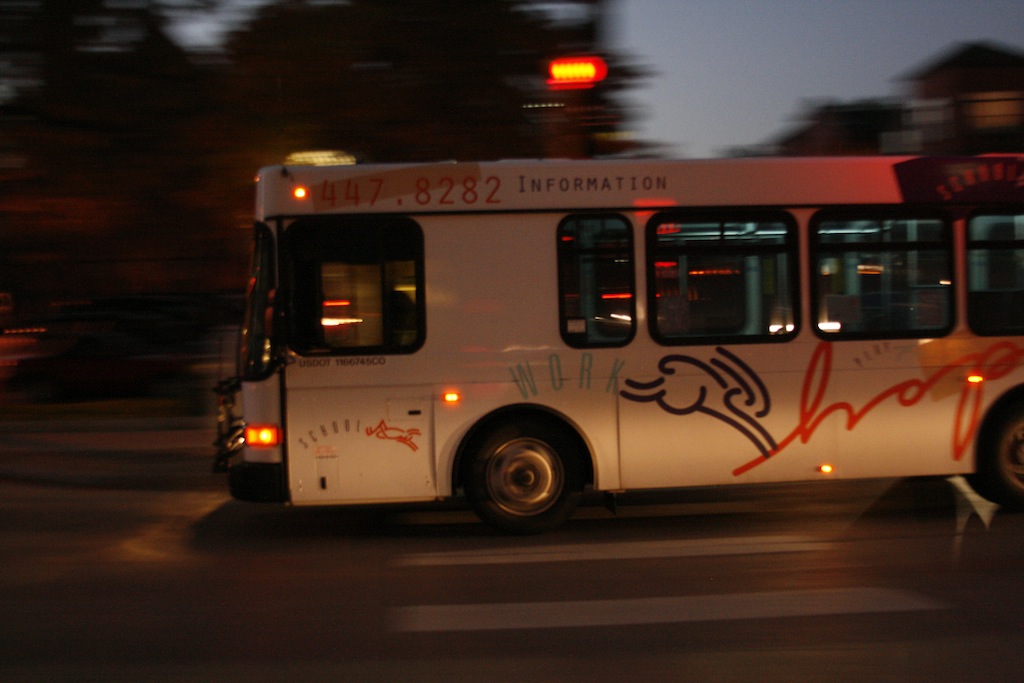 This photo of a bus going west on Spruce Street was taken 20 seconds later. Same settings as with the Porsche. Since the bus is larger, and was going slower, the subject turned out more in focus.
Hopefully, by taking the time to record the camera settings I used, I'll actually remember them better than I have in the past, and avoid having to learn the same lessons over again. If nothing else, I'll definitely remember to dial the shutter speed down to around 1/25 of a second to photograph Yellow Cabs.
Posted by Robert Racansky on September 25, 2009 at 9:19 PM
Comments
Post a comment