« Day 3 in San Diego | Main | United States Marine Corps Memorial »
September 7, 2009
Clear Creek and Argentine Pass

Not having any concrete plans for this holiday weekend, I decided to see if Rob and Martin wanted to go shooting. Rob replied that he was going to be staying in San Diego, but Martin was game. He also suggested that we bring the mountain bikes along, because he knew a trail in the area.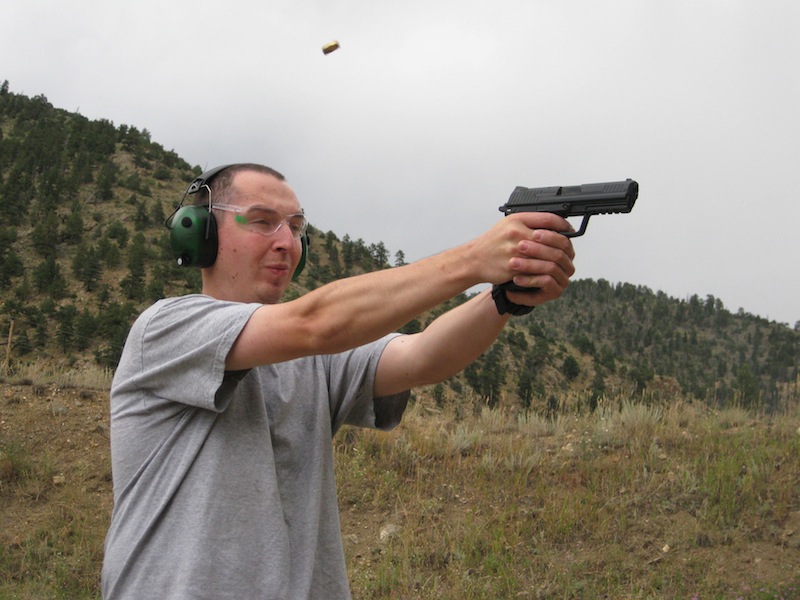 Martin with the HK45. One of the designers described the HK45 as "the 1911 of the 21st century."
Martin with his new 1911 .45, the Dan Wesson Valor
AR-15 carbine
Video still: Shooting the Detonics Combat Master. I'm thinking about putting this up for sale, and wanted to shoot it one last time to be sure.
After nearly an hour and a half, the rain started to pick up, and we decided it was a good time to pack up. We drove around for a bit, trying to find the mountain bike trail that Martin had ridden a few years ago. I wasn't sure why he wanted to go riding in the downpour -- I didn't think it was a good idea. I was happy to stay in the truck with the heat turned on to dry off. I'm just not as hard core about these things as I used to be.
After we drove around Dumont and to Idaho Springs -- about 5 miles from the shooting range in Dumont -- Martin finally decided to check a map, and realized that we had gone the wrong direction. So we turned around, and drove to Silver Plume. It was still raining hard.
By the time we arrived, the clouds were starting to break, but not much. At least it had stopped raining, but it was colder than I've been used to all summer. There were several dozen cars parked along the road. Apparently this is where people parked to ride the Georgetown Loop Rail Road.
The sign at the trail head said Argentine Pass, so at least I'd know what to look up on the internet when I got home.
There were parts of the trail we had to walk the bikes. I was waiting for something dramatic to happen to Martin, so I would have more interesting pictures.
Looking down upon I-70
You can't really tell from the picture, but it's raining. It makes me glad I got that jacket on sale earlier this year.
After nearly an hour and fifteen minutes of biking up the mountain and getting rained on, we decided it was a good time to turn around and head back down.
Of course, the rain finally stopped and the sun came out as we got to the base of the trail.

It was cold. It was wet. It was tiring. I tore up my ankle in the bike gears while trying not to hit some rocks, got my shin slapped with the pedal, and somehow injured a knee.
Despite all that, it was a great time.
Posted by Robert Racansky on September 7, 2009 at 7:10 PM
Comments
Post a comment