« Home Again...Home Again... | Main | Selling Magazines? »
April 5, 2009
Postcards From Moab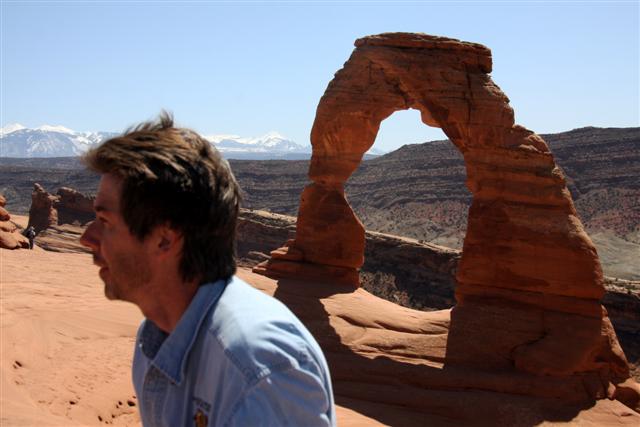 Wendy and I were trying to figure out a place to take the girls for Spring Break. We were thinking either the Great Sand Dunes National Park or possibly Moab. Moab had a better weather forecast so we ended up going there. I'm not clear how I've lived in Colorado for 15 years and never made it out there before, but Moab is a cool place. As in extremely cool. Think of the background of every Wile E. Coyote/Road Runner show you've ever seen.
Of course, I couldn't imagine going to Moab without the ATV's, so we trailered out two Honda ATV's. Now...for the record...I've ridden ATV's on the dunes at Pismo Beach in California and St. Anthony Sand Dunes in Idaho and I promise you I didn't have any more fun than these girls did at White Wash Sand Dunes in Utah. The place was deserted so they could just ride until they were sick. Jennifer was actually singing as she drove around the dunes. She was singing "All around the vinegar jug the monkey chased the weasel..." Both girls agreed that driving the ATV's in the White Wash Sand Dunes was the highlight of the trip.
I shot most of these images in or around Moab, Utah from the seat of a Honda Rancher or a Chevy Tahoe with Wendy holding the wheel as we towed an 18 foot dual axle trailer. The photos were mainly shot in Arches National Park, Canyonlands National Park, Gemini Bridges, and White Wash Sand Dunes, although some of the photos were taken in other locations in western Colorado and eastern Utah.
The images are compiled into an 31 Meg (5:05) Adobe Flash slideshow(moab.swf) that you should be able to open and view with any browser (Internet Explorer, Firefox, Safari, etc.). To view the slideshow, just click on the photo above.
These images were all captured with a Canon EOS 40D with a Canon BG-E2 battery grip. The short lens is an image stabilized, ultra-sonic telescopic zoom lens (EF-S 17-85mm f/4.0-5.6 IS USM). The long lens is a Canon L-series ultra-sonic telescopic zoom lens (EF 100-400mm f/4.0-5.6 IS USM) with an ET-83C hood.
If you want to view the slideshow as a Windows executable, you can play this version (moab.exe), and it allows you to play, pause, skip forward, backwards, etc.
Image post-processing was done in Adobe Photoshop CS3 Extended. The slideshow was created using Imagematics Stillmotion Pro.
The soundtrack is Where The Streets Have No Name by U2.
Lyrics in the extended entry.
Click here to view the other slideshows.

U2
Where The Streets Have No Name
I want to run
I want to hide
I want to tear down the walls
That hold me inside
I want to reach out
And touch the flame
Where the streets have no name
I want to feel, sunlight on my face
See that dust cloud disappear without a trace
I want to take shelter from the poison rain
Where the streets have no name
Where the streets have no name
Where the streets have no name
Were still building
Then burning down love, burning down love
And when I go there
I go there with you...
(its all I can do)
The cities a flood
And our love turns to rust
Were beaten and blown by the wind
Trampled into dust
Ill show you a place
High on ta desert plain
Where the streets have no name
Where the streets have no name
Where the streets have no name
Still building
Then burning down love
Burning down love
And when I go there
I go there with you
(its all I can do)
Posted by Rob Kiser on April 5, 2009 at 9:00 PM
Comments
I got your URL from my brother, Linwood, who got it from Dena Fitts.Linwood's email simply said, "You want to see these photos." I have watched several of the slideshows and am in awe. Your photos are magnificent. Thank you for spending the years developing your skills and then sharing so freely with the rest of us.
Mitch
Posted by: Mitchell Davis on June 10, 2009 at 1:35 PM
Mitch,
I used to live next door to Dena when we both lived in Las Colinas, TX and she became one of my good drinking buddies.
I travel a lot, so I took up photography as something to do when I was on the road but not in the office. Thanks for your kind words.
Rob K.
Posted by: Rob Kiser on June 10, 2009 at 8:08 PM
Post a comment