« Wednesday 2009 | Main | Peenie Wallie Outage »
March 26, 2009
Snow Day(s)!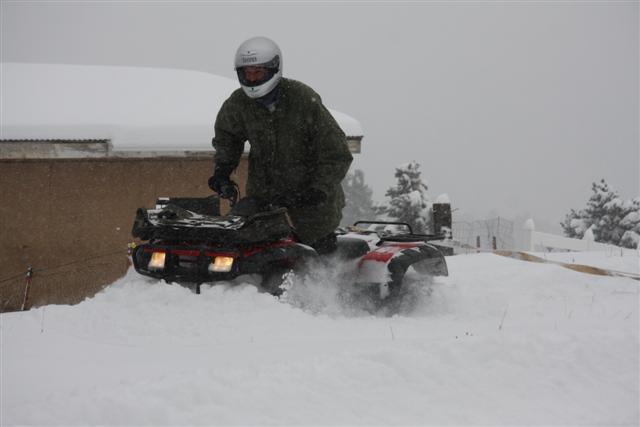 Today is the first snow day at Jennifer's school in 3 years. It's snowing really hard right now and we're supposed to get dumped on. Woohoo! Global Warming my @ss! Photos to follow...
Update: These are images Wendy shot of me towing the kids on sleds through a few feet of snow behind the four wheeler. The images are compiled into an 17 Meg (3:30) Adobe Flash slideshow(blizzard.swf) that you should be able to open and view with any browser (Internet Explorer, Firefox, Safari, etc.). To view the slideshow, just click on the photo above.
These images were all captured with a Canon EOS 40D with a Canon BG-E2 battery grip. The short lens is an image stabilized, ultra-sonic telescopic zoom lens (EF-S 17-85mm f/4.0-5.6 IS USM). The long lens is a Canon L-series ultra-sonic telescopic zoom lens (EF 100-400mm f/4.0-5.6 IS USM) with an ET-83C hood.
If you want to view the slideshow as a Windows executable, you can play this version (blizzard.exe), and it allows you to play, pause, skip forward, backwards, etc.
Image post-processing was done in Adobe Photoshop CS3 Extended. The slideshow was created using Imagematics Stillmotion Pro.
The soundtrack is Her Morning Elegance by Oren Lavie.
Lyrics in the extended entry.
Click here to view the other slideshows.
Update 2: Jennifer got Friday off also. Two snow days in a row. :)

Her Morning Elegance by Oren Lavie.
Sun been down for days
A pretty flower in a vase
A slipper by the fireplace
A cello lying in it's case
Soon she's down the stairs
Her morning elegance she wears
The sound of water makes her dream
Awoken by a cloud of steam
She pours a daydream in a cup
A spoon of sugar sweetens up
And She fights for her life
As she puts on her coat
And she fights for her life on the train
She looks at the rain
As it pours
And she fights for her life
As she goes in a store
With a thought she has caught
By a thread
She pays for the bread
And She goes...
Nobody knows
Sun been down for days
A winter melody she plays
The thunder makes her contemplate
She hears a noise behind the gate
Perhaps a letter with a dove
Perhaps a stranger she could love
And She fights for her life
As she puts on her coat
And she fights for her life on the train
She looks at the rain
As it pours
And she fights for her life
As she goes in a store
With a thought she has caught
By a thread
She pays for the bread
And She goes...
Nobody knows
And She fights for her life
As she puts on her coat
And she fights for her life on the train
She looks at the rain
As it pours
And she fights for her life
Where people are pleasently strange
And counting the change
And She goes...
Nobody knows
Posted by Rob Kiser on March 26, 2009 at 8:14 AM
Comments
Post a comment