« Four-Wheelin' Fools | Main | Spore »
September 20, 2008
The "Big" Deer
Bud comes over late in the afternoon to help me install my hand carved mahogany bar with granite counters. After we set it up, we're out front on the porch smoking cigars.
"You know them folks come through going to Alaska?" he says, chomping on his cigar.
"Yeah. Art and his boy Chris, right?"
"Yeah. Well, we went riding around yesterday so they could see some mulies. We saw three bucks...then three more....and they were good sized. Chris didn't know deer got that big. He saw a 5 point, but called it a 10 point...."
"Right. Well...they count 'em different back East for whatever reason," I offered.
"So then," he continues, "Art says....Holy Sh1t look at that sum-a-bich."
Bud stopped and relit his cigar. He's good at telling stories. Knows just where to pause for effect.
"What it was?" I asked.
"It was a big mulie...probably the rack was this big around...probably the spread was 30"...maybe 33"....maybe 36". It was a huge rack. You ought to get on your four wheeler and go see can you get a shot of it."
"OK. I will."
So, I put out my cigar and climbed onto the four wheeler with my long lens and I drove up to the end of the cul-de-sac. I saw a few bucks and they stood up and I took some shots of them. But they were nothing great. A couple of five points. Then, I come back down the hill and I'm looking around and the light is fading and I don't see any more and I don't know where they are, really. So I go to pull into my garage and just before I get to my garage I look up and this monster is walking across my driveway with a big rack.
I shut off the four wheeler. He could have killed me right there. He was standing 10 feet from me with a massive rack of bone or ivory or whatever their antlers are made of.
I recognize it immediately as the atypical rack that I've been watching all summer. This is the first time I've seen him with his grey coat and the velvet rubbed off his rack though. And he's a beast, my friend. An absolute monster.
And I snap some photos of him and send them to Bud and I say "Is this the deer y'all saw? The big one I mean?"
"Nah. This is a decent buck, but we saw a big one."
"Aha. Got it. So, there's a big one out there, but this isn't it, huh?"
"Right. There's a big one out there. You'll know him when you see him."
"Got. Thanks. I'll keep an eye out for him."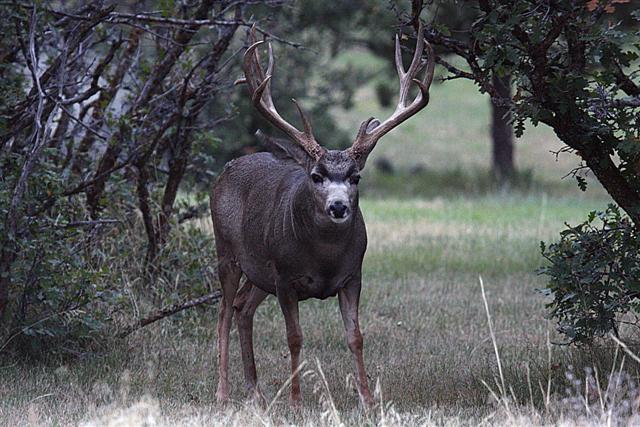 Posted by Rob Kiser on September 20, 2008 at 8:34 PM
Comments
Post a comment