« Those Wacky Democrats | Main | DNCC in Denver - (My 2nd Day in Hell) »
August 25, 2008
Secret Service Impersonators
I was on Blake Street, between 14th and 15th, taking pictures of a security checkpoint at 14th Street.
Two guys walked up and asked "Would you mind not taking pictures of that checkpoint for security purposes?"
Although the war on photography is real, I'm pretty sure that the design of the gate was not classified. Nor had I traveled back in time to the Soviet Union.
"Who are you?" I asked?
"Secret Service," one of them replied.
"Really? Can I see your credentials?"
They flashed me the badges they were wearing around their necks, which mentioned something about the DNC, but did not resemble law enforcement I.D. in any way.
"Did you get those from a Cracker Jack box?"
Whatever interest they had in me was short lived, and they continued walking south-west down Blake Street toward the gate, while I yelled an obscenity at them and continued shooting pictures.
This wasn't the first encounter I've had with somebody claiming to be law enforcement; in fact, the other one was at the same intersection nearly 15 years ago.
In retrospect, I wish I had followed them, and informed the uniformed Secret Service officer manning the checkpoint about these two wanna-bes. A few years ago, 20 year old Lacy Miller was murdered by a police impersonator. Such behavior should not be tolerated -- it represents a threat to both officers and civilians.
If you know either of these two wannabe jack-holes, please report them to the Denver Police Department and/or the Secret Service.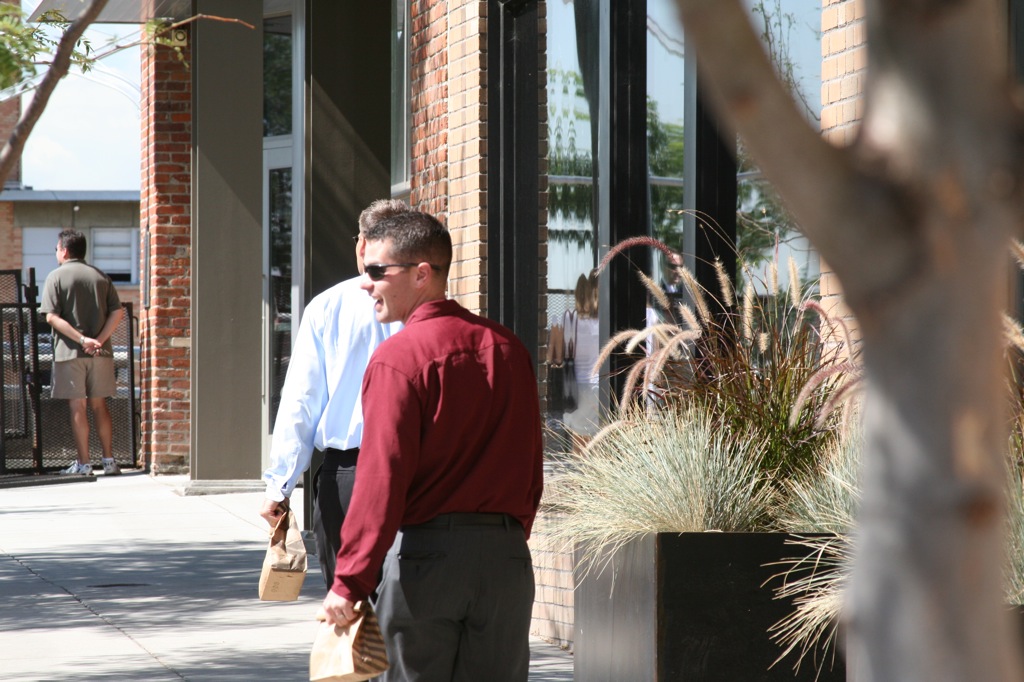 August 25, 2008 at 11:09 AM MDT
August 25, 2008 at 11:10 AM MDT
The war on photographers is merely softening us up for the war on sketch artists,
followed by the war on people who can sort of draw,
the war on people who pause to look at things closely,
and eventually, the war on people who look up.
Quixotic on July 11, 2008 at 4:09 AM
Posted by Robert Racansky on August 25, 2008 at 8:57 PM
Comments
Post a comment