« August 2019 | Main | October 2019 »
September 30, 2019
PeopleSoft Commitment Accounting
https://docs.oracle.com/cd/E39904_01/hcm92pbr0/eng/hcm/hhct/index.html
Posted by Rob Kiser on September 30, 2019 at 11:26 AM : Comments (0) | Permalink
September 20, 2019
Photos from Road Trip to Trump Rally in Rio Rancho w Ben
Continue reading "Photos from Road Trip to Trump Rally in Rio Rancho w Ben"
Posted by Rob Kiser on September 20, 2019 at 10:56 AM : Comments (0) | Permalink
September 19, 2019
Uncle Mark, Aunt Molly, and Sarah in Colorado
Yesterday(9/18/2019), we toured the Molly Brown house in Denver and then today(9/19/2019), we hiked up to the top of SugarLoaf Mountain outside of Boulder, before eating dinner on Pearl Street.
You can download the photos here:

http://www.peeniewallie.com/images2019/09_18_Molly_Brown.zip
and here:

http://www.peeniewallie.com/images2019/09_19_Sugar_Loaf_Mtn.zip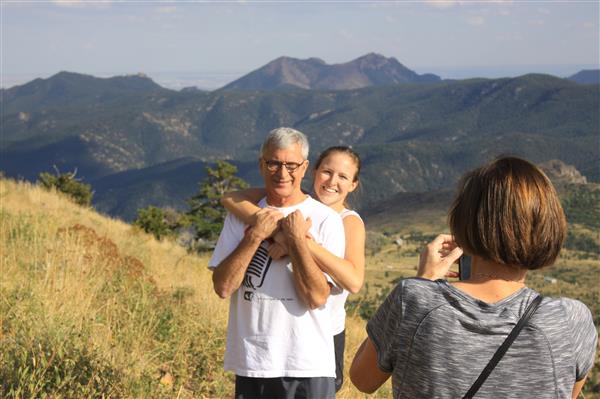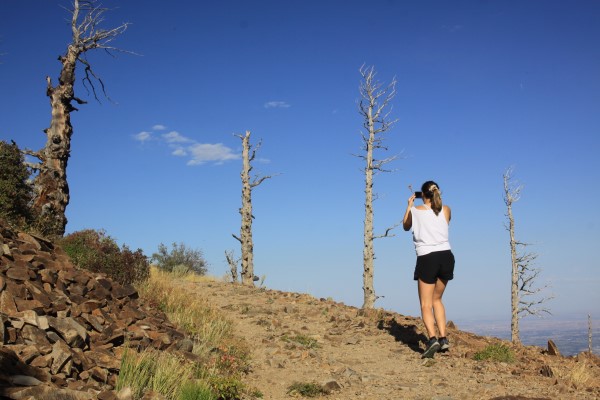 Posted by Rob Kiser on September 19, 2019 at 10:33 PM : Comments (0) | Permalink
Kenosha Pass - Peak Foliage
2011 - 10/1/2011.
Posted by Rob Kiser on September 19, 2019 at 9:20 AM : Comments (0) | Permalink
September 18, 2019
Christmas 1806 Historical Marker
On our ride down to the Trump Rally in the Albuquerque/Rio Rancho area, we passed a historical marker in Salida, Colorado that said "Christmas 1806", and I wanted to stop and check it out, but we just blew by it without stopping, so I decided to look it up when I got home.
Here's what the sign says:
Christmas 1806

Frustrated in their attempt to climb Pike's Peak on November 27, 1806, Zebulon Pike and his party of 15 trudged on through South Park looking for the Red River, southern boundary of the Louisiana Purchase. After crossing Trout Creek Pass, the explorers came again to the Arkansas River, with food perilously low. On Christmas Eve two hunting parties shot eight buffalo, and Christmas Day was spent near the mouth of Squaw Creek (one-half mile to the south) feasting on buffalo and repairing equipment.

Early in 1807 Pike crossed into the San Luis Valley at the Great Sand Dunes and built a log stockade (reconstructed as a State Historical Monument) on the Conejos River near present La Jara, where he was taken prisoner by the Spanish.
https://www.hmdb.org/marker.asp?marker=127876
Posted by Rob Kiser on September 18, 2019 at 5:30 PM : Comments (0) | Permalink
September 17, 2019
Trump Rally in Rio Rancho, NM
My Canadian friend Ben rode from Toronto on his KLR650 so I figured it would be a good idea to ride another 420 miles down to see President Trump speak in Rio Rancho, NM. Maybe not the brightest idea I've ever had, but once we started the ball rolling, it wasn't really anything I could stop.
So, we rode our bikes down on Sunday September 15th. Went down 285 to get there, basically.
In Salida, I forced Ben to ride back and forth through town several times, searching for the hotel that has my North Park and South Park map. We finally found it in the Great Western Inn in Salida, CO.
We tried to eat lunch at Sonic, but the music they were blaring was just too painful. So, decided to eat at McDonald's. I wouldn't normally eat there, but their food wasn't bad.
Then, we rode south out of Salida, only to see massive forest fires burning just south of town in a mountain range. Ben had mentioned that he smelled smoke in Salida, but somehow I never did smell it. The Decker fire was last reported at over 1,000 acres.
Then, we rode south down Colorado 13 by the Great Sand Dunes, through Alamosa, to the state line. Stopped and shot some pics at the state line crossing into New Mexico. Then, down towards Albuquerque, when it started to rain on us. Stopped under an overpass, and climbed up the side covered in rocks and found a homeless camp with carpet and word search puzzles under the overpass.
Finally got down to Albuquerque and checked into our rat bag motel, the Extend-A-Suites Albuquerque at 2108 Menaul Blvd NE, Albuquerque, NM.
One of those places where the employees hide behind a sheet of 2" thick plexiglass so they can't be murdered, even if you don't have wifi for two days.
Homeless meth addicts living in the stairwell. Just lovely. People fighting upstairs above us (fist fights, apparently).
We didn't dare leave any gear on the bikes lest it be stolen by the homeless zombies in the parking lot.
Monday
By my accident, the motel we stayed in was about 25 miles south of the Santa Ana Star Center.
We wake up Monday morning, take off for Walmart at 901 Unser Blvd SE, Rio Rancho, NM. Got to Walmart about 9:00 a.m. Bought some Gatorade and snacks, in anticipation of sitting in a parking lot all day waiting for the event center to open.
We got to the Santa Anna Star Center at about 9:15 a.m. Got in line, and sat out in the parking lot all day, or until about 3:45 p.m. when they finally let us in.
Then, Trump started speaking at about 7:25 p.m. We left before he quit speaking, at about 8:20 p.m. Ben and I got separated in the confusion leaving the event, with all of the crowds and police and blocked off roads. It was raining on us, and dark, and somehow, we both found our way back to the hotel, albeit separately via different routes.
Once we got back to the hotel, the bottom dropped out and it poured. Raining cats and dogs. We were VERY lucky we didn't get caught out in the storm.
Tuesday
In the morning, we got up early and checked out by about 7:00 a.m. Ben took I-40 east, and I took I-25 north. He's heading back to Ontario. I'm trying to just backtrack up 285 to Evergreen.
At 9:00 a.m., I've already gone 100 miles. Probably a record for me.
At 10:00 a.m., after riding 168 miles, I stop at the state line to shoot some pics as I cross back into Colorado.
At 11:50 a.m., I'm at Poncha Pass and stop for some photos there.
At 12:00 noon, when I stop for gas in Salida, Colorado, I've already gone 204 miles.
At 12:13 pm, I eat at the Salida McDonalds. I run into some other bikers down by the Arkansas River, and ask them where they're heading. They indicate they're going up Spiral Drive, which I've never even heard of, so I decide to follow them up there. But, there's a gate and it's locked. I just drive around the lake and ride up nearly to the summit of the Spiral Drive. Take some photos. Come back down. (They couldn't make it through the walkway/path that I went through because they both had panniers.) So, I tell them some other places to check out (like Independence Pass and the railroad tunnels north of Buena Vista, as they're staying in Buena Vista, apparently).

I decide to try to do some calculations and check my gas mileage, as I've forgotten how far I can go on a tank of gas.
A few miles outside of Bailey, Colorado, when I've ridden 189 miles since my last fill-up, my gas light starts flashing, but this is all planned. I wanted to see how far I could go on a tank of gas. When I refuel at Bailey at 3:24 p.m., I've ridden 398 miles for the day. I've ridden 194.5 miles on 3.85 gallons of gas (regular unleaded). So, my gas mileage is 194.5 miles / 3.85 gallons = 50.5 mpg.
According to this, the 2017 Africa Twin has a 4.9 gallon gas tank.
But, when my bike hits reserve, it starts flashing a low fuel indicator, but then still only takes 3.85 gallons of gas. So, my assumption then is that it must still have one gallon of gas in it when it starts flashing the warning/low fuel indicator. If this is the case, then the range of the bike should be approximately 4.9 gallons * 50.5 mpg = 247.5 miles. Of course, I'm not going to push it unless I'm carrying extra gas, and I didn't take my gas can with me on this trip as I normally do on my longer adventures.
When I get to the house, it's 4:00 p.m. and I've ridden 422 miles. I'm pretty tired. Take a shower, and decide to go shoot the elk up at Evergreen Lake.
It looks like Wendy and I were down here in April of 2010, or 9 1/2 years ago, roughly.
Posted by Rob Kiser on September 17, 2019 at 4:38 PM : Comments (2) | Permalink
September 13, 2019
Ben's Wild Ride
Ben and I rode down through Phantom Canyon just outside of Cripple Creek/Victor, Colorado. Not sure we would have found it if we didn't run into Philip though, a rider from Missouri who we ran into on the way down, around Deckers, I think.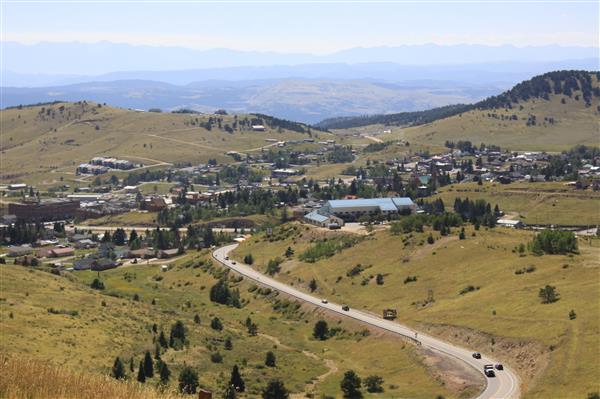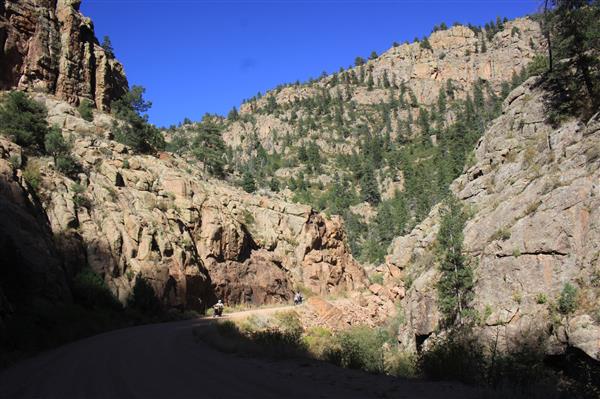 Posted by Rob Kiser on September 13, 2019 at 10:38 PM : Comments (0) | Permalink
Ben's Garmin Trax
Copying Tracks off of Ben's Garmin Montana 600
1) Launch EasyGPS.
2) Click on "Receive (from GPS)" icon.
3) Click OK.
So, now I see them in my EasyGPS app, but there's no topo map or anything. So, I save them off as S:\_2019\garmin\Ben_Trax_2019_09_13.gpx
But, the file is too large, so I delete everything except for our ride from today and save them off as S:\_2019\garmin\Ben_Trax_2019_09_13b.gpx
Now, I can upload them onto a map.
Go to http://www.gpsvisualizer.com/
Select your .gpx file.
Click Map It.
Posted by Rob Kiser on September 13, 2019 at 9:19 PM : Comments (0) | Permalink
September 11, 2019
Elevation
Elevation of nearby towns:
Conifer 8,277 ft
Marshdale 7,766 ft
My house 7,483 ft
Evergreen 7,220 ft
Posted by Rob Kiser on September 11, 2019 at 9:46 PM : Comments (0) | Permalink