« A Murder Mystery | Main | Reformatting Lacie External Hard Drive w/ FAT32 »
December 2, 2013
RIP Slinky (May 7, 1997 - Dec 2, 2013)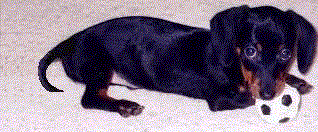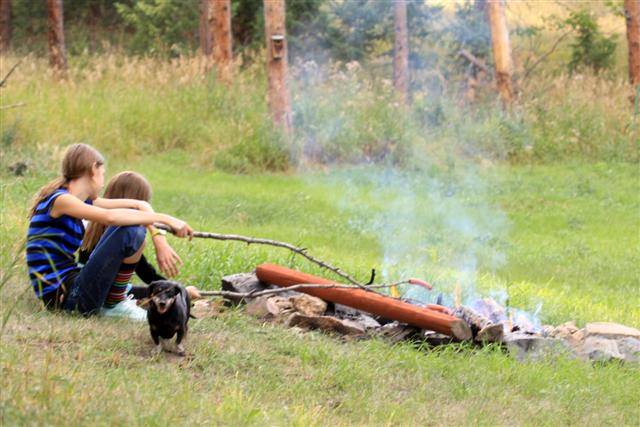 This is Slinky, the latest addition to our household. She is a short-haired, miniature Dachshund. In this picture, she is approximately 9 weeks old and weighs 3 pounds.
Slinky requires constant monitoring. Although we feed her 4 times a day, she has an insatiable appetite and tends to forage constantly. Inside, she appears to prefer eating cotton balls, tissue, and newspaper, but once outside, she seems content to snack on rocks, bark, leaves, and grass. Needless to say, we are constantly prying open her mouth and retrieving inedible objects.
When I purchased a toy for Slinky at Petsmart and brought it home, she promptly ignored it. When the trash can spilled, however, she was in hog-heaven chasing the empty Gatorade bottle around the living room, and barking fiercely when she corned it. When I went back to Petsmart, I took Slinky and let her pick out her own toys. She picked out the soccer ball and it is one of her favorites.
When I explained that Slinky was fully grown to the animal lovers at Petsmart, they fawned over Slinky and began squealing and slobbering like rabid strays.
When Nicole comes in from work (Thank goodness someone has a healthy work ethic), she drives Slinky into a frenzy by loudly calling her name in a sing-song voice while pounding her hands on the floor. Slinky frantically circles the living room at top speed for reasons known only to her. Needless to say, the neighbors rue Nicole's arrival.
Slinky is already paper trained, as long as Michelle is around. As soon as she is alone with me, for some reason, the entire apartment becomes fair game for her to relieve herself at will. Slinky doesn't do much better.

Posted by Rob Kiser on December 2, 2013 at 7:37 PM
Comments
Slinky, all dogs go to Heaven. I hope you're having fun playing with your favorite soccer ball like a puppy again. You brought many years of heartwarming joy to your family.
Posted by: Carol on December 3, 2013 at 10:03 AM
Post a comment