« Restore and Preserve the Monticello Depot "in situ" | Main | A Murder Mystery »
November 30, 2013
5 Killed in ATM Shootout in Mexico City
So I stumbled across an article today on http://www.reddit/r/justiceporn that indicated 4 robbers were killed in an ATM refill shootout, along with one armed guard, apparently. And, I just thought I'd take to opportunity to try to emphasize how dangerous it is to refill an ATM machine in Mexico. Like, in the United States, I see people all the time refilling ATM machines. It's a one-man job. He may or may not be armed. In Mexico, it's a horse of a different color.
In Mexico, you're going to have 3 armed guards, with bullet proof vests, carrying pump shotguns with 18 1/4" barrel, 6+1 magazines, thigh holsters with back up revolvers. Extra ammo strapped across their chests on bandoliers. Extra bullets for the revolver on their belts. No joking around. No funny stuff. These dudes are deadly serious. I was like "No hay problemo con esto cajero automático?"
"Alto. No pase."
These dudes are deadly serious. Now, I sort of start to understand why, I guess...

http://latino.foxnews.com/latino/news/2013/11/26/4-robbers-security-guard-die-in-shootout-in-mexico-city/

Armed guards defend an ATM machine in Ciduad del Camen, Estato del Campeche, Mexico. May 31, 2013.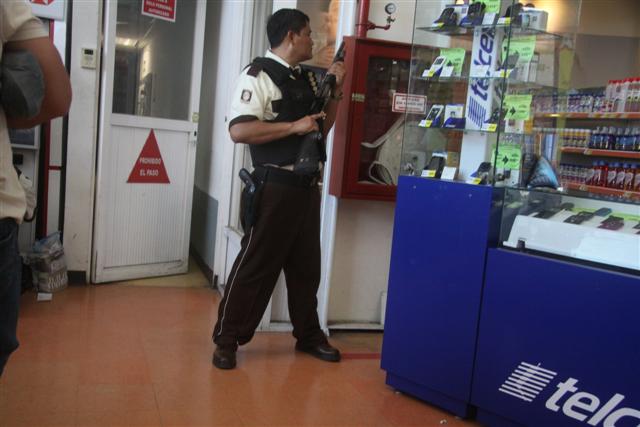 Posted by Rob Kiser on November 30, 2013 at 11:55 AM
Comments
Post a comment