« Postcards from Nowhere: Peoria to Panama - Day 29: Panama City, Panama | Main | Postcards from Nowhere: Peoria to Panama - Day 31: Panama City, Panama »
June 18, 2013
Postcards from Nowhere: Peoria to Panama - Day 30: Panama City, Panama
Above: Mi amigo Fernando selling cups of Pipa (ice cold coconut milk) for something insane like 65 cents at lunch time at the Carga Terminal for the Tocumen Airport.
Update: I am alive and well and resting peacefully in the Hotel Bahia Suites in Panama City, Panama.
Tuesday June 18, 2013
Motorcycle Odometer (at start of day): 5,529
Motorcycle Odometer (at end of day): 5,539
Miles driven today: 10 miles

Local Currency: US Dollars
1 US Dollar = 1 US Dollar
In the morning, I go into the parking lot to get on my bike and the Nacional Policia are already there waiting on me. I kid you not. As soon as I put a leg over my bike, they pull up, and the one in the passenger seat jumps out and starts babbling at me in Spanish. I never know what they're saying, of course. He keeps saying something about Colombia or Panama. Only I tell the I've driven the bike from Chicago to Panama. I've not been to Colombia. They just wanted to ask about the bike, I think.
I roll out to Tocumen airport again. By now, I've figured out how to use the roundabouts to turn around, instead of cutting across the median like a lunatic. At Tocumen, all of the people here know me now. The man on the Naranja KTM.
At the first checkpoint, they just waive me on.
At the next checkpoint, I see my buddy on his Chinese KAWA motorcycle selling Pipa (ice cold Coconut Milk) under the awning for Aduana. He smiles at me and greets me warmly. He wears a Nazi army hardhat as a helmet. Drives a KAWA motocycleta pulling a small trailer. In the trailer, two large cylindrical igloo coolers. Inside each cooler, a tall vertical block of ice. That's how he keeps the Pipa (coco milk) so cold. Aha.
He pours me a cup. It costs less than a dollar, but I always give him a whole dollar. Cuz that's just how I roll. However, I do like the coins down here in Panama. They're the only thing that is different from the U.S. Currency. They have their own coins with Balboa on them. Very cool.
It's just so hot down here there aren't words. You just can't know. I pull up to the FedEx office, park in the shade of a large tree, and try to think what I could possibly ship back to the U.S. that would lighten my load. Slowly, I realize I'll have to remove my fairing and ship it back somehow. I wonder if KTM has given me the tools to remove the fairing. Surprisingly, they have. I easily remove it by pulling about 8 tricky little screws out of the fairing. The bike has a slightly different profile now Lower. Meaner.
I wander into the FedEx office, but the woman guarding the door doesn't speak english. And she wants me to go through a metal detector. But that's why I'm here....I can't carry this stuff on the plane. I'd like to get down to a single carry-on bag so I can walk on the plane and not have to deal with baggage.
Finally, I get past her, the metal detector screaming in disbelief.
They give me some paperwork, and tell me to go see Ricardo in the warehouse. I show Ricardo everything I want to FedEx back to the United States....some tools...just stuff that wouldn't look good in a carry-on bag.
Now, Ricardo is trying to find a box for me that will hold everything. He doesn't have one, so he makes one, cobbling two boxes together with packing tape. I'm sweating like a whore in church in the enormous open warehouse. I wonder where my Pipa man is? Christ I could use another cup.
A FedEx package says "Keep Refrigerated Upon Arrival". It sits in the open unairconditioned warehouse with everything else. It's so hot, even the cat walks outside
Things move so slowly down here there are no words. Even at FedEx, business creeps forward at an indescribable pace. It's too hot to believe. Too hot to think. Too hot to work. Too hot to breathe. I'm sweating buckets, and I've done nothing today. I've walked maybe 100 yards total. Maybe I've climbed 2 flights of stairs. My shirt clings to me, as though I've been sprayed with a garden hose.
You want to scream..."How much will it cost me to mail the freaking package? For the love of God, people!??!!??"
But, nothing helps. Nothing works. It's just a slow motion nightmare. Sit and wait.
Finally, he weighs it, and now, back upstairs. After ignoring me for about 30 minutes, she finally gives me a cost. It will cost more than the items are worth to ship them back. If I had any sense at all, I'd just throw the in the trash. But I can't. I ship it all back.
My clothes are about to rot off of me. So hot. So tired. My back kills me, in two different places. Every time I stand up, I feel like I'll black out. I checked out of my hotel this morning. I'm really not sure what to do at this point. I have another hotel downtown in Panama City. I guess I'll go there and try to regroup.
Eventually, I find the new hotel and get checked into the Hotel Bahia Suites in Panama City. I take a shower. So tired I want to just collapse, but instead, I decide to try to deal with my camera situation. My camera situation is not good. Not good at all. The new camera I bought from the scallywag in San Jose has ceased to function completely. My two other cameras are functioning on some level, but the batteries are all drained. So, what I really need, is a battery charger for these old-school Canon EOS-50D frames. Not going to be easy. But, I have to do something, or I can't take pictures. And if I can't take pictures, well, that's a bad thing for me.
I decide to try to go find a store called the MultiMax, as it's a big electronics store, apparently, and the one on Tumba Muerto is supposed to have a Canon shop next to it.
I end up driving down Balboa, and I'm checking out the skyline, and I see this pedestrian walkway/overpass over Balboa, and decide that the vantage point for a photo would be way better up there. So, I drive my KTM up the pedestrian overpass bridge, which is pretty clearly illegal. And, now that I'm up here, getting my pictures, a policeman on the ground whistles at me to get my attention. He's not happy. I decide to come down. When I do, a different policeman points for me to pull over. The other one comes running up. They're not happy. They want my driver's license, passport. I try to explain to them that I don't speak much Spanish, but I drove my bike here from Chicago...over 5,000 miles one way...they want to fillet me and toss me into the Gulf of Panama. But, instead, they just return my passport and my driver's license and let me go.
I try to find the MultiMax, but I can't. I just have no clue.
Every time I leave the hotel on my bike, i can't find the MultiMax. I always make my way back to the hotel, but I can never really get to the MultiMax.
The traffic in Panama at rush house is just beyond belief. At most of the intersections, there's no signs. No lights. Nothing. You just sort of muddle through it and try not to get killed in the intersection. Headlights flashing. Horns beeping constantly. Just madness. Lunacy. Now, a light rain starts to fall. This is insanity. I didn't come all of this way to get killed in a slow speed accident in the rain.
I end up on the Corredor Norte, it's a tollroad, and you'd think the tollroads would be better. You'd be wrong. Somehow, it's rush hour and they're driving down the shoulder...wherever they can fit a car. Like bumper cars almost.
This is the nightmare I find myself in.
Finally, I get back to the hotel and just call a cab. It's not worth dying over.
I want to go to MultiMax. The receptionist at the hotel calls me a cab. She tells him to take me to MultiMax, and bring me back alive.
"Quanto es?" I ask, before we leave.
"Seis y seis....doce..." he says.
$12.00? I can handle that. He drives me through the slums of Panama City, avoiding toll roads, and we end up somehow at the Albrook Mall, and hit MultiMax, and all of the camera stores. No one has anything. But I have my interpreter. That makes things so much better. He's driving me around, trying to find what we need. An old school charger...it worked for the Canon 10D, 20D, 30D, 40D, 50D...but then they changed the battery. And the charger. So, the new cameras don't use my old school charger. I had two of them and I lost them both because I'm an idiot. I left them in hotel rooms on the trip down. Now, my batteries are all pretty much completely run down, plus, the Digital Rebel I bought from the con artist in San Jose has ceased to function also.
So, I've basically got three canon cameras, and countless lenses, and I can't take a single photo, which is pretty close to maddening. I can't continue to sight-see without cameras. I just can't do it.
My buddy, Jose, is taking me to all of these camera stores in the Albrook Mall. But none of them have the old school chargers. Apparently, there is a Canon store somewhere, but it's closed. He can take me in the morning, of course. But that means that I won't be able to take my ferry ride through the Panama Canal tomorrow. I tell him that it's no use. We should just give it up. My cameras are old. No one has my chargers. I'm ready to throw in the towel. He'll come to the hotel at 11:00 a.m. and take me to the Canon store. Good enough.
We stop at an ice crew store at my insistence. I order a Mango and a Maracuya. I have no idea what Maracuya is. I'm just going for broke. Swinging for the fences. I tell Jose to get one also. And we sit in the mall, eating our ice cream slowly.
But now, one last camera store we have to hit, apparently. It's useless, in my mind, but Jose insists. This mall is enormous. It just goes for blocks and blocks.
We stop in, and the guy says he doesn't have the Canon charger. But, in passing, he mentions that he as a generic charger. I'm like...let's see it. Break it out. Now, he's adjusting the charger....hooks up the battery, and lo and behold, it starts charging. I'm like...."Quanto es? Tres dollars?" They laugh. It's $38.00. I'm all in.
Now, I can recharge my batteries, albeit one at a time, and go on a tour of the Panama Canal tomorrow.
Above: View of Panama City skyline from pedestrian overpass over Balaboa Avenue.
Above: View of Panama City skyline from pedestrian overpass over Balaboa Avenue.
Above: View of Panama City skyline from pedestrian overpass over Balaboa Avenue.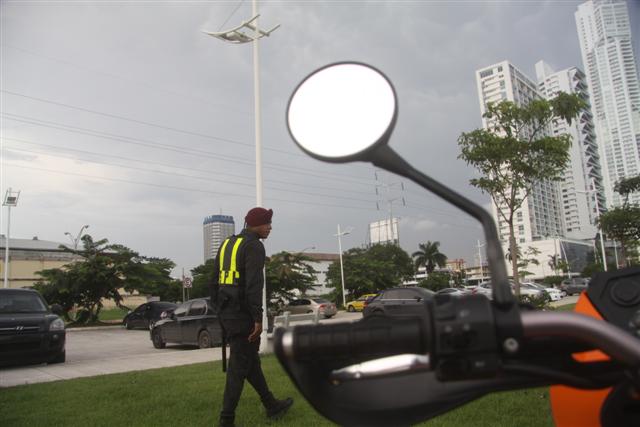 Above: This is one of the Nacional Policia that stopped me for driving a KTM Adventure 990 across a pedestrian overpass over Balaboa Avenue.
Above: Wheatpaste art on a utility box in Panama City.
Above: Wheatpaste art on a utility box in Panama City.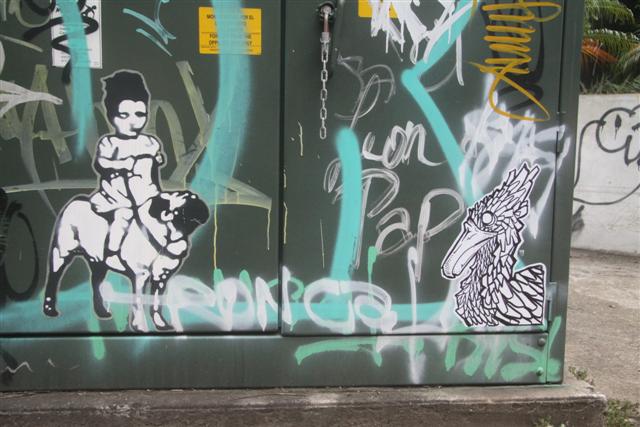 Above: Wheatpaste art on a utility box in Panama City.
Above: Mi amigo selling cups of Pipa (ice cold coconut milk) for something insane like 65 cents at lunch time at the Carga Terminal for the Tocumen Airport.
Above: Ricardo packs up some gear to FedEx back to MS so I don't have to carry a bunch of suspicious items onto the plane.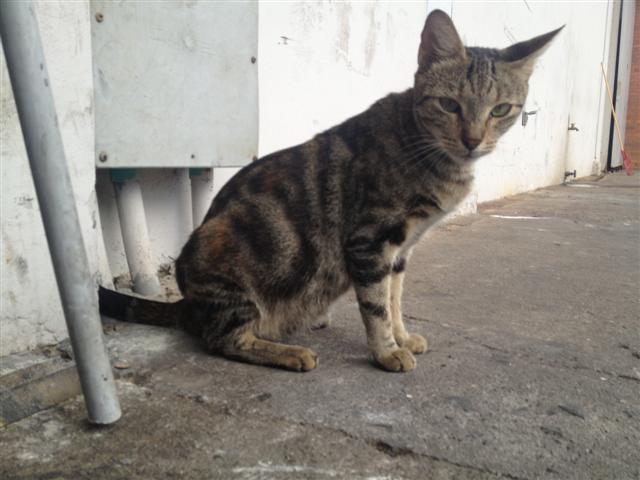 Above: A cat at the FedEx office at the Tocumen Airport Carga Terminal.
Above: A cat at the FedEx office at the Tocumen Airport Carga Terminal.
Above: Keep Refrigerated Upon Arrival? Yeah. Good luck with that...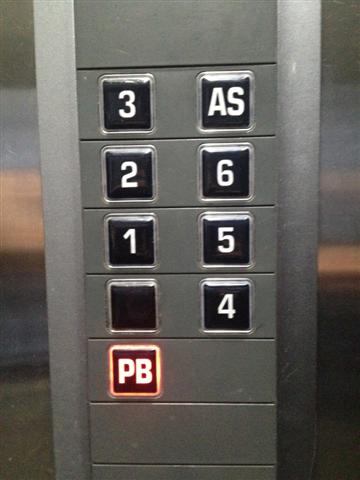 Above: The choice of floors in the elevator....yeah....I'm not real sure what those mean...
Above: A selection of helado (ice cream) at the Albrook Mall in Panama City.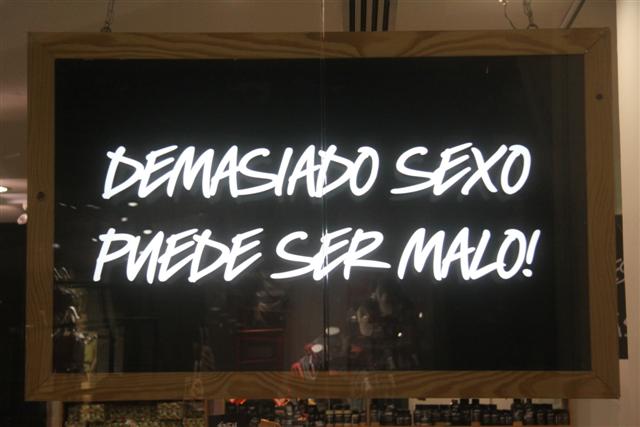 Above: Sign in a store window at the mall. I think it was Victoria's Secret?
Above: Mi amigo Jose, that took me to the Albrook mall to find a battery charger.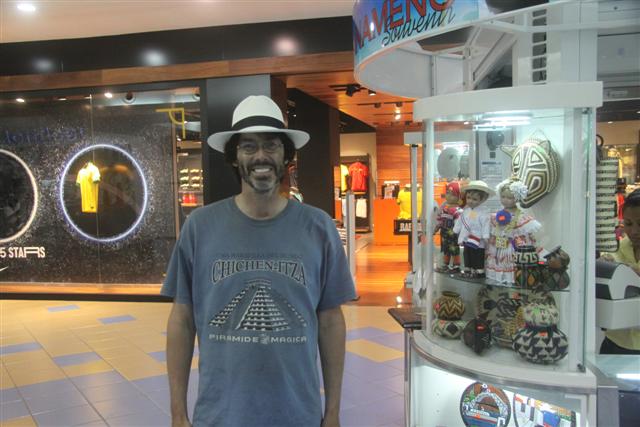 Above: Hey, if you're in Panama...you have to get a Panama Hat, right?
Above: The night skyline of Panama City, as viewed from the rooftop of my hotel.
Posted by Rob Kiser on June 18, 2013 at 11:00 PM
Comments
Mi hilo guapo al aventurero!
Posted by: yomomma on June 19, 2013 at 11:52 AM
Post a comment