« Doug's Ride | Main | Postcards from Nowhere: Peoria to Panama - Day 18: San Pedro to San Ignacio, Belize »
June 5, 2013
Postcards from Nowhere: Peoria to Panama - Day 17: Belize City to San Pedro, Belize
Update: I am alive and well and resting quietly on the shores of the Caribbean Sea in Spindrift Hotel in the villa of San Pedro on the island of Ambergis Caye, in the country of Belize.
Wednesday June 5, 2013
Motorcycle Odometer (at start of day): 3,726
Motorcycle Odometer (at end of day):
Miles driven today: miles
I"ve been on the road for so long...it's hard for me to remember a time when it wasn't like this.
I'm putting todays diatribe in the extended entry because it's so long, no one with any sense would read it....
Belize City
Day 2
I'm sort of a hostage at the hotel. I can't leave, lest my package show up. I'm not real clear what company shipped it (DHL, FedEx, etc) , or when it's supposed to be here. Nancy, the lady at the Bachelor Inn Hotel, speaks broken English. She's from Taiwan. She seems exceedingly doubtful that it will arrive miraculously on a truck. I keep screaming FedEx and DHL at her, but she keeps telling me to go to the Post Office to see if it's there. I dunno what to do.
My ISP has fucked me over royally for some reason. I have no idea what's going on. I can't connect to my RDP server to upload photos. I'm in a third world country, trying to solve this problem from a country that's essentially three baby steps away from the stone age.
Nancy wants to know if I'm staying another night. She has to have the money right now, apparently. There's a taxi here. He can take me to the Post Office.
So, I'm like...deal...here's $40 dollars for another night in the room. Please quit screaming at me. It seems like I spend my life paying women to stop screaming at me. It occurs to me that the $2,000.00 in ransom I paid immediately before I left on this adventure was the best money I ever spent.
So, I hop in the taxi. A laptop. 2 cameras. Cell phone. Wallet. Let's go.
Now. rolling through the back alleys of Belize City. This is genius. Why didn't I think of this earlier. This is what I needed. A chauffeur in an armored car. OK. It's only a Chevy Astro van, but still, it's like a tank compared to a dirt bike.
The A/C works just barely, and my window is always open about 2 inches. It is electric and rolls up or down exactly 1/2".
His window is open. We're sweltering. Roasting alive. I can't roll down the windows to shoot. But, this is good because the lady at the hotel knows the guy. So, there is that.
The lady at the hotel is named Nancy. Her son is Michael.
Driving through the back streets of Belize City. I'm sure we will kill someone. Bicycles. Scooters. Other cars. You know how bad taxi drivers are in the U.S. Imagine them in Belize. Also, it's an illegal taxi. No markings to indicate it's a taxi at all, of course. No meter or any of that nonsense.
I find the FedEx tracking number in my cell phone. Many thanks to Nick at Funmart Cycle in Moline, Illinois. He's been a huge help in all of this. Truly. I owe him dearly.
The taxi driver takes me to the FedEx office in North Belize City. We've not ever gone into South Belize City. MUch worse there reportedly.
At Fed Ex, they tell me my package is at the airport.
"Which airport?" I ask. There are two here.
"The airport. The big one. The Felipe Goldson International Airport."
So, I tell my taxi driver, but he wants to go into South Belize City to pick up another guy. I'm sure it's all a ruse to fillet me in a back alley. I'm carrying at least 6 grand in electronics alone.
It's the start of the rainy season, so some days it rains, and on some days, it's roasting hot. When it's hot, they pray for rain. When it rains, they pray for the sun. And so it goes.
Sweltering, racing madly through the barrios of South Belize City, dodging bicycles, pedestrian, other cars. He screams maniacally out the window at other drivers for real or imagined infractions.
We meet some man. I'm not sure what transpires exactly.
Now, rolling north through town, on the main drag.
"This is the main road?" I ask.
"Yes. But always construction. We came down a different way due to construction. The mayor, always he wants to rebuild the roads. To show he is doing something. But it is too much at once, man."
The mayor's name is Garrell Bradley, apparently.
Driving north now on Central American Highway. A police checkpoint up ahead.
We stop in a long line of cars.
"What are we stopped for?"
"The police are checking for insurance," he explains. The Belize City police have a checkpoint where they're checking for insurance, apparently. Good thing I'm not driving.
"What if you don't have insurance?" I ask.
"They take your vehicle. They seize it while you go and buy insurance."
"Aha."
But now, we're rolling again. We pass the police checkpoint.
"What happened? Why they let us go?"
"There were writing a ticket, so they let everyone go until they ready to catch another one," he explains.
At the airport, I walk up with my cameras to go to clear yet another checkpoint. No cameras. No cameras. Put them back in the van. Now hand over ID. Sign in. Get tag. Go now to FedEx. FedEx tells us that they tried to deliver to the hotel, but she had no phone number for me. The package is back in Belize City. Argh!!!
Now, back to Belize City. We see an iguana cross in the road. Green, with colored stripes along its back. 3 - 4 feet long.
An Iguana? I ask.
No. Is a lizard.
That's one hell of a fucking lizard I reply.
Now south...rolling south back by the Belize River. Across the bridge.
"Watch for the chupacabra in the street. There there it is. What is that?" I shout at him. I saw it on the way up. Then, he said it was a dog. It's an animal run over in the road. Clearly not a dog.
Now, he calls it a raccoon. It's certainly not what I would call a raccoon. But it's not a chupacabra either. Instead, it looks like what I saw back in Mexico run across the road in front of me one night with about a 3 foot long ringed tail sticking straight up in the air. The animal is colored reddish-brown, with a black/brown striped tail.
Now, we stop at a store and I check for motor oil. But it's an outboard engine store. They suggest we try at Westrac, whatever that is. Back up the road, the way we came from. Of course.
So, rolling through town sweltering in this Astro-oven nightmare.
Now, I should mention the things you miss living in the first world. What you're missing is this:
There's no such thing as low flow shower heads down here. When I take a show at night, it feels like I'm standing under a raging waterfall. And it's the best feeling on earth. True, in the Yucatan, I'm reasonably sure that the showers and the sink water was salt-water. I don't care. It was fine. But here in Belize, the showers will wash you away.
In Belize, they keep the candy bars in the coolers with the drinks. So, you when you get a candy bar, it's freezing cold. This is not something I've ever seen in the United States. And it's decadent.
They server drinks, snacks, and full meals on the side of the road. This is not something I see very much in the United States, and it's greatly missed.
Illegal Taxis - These are the best ever. The regulation of taxis in the United States is only done to artificially inflate the rates. If the taxis were de-regulated, the prices would collapse, and then you could pay someone to drive you around all day, which is what you really deserve, isn't it?
In Mexico, they had drive-through cold-stations. I forget what they were called, but you could pull through and get refrigerated snacks, drinks, snow cones, etc.
In Mexico, they shave the ice by hand from a enormous block of ice. Obviously, it tastes better this way.
It's so hot down there, there just aren't words. Black people walk around with white towels on their heads to protect themselves from the brutal mid-day sun.
My driver wants to go into a bank that closes at 3:00 apparently. We stop, and I sit and guard the van while he goes inside. A man guards the bank in the shade with a machine gun.
He tskes me back to the FedEx office, where we started, in Belize CIty. And I walk inside. I want to strangle the girl behind the counter.
"Why did you tell me it was at the airport, waiting to clear customs, and that I owed duties/tariffs on it, when it was, in fact, right here in your office the whole time. Can you tell me that?"
I wanted to stand on her throat and fillet her like a strawberry grouper.
"I'm sorry sir. I did not know it was here. The website showed it was at the airport."
"Yeah, because you didn't scan it when it came in. That's how it works."
"I'm very sorry, sir."
"It's fine. It doesn't matter. Thank you very much."
And now, I have the absurd little oil filters. And a pair of motorcycle gloves. So, I have that.
I should mention that, on this trip, the only thing I have lost is a pair of gloves, and my black MoFo hat. Which isn't bad, IMHO. It's very difficult to be constantly on the move, checking in and checking out. Getting in and out of taxis. Every day. For weeks on end. So, that I have lost a hat and a pair of gloves. I'm fine with this. They fell off the bike while I was driving. I'm OK with this.
On the other hand, deep inside, I fear that this may be my last great adventure. I am having some issues on this trip. I'm not 19 any more. I'm getting older. And I feel old. But that is a consideration for another day.
We don't go to war with the army we wish we had. We go to war with the army we have.
He takes me back to my hotel, I pay him something absurd for driving me around all day. Something crazy like $50 USD. And now, I'm back in my hotel, and I have my package. My precious package.
Now, I have to fix my internet.
I call Robert Racansky. A genius friend of mine in Colorado. "Racanksy. You gotta help me. My website is melting down. I have no idea what's going on. And I'm in Belize. What's going on? Please help me."
So, Robert drives up to my trailer in mountains, and starts trying to set things right.
I should also mention that Mark, Rosemary, and Eric, all were very generous also in helping me to troubleshoot this problem.
Finally, we figure out that I haven't paid my internet service provider in two months, and they're doing a "soft disconnect" of my website. While I'm in Belize. Thanks for that. So, I pay them some insane amount of money, and they say they'll fix my website. Should be working in 30 minutes.
Robert sticks around to make sure it's working before he leaves. I owe him dearly for this.
So now, I have oil filters for my bike, my website is working again. I'm essentially free to go. This is tough.
I mean, I have no idea why I'm down here. I don't really have a plane. I'm just making it up as I go along. So, I've already paid for a room in Belize City, but it's a shit-hole. Let's be honest. I've always wanted to see San Pedro. My neighbors go there. And part of this trip is to see what's down here. Isn't it worth a day trip to Ambergis Caye to see what it's like? I've heard it's the about the clearest water in the world. Part of me wants to go there. I love to dive. I'm not certified, of course, but I've free-dived in a lot of places.
And in all of my travels today, I figured out that there is, in fact, a water-taxi to Ambergis Caye.
Ambergis Caye
Now, I have some oil filters, and my internet is working. I decide want to catch the ferry to Ambergis Caye to San Pedro.
So, I roll down to the water taxi on my motorcycle and ask a group of gentlemen standing in front of the water-taxi building when it leaves for San Pedro.
"It leaves at 5:00"
A little sign out front says as much.
"Quanto es?"
"It costs Belize $25.00 one way. Round trip is Belize $45.00. But, I'm not sure I want to come back here. I might want to hop to another island once I get there. I want to keep my options open, and it if only cost me Belize $5.00, then I'll take the one-way option at this point. Don't want to paint myself into a 3rd world corner unnecessarily.
"I can take my motorcycle?"
"No. If you want to take your motorcycle, you have to go to the barge," he explains.
"Oh. I don't know where that is."
"Is there a place around here where I can buy a GPS?" I ask.
"They all consult each other. No one knows where one might could purchase a GPS."
I"m kinda bummed, because I know I'll never be able to find the barge on my own.
"You want me to show you, my friend? You ride me down there I show you."
"OK. Hop on."
"Just a minute," he says.
I ask the other guys standing there..."You know him? You know this guy?"
"Yes. He is good. He works here. He's a taxi driver. You are fine."
So, Louis hops on the back of my bike, and we ride down into South Belize City. The most dangerous of the most dangerous. The place we should never go.
Now, I haven't ridden anyone on the back of my bike in a long time. In a very long time.
And, their weight sort of throws your weight off. Every shift of his weight I have to counter with a shift of my weight, and we're driving through the darkest heart of South Belize city now. Dogs own the streets. Bicycles. Stray men. Whores. Criminals. Lord knows what else. We pass through the Mahogany Police District. Even the police are scared to come out into the open streets.
Always, Louise shouting directions.
We come to a traffic circle, and he shouts "go straight".
Now, anyone that's ever encountered a 3rd world traffic circle knows, deep down in their soul, that theres no such thing as "straight". There's always at least six different exit points from any given traffic circle, and no sane person would ever think that one of them was "straight". It's nonsense. But I just try my best to follow his directions. Dodging dogs, whores, and children screaming in the streets.
Eventually, he says "turn here" and we turn into a collapsing rusting 3rd world graveyard of rusting iron, traffic cones, and pull up to yet another checkpoint.
I produce some ID, but the barge isn't here. It doesn't leave until the morning. Fuck that. I want to keep this adventure moving. I want to be diving at dawn.
I don't want to be on a slow steel barge. I decide to leave the bike in Belize City, and catch the water taxi to San Pedro.
So, I find my way back to the water taxi stand where I picked up Louis. Now, I have to figure out what to do with my bike.
I tell my friend Louis..."Louis...what is it that you do here"
"I drive a taxi amigo. This is my taxi right here." He points to a little illegal taxi - a silver minivan.
"Louis...you know where the Bachelor Inn is?"
"No."
"Will you follow me to my hotel, so I can park my bike, and then bring me back?"
"Yes. Of course. We can make it back in time for the next water taxi? It's 4:30," I ask.
"Yes. This is no problem," he replies.
"OK. I follow you to the Princess Casino and Hotel....then I'll pass you and you follow me...got it?"
"But of course."
So now, I'm following Louis through the third world squalor of Belize City. Collapsing tin-roofed shacks. Stray dogs. Street vendors. Filthy children rolling in the city gutters.
Every road seems like an amalgamation of all the potholes in the world somehow collected and put on display on each street in Belize. (They routinely refer to Belize CIty as Belize.)
At the Princess Hotel and Casino, I pass him, and race up to the Bachelor Inn Hotel. Run up, grab everything out of the room, lock it up, and come downstairs. I yell at Michael:
"Mike...I'm going to San Pedro, Ambergis Caye (key)....be back tomorrow probably. I'm leaving my bike here. Watch it for me please. I'll be back. If you have to charge me for another night, that's fine."
So, this is where it starts getting expensive. Now, I have two hotel rooms...one in Ambergis Caye and one in Belize City. But it is what it s.
Jump into the illegal taxi. Rush back to water taxi station.
Go inside and buy a few bottled drinks for the boat ride. Now, in Belize, I can't find my drinks that I loved so much in Mexico. They're by the company De Valle...they make these naranja (orange) drinks that are to die for. They taste sorta like Tang, but I fell in love with them in Mexico and now I can't get them in Belize.
So, I grab a Grape Escape. Have to keep trying new things, of course. Must keep moving on. Otherwise we are dead. Have to keep putting one foot in front of the other somehow. Somehow, we have to keep moving forward.
I tell Louis to help me get on the boat. I mean, it's hard, once you're used to being waited on hand and foot, it's hard to walk away from the hands that feed you. It's easy to walk away from a screaming evil bitch. Especially if you're drunk and royally pissed in a different time zone. But always the piper must be paid. Always there is a price. Sometimes, it's more than you'd ever dreamed. Sometimes, it costs you everything.
I don't feel like everything's settled. I don't feel like every things been put right. I'm not clear that we know what the future holds. I see dark clouds on the horizon.
"Amigo...I fear that it will rain," I complain to Louis.
He's buying my tickets. Bringing me drinks. Carrying my luggage. I am sitting very still. A raisin in the sun.
"No amigo. Thie sky is clear. Why you think it will rain?"
"I dunno amigo. Only i see the fear. I see it in the eyes of the people on the street. Did you not notice it?"
"I dunno what you mean, amigo. What people?"
"Maybe on the way to the barge. Maybe I saw it then. In the eyes of the people."
"Which people did you mean?"
"Not just the people, Louis. I saw it in the eyes of the dogs in the street. I saw it in the eyes of the police in the station."
"What station, amigo?"
"The Mahogany Police Station."
"You say what?""
"I saw it in their eyes, Louis. I saw the fear. Somethig unsettled. Some deep underlying discontent. I feel like things aren't put right. Like maybe something's planted that no one knew."
"I dunno know what you mean, Amigo. I think you're talking crazy or something."
"Maybe Louis. Maybe I am," I reply. "What does it mean. That sign we passed?"
"What sign, amigo?"
"It said One People. One Party. One Country."
"It's just a sign, amigo. It means nothing. It's how you say...political sign...it means nothing."
"I'm afraid it does mean something. I'm afraid it means something very deep is wrong. I think it means there's a fissure in the is country which cannot easily be repaired. I think it means a revolution is coming."
"In Belize? Let me get you a beer, amigo. This one is on me. Here. Your taxi is leaving. I help you get on."
And we climb onto the water taxi.
Now, the "water taxi" is essentially a high-speed ferry. Not a very large boat. 48". And once we get out of the harbor, he opens the thing up. Really lets the engines go. The thing planes out and we're screaming across the Caribbean. Eventually, about an hour later, we pull up to a beautiful town and a nice dock and I start to get off and the captain says..."Not here. You're going to San Pedro. This is the wrong island. This is Caye Caulker. You're going to Ambergis Caye."
"Oh. Right. I knew that."
So, we take off again, and run for some distance further. Eventually, we get to Ambergis Caye. I have no plan, of course. They roll my stuff off the boat on a dolly and dump it, uncemermoniously, on the dock. A black guy on a bicycle helps me roll it all down the beach to a hotel called the Spindrift Hotel, which he promises has air-conditioning, hot water, and internet access.
It does have a hot water shower, internet access, but the A/C is pretty weak. A fan out be nice, I think.
In any event, I sit out on the deck, just inches from the Caribbean sea, listening to the gentle waves washing on the beach beneath the palm trees.
People walk up and down the beach in the shadows, whispering that they can get me anything I want...drugs, women, who knows what else. I just wave them off.
"No. Thank you. I am good, my friend."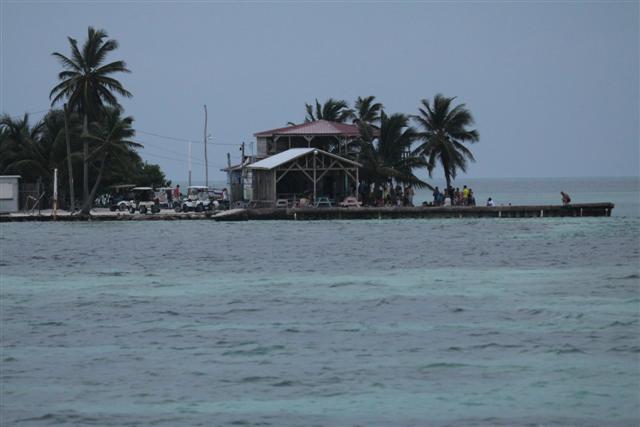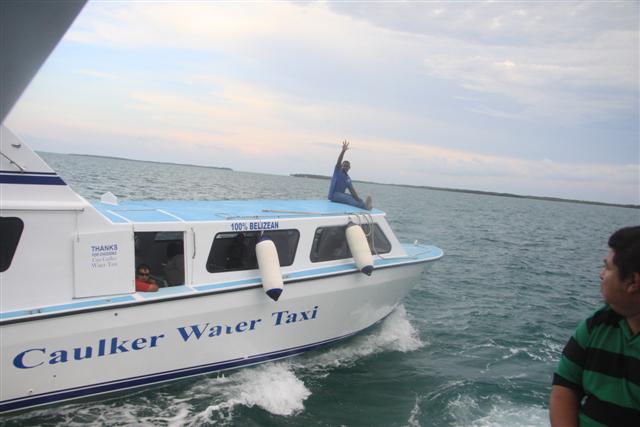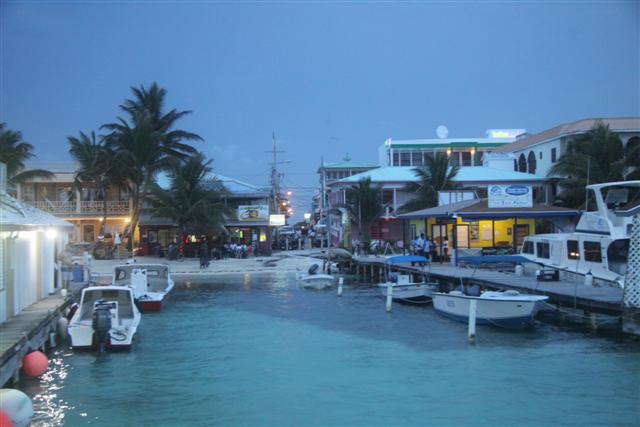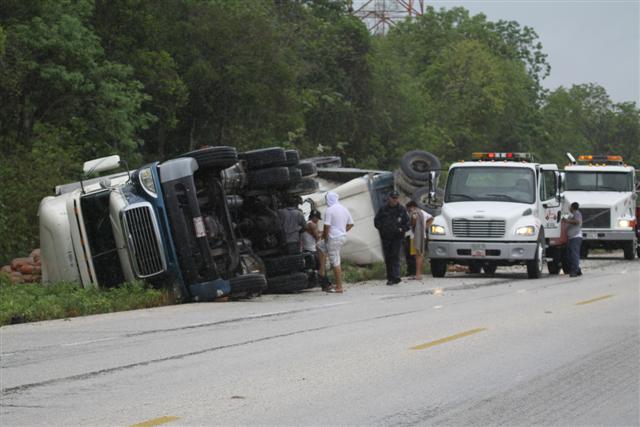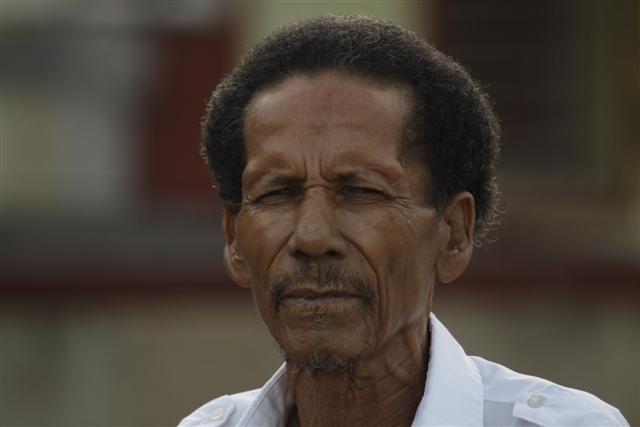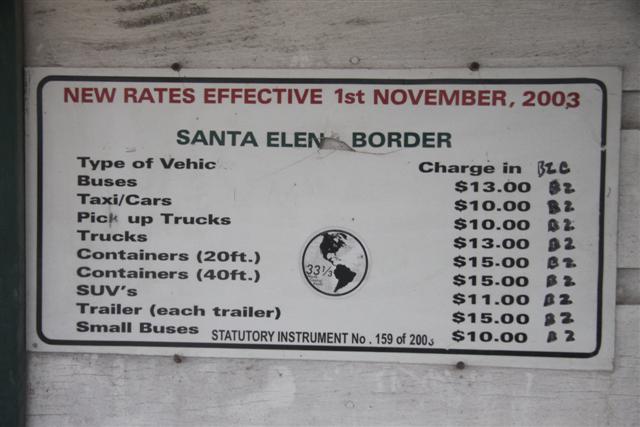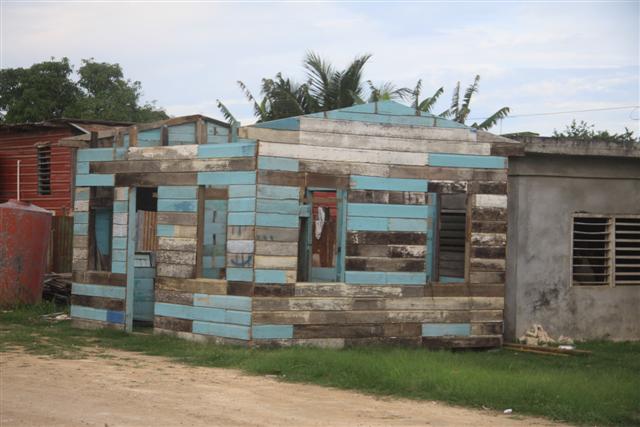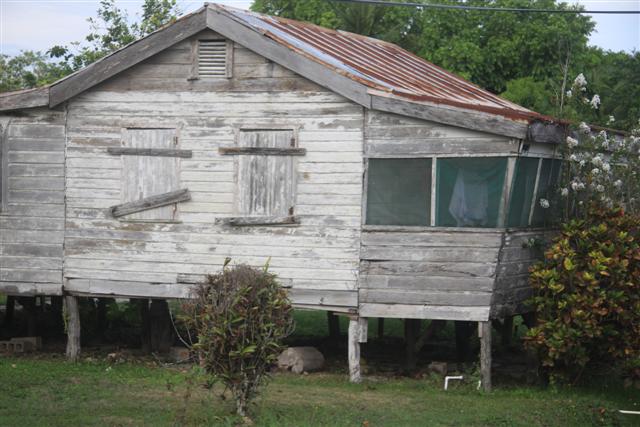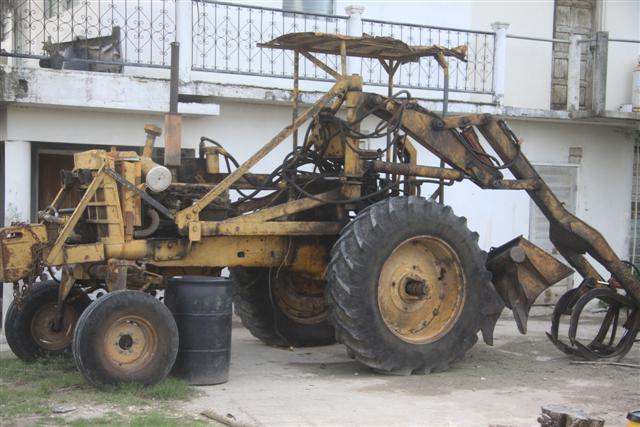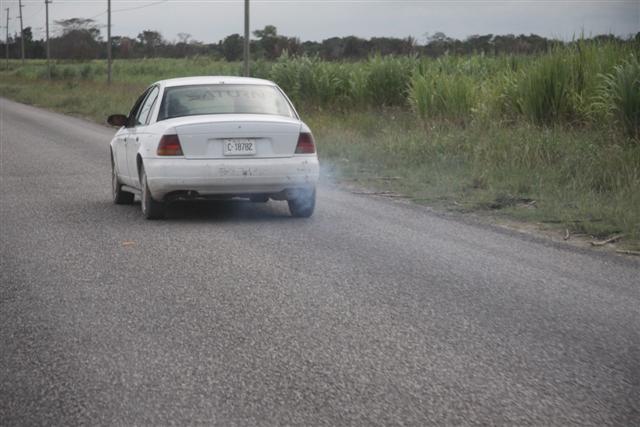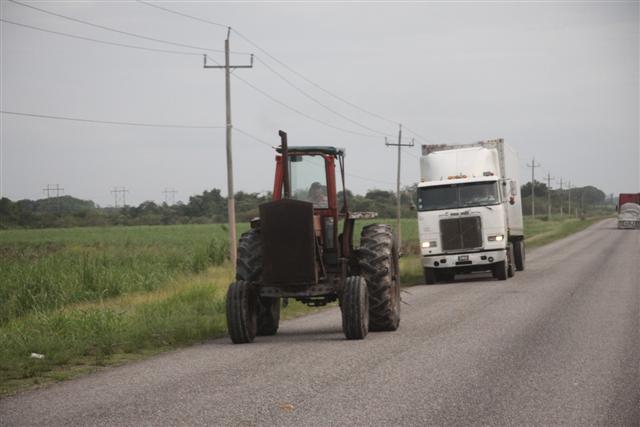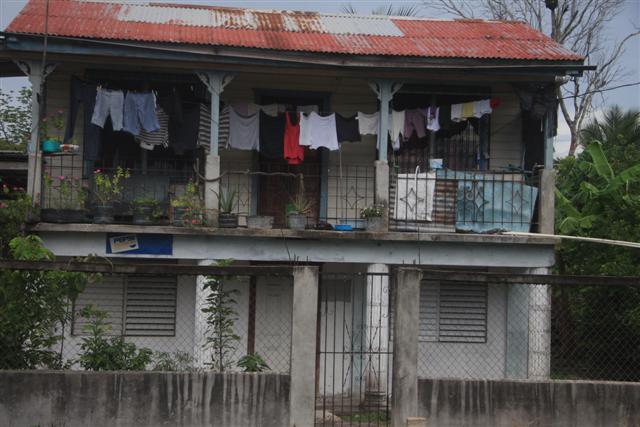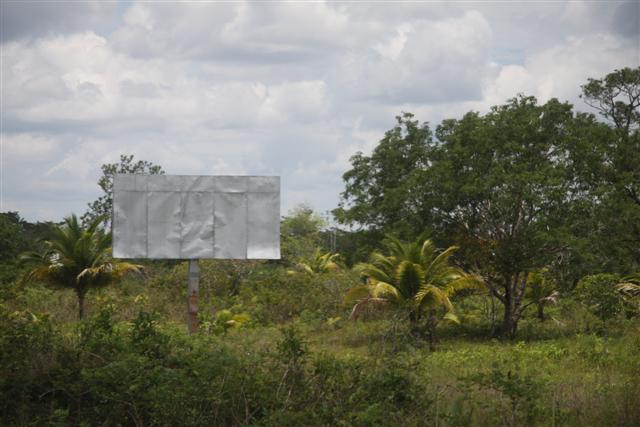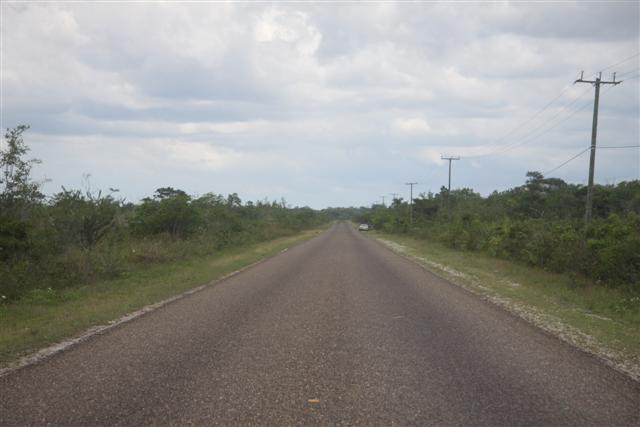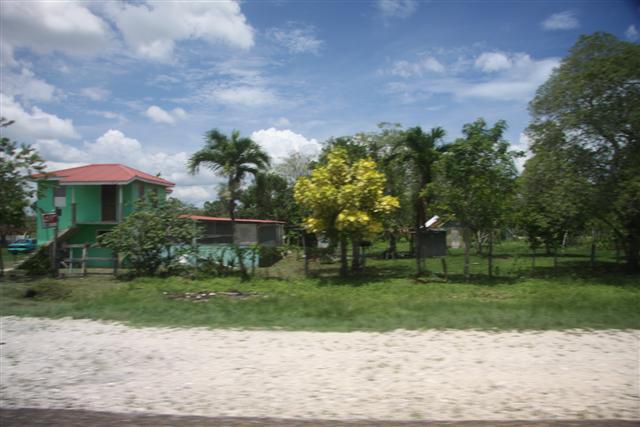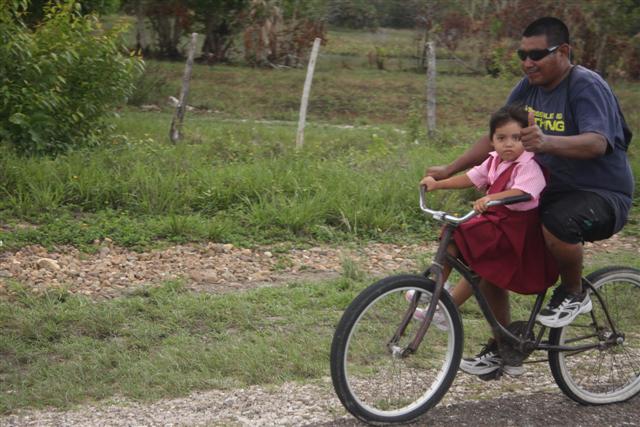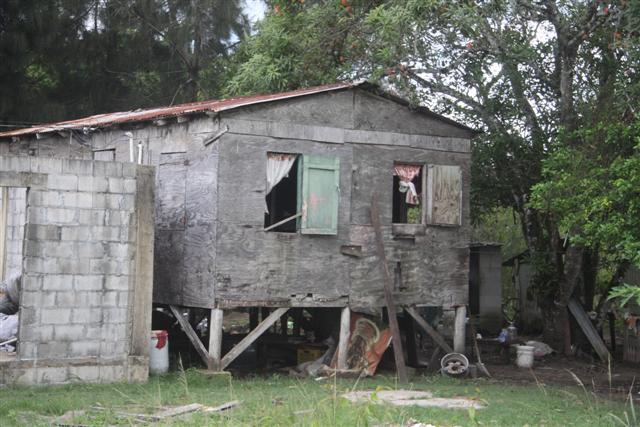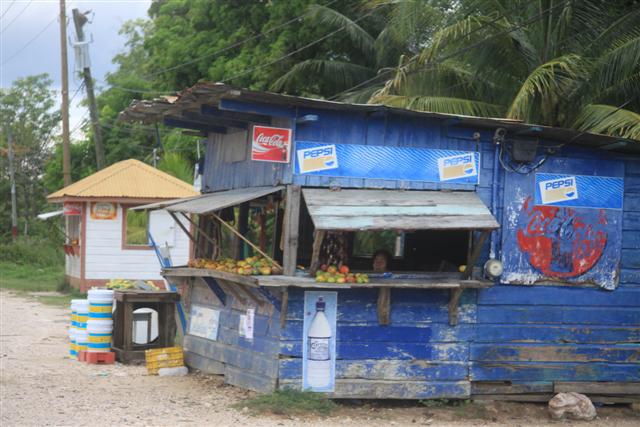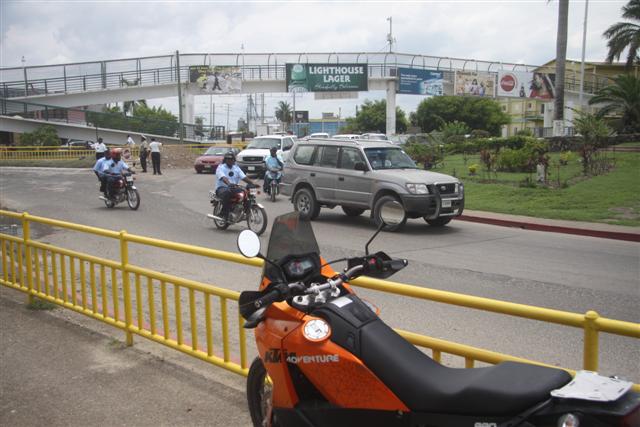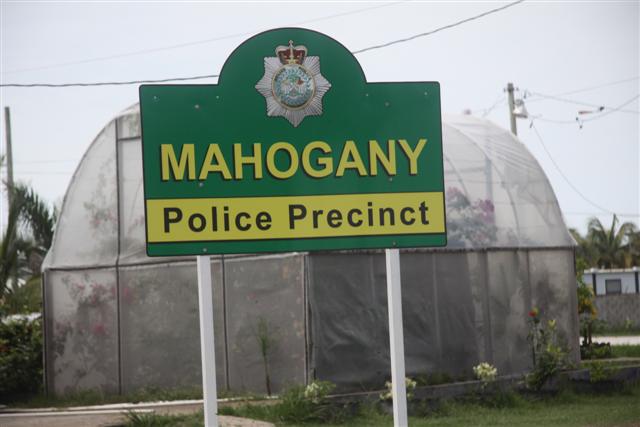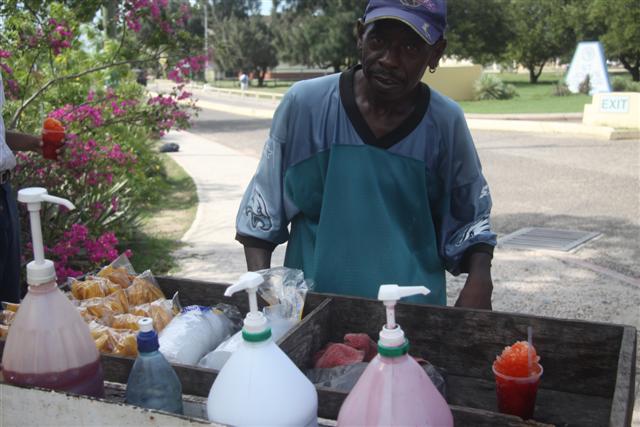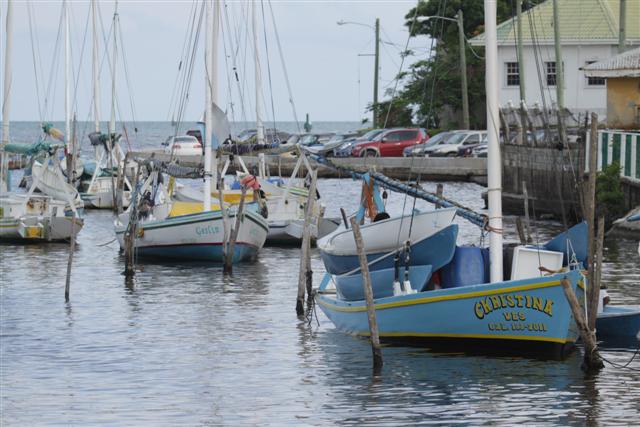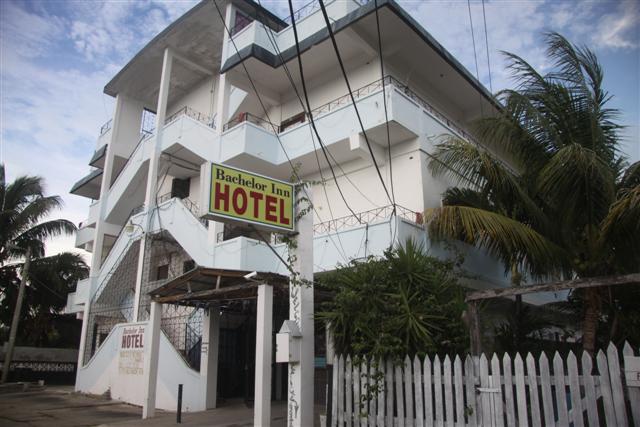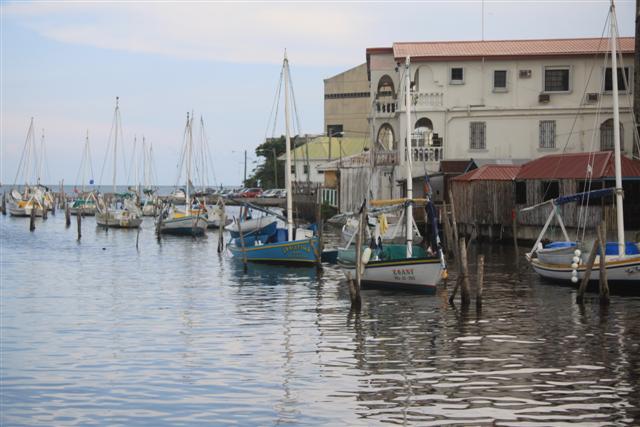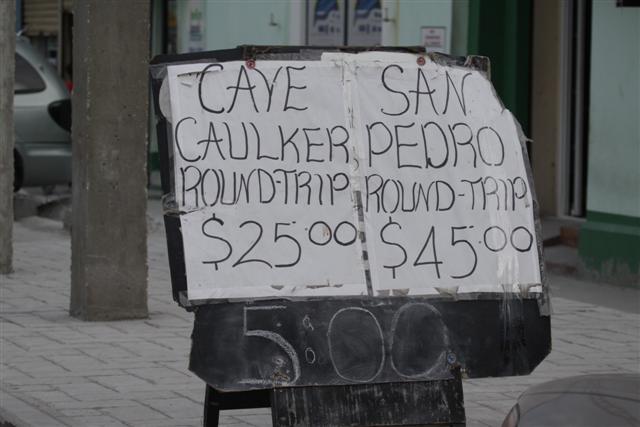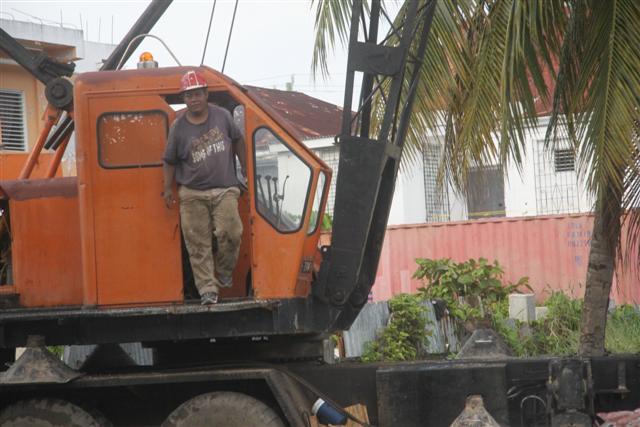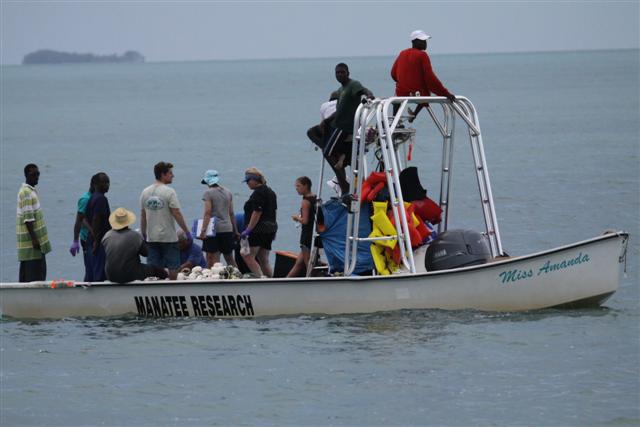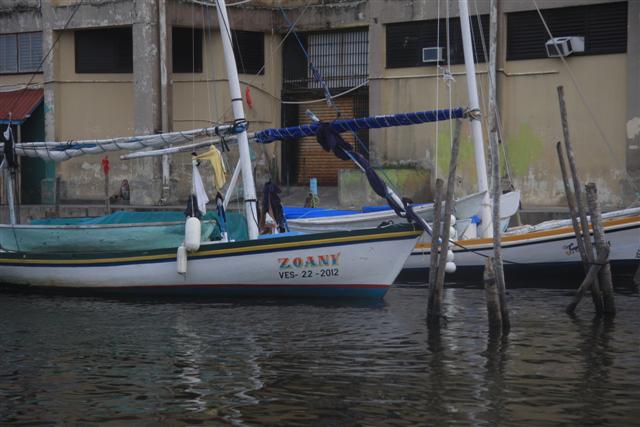 Posted by Rob Kiser on June 5, 2013 at 7:46 PM
Comments
It makes me sick to hear everyone say what you should have done while they sit on their asses in an office or comfortabley in their home. They just wish they had the balls to jst grab a small amount of their shit and hit the road. I enjoy reading about your journey and wish I was along for the adventure. Be as safe as posible and enjpoy your adventure. Safe travels!
Posted by: Jason in Chatt on June 6, 2013 at 10:11 AM
Many thanks, Jason. That was kinda my thought also. LIke, it takes a lot of balls form someone to sit in an office and nitpick the mistakes I made in hindsight. Kinda sad, IMHO. I'm down here. Trying to make it through Central America on a dirt bike. So what if I have to use paper maps. Where's the harm in that? It means I meet more people. :)
Posted by: Rob Kiser
on June 6, 2013 at 11:56 AM
Great pictures! The sail boats vista looks framable. What's with duct tape? Picture of mended picture?
Posted by: sl on June 8, 2013 at 6:32 AM
Post a comment