« Call Me Red | Main | GoStalk »
March 2, 2013
GoPro Hero 3 Black Edition

OK. Following the directions on this youtube video to update my GoPro manually, as some people have reported that the Java update causes problems with the camera seizing. Nice.
Put in the MicroSD 64 GB memory card. Recorded the serial number. Plugged it up to the PC via the USB cable. Battery is charging. Says you need to have two bars before you apply the update.
But, this little thing is maddening, of course. I have no idea what all of the flashing lights and beeping means. Makes me want to throw it in the river.
You have to enter a serial number, and on the camera, it's on two lines like this:
HD3BB011
32A3CD7
But they want you to enter it on one line, like this, apparently: HD3BB01132A3CD7
When I hook it up via USB to my XP machine, it says the drive is not formatted, and do I want to format it now? I'm not sure what the right answer is here. If it already took 4 pictures, how can the CF card not be formatted? WTF?
The user manual is here.
OK. Could not understand what was going on. I thought it needed to charge. It wouldn't turn on, and when I connect it to the PC, all it does is show USB and three flashing bars which I assumed indicated it was charging.
None of this was accurate. Actually, I believe the unit was fully charged. It's just nearly impossible to turn on. You have to have faith. To remove the battery, reinstall it, and then hold down the power button for eons and pray that it comes on. Only then will it power on.
So, mine will power on, and it appears to take pictures. Battery life indicator shows 2 bars. Camera mode (W). 12 MP. 9344. Who knows what this means. But its on now.
My memory card: SanDisk Ultra 64 GB MicroSDXC Class 10 UHS-1 Memory Card with Adapter
Finally determined that I was unable to read or format the Sandisk 64 Gig memory card using my Windows XP machine. Not clear why. However, when I hooked it up to the Macbook Air, it worked flawlessly. So, we're through with the windows setup at this point. Thanks for playing. We're moving on to the deep end of the pool.
Maddening. No one with any sense should buy this piece of shit. WAYYYY too much trouble. I mean, seriously people. WTF? Been dicking with this POS for hours. Still no closer.
There are four files we're supposed to copy over to the root on the MicroSD card:



HD3.03-firmware.bin
settings.in
update.cmd
WF3.03-app.bin
When I try to copy them over on the MacBook Air, I get this:
"The operation can't be completed because an unexpected error occurred (error code -8058)"
I was finally able to copy these four files over after I connected it to a laptop running Windows 7. Thank God. So, I got the four files copied over that it wanted. Finally got those on there. Then, the camera pretty much started updating itself. It wasn't even connected to my laptop.
Blue light flashing...says Updating....then it beeped a few times and powered down. It appears that it has successfully updated! Woohoo!!!

I should point out here that, I'm not sure what file format is applied to the "SanDisk Ultra 64 GB MicroSDXC Class 10 UHS-1 Memory Card" when it leaves the factory, but I wasn't able to access it using Windows XP. I was able to read it using my MacBook Air with Mountain Lion OS X, but not update it. I was only able to both read and write to the card using Windows 7. Not clear why this is.
Also, the MacBook Air put a lot of garbage files onto the CF card which I deleted via Windows 7 before I got it to function properly.
I now have the GoPro unit functioning, somewhat. I mean...it will turn on...it shows 3 bars on the battery indicator...I've charged the remote control unit also.
If I push the white Mode/Power button once, the red light flashes three times to indicate it's powering up. Then, the remote says: "Version 2.7 Wifi Remote." Then it says "Remote Battery" and shows a battery with 3 solid bars. Then, it shows a crude little camera diagram with two alternating flashing arrows below it.
If I push the Red Circle button, it says "Stopped" and shows some sort of gamma rays emitting from the device.
I'm reading through the User Manual. There's a lot to digest, obviously.
Installing the GoPro app on the iPhone 4S now. This thing is kinda tricky. I launch the app and it says "SEARCHING FOR A WiFi GoPro..." and then "NO CAMERAS CONNECTED".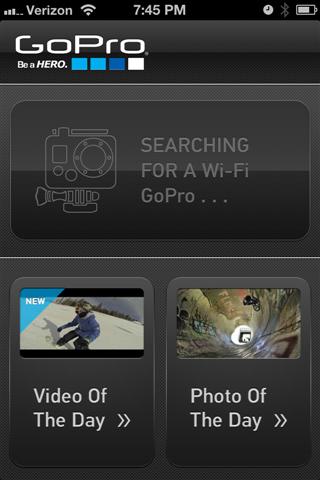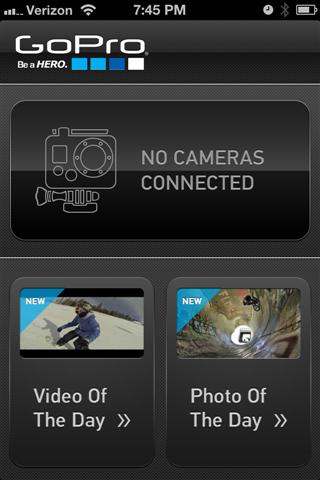 So, I hold in the WiFi button on the side of the GoPro HERO 3.
If you tap the WiFi button on the side of the GoPro HERO 3, it will turn on the blue WiFi light on the GoPro. Comes on solid for about 5 seconds, then flashes a time or three very rapidly, then goes off and flashes briefly about every 5 seconds. So, this is how you can tell the WiFi is on. Blue light flashing briefly every 5 seconds.
To turn it off, you have to hold the WiFi button in for about 4 seconds. Then, the blue light will flash about 7 times, and go off.
The red light is on, indicating that it is charging, I believe.
So, I'm going to tape the WiFi button to turn on the WiFi and set the blue light to flash every 5 seconds, and see if I can connect with this thing over the iPhone.
OK. Closed the GoPro App on the iPhone. Turned on WiFi on the GoPro. Still won't connect. Still says "NO CAMERAS CONNECTED".
But if I click on where it says "NO CAMERAS CONNECTED", then I get the following advice:
So, in a nutshell, to get it working with the iPhone app, you have to do the following:
Push the top button (SHUTTER/SELECT button).
Push the front button (POWER/MODE button) until it gets to the Wrench icon.
Push the top button (SHUTTER/SELECT button) one time.
Push the front button (POWER/MODE button) until it gets to the 'Wireless Controls' icon.
Push the top button (SHUTTER/SELECT button) two times.
Push the front button (POWER/MODE button) until it gets to the 'GOPRO APP' icon.
Push the top button (SHUTTER/SELECT button) one time.
Should start showing the icon that looks like you're being irradiated.
Then, on the iPhone, go in and select the WiFi network that you created in the phone.
So, for example, on an iPhone 4S with IOS 6.1.2:
Go to Settings - Wi-Fi and turn the Wi-Fi on.
Select the Wi-Fi access point that you created in the GoPro camera.
Enter the password.
Launch the GoPro app. You should be able to control the GoPro camera with your iPhone at this point.
I'm now trying to figure out what type of microphone setup I can get going with the GoPro Hero 3. This model does not have a 3.5 mm input for a microphone, like the GoPro Hero 2 had. However, GoPro makes a 3.5 mm to Mini-USB mic adapter that you can use, apparently.
Here's a video showing some of the options for connecting an external mic to the GoPro Hero 3.

Posted by Rob Kiser on March 2, 2013 at 8:24 AM
Comments
Post a comment