« Jeffco Sheriff's Office Report on Lower North Fork Fire | Main | 7 Wrong Ways to Choose a Career »
May 25, 2012
HESH DUME SOKE
I'm walking to and from work these days, which gives me a much different perspective on the city.
I don't really understand much of what I see in San Francisco. It's so hard just to get a toe hold on what's going on. Very slowly, I'm starting to figure out a few things about the city. Mostly this is through observation, as I don't really know who to ask.
For instance...I see a homeless guy come down the street...he approaches an array of newspaper machines. They're all for free local papers. He opens one of the machines, removes all of the papers, and shoves his sleeping bag in there, and walks off. Eventually, I figured out what was going on. He took all the papers to recycle them. And he was using the empty newspaper machine as a storage locker. This is what the homeless do, apparently. They also use them as trash cans, for whatever reason. Other people come along behind them, and take the trash out and throw it away. And so it goes.
I've got a fairly decent understanding of the local artists that paint murals on the buildings. But now, I'm looking a little closer at the "sticker scene". Basically, what people do is walk into a Post Office and, when no one is looking, they swipe a whole handful of the USPO address label shipping stickers. They then take home these free stickers, and draw on them. Then, they place these stickers all over the city. I'm not clear why they do this, but the fact that this is occurring is beyond dispute.
The ones I see most commonly are HESH and DUME. I'll try to post some of the more interesting ones that I shoot.
I'm not really clear what the end game is with this, though. I mean...I'm not clear what the point of it is. My guess is that they're just sort of street artists that want to get their images/names out there, but I'm not really able to see that there's a community around this stuff. Or any revenue. So, if you're not getting recognition, and you're not getting revenue, and it's illegal, and you risk getting fined/arrested/jailed, then what is the thought process here? I'm not really clear.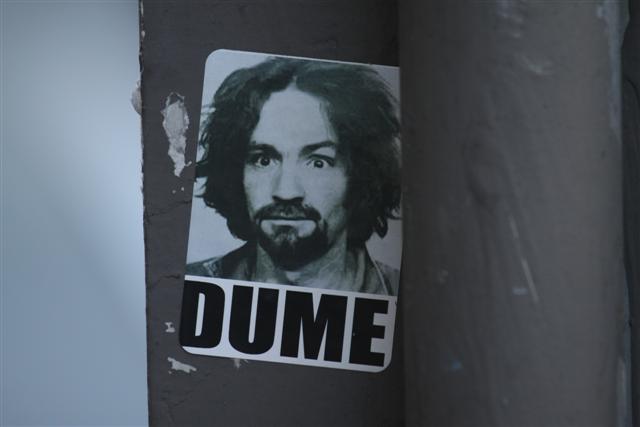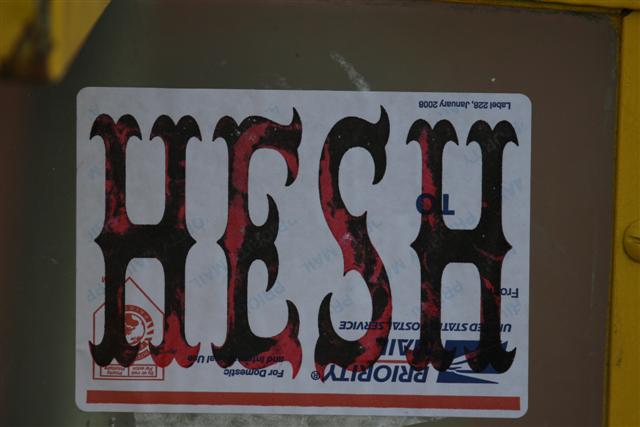 http://www.endlesscanvas.bigcartel.com/
Posted by Rob Kiser on May 25, 2012 at 9:30 PM
Comments
Post a comment