« Shared Images from the Road to Nowhere | Main | Day 3: The Emerald Coast - Gold Beach to Astoria, OR »
August 9, 2011
Day 2: The Lost Coast - Mendocino, CA to Gold Beach, OR
Update: I am alive and well and resting quietly by the Atlantic Ocean in the seaside village of Gold Beach, Oregon.
Miles driven today: 294.60
Miles driven this trip: 490.10
Photos captured today: 1,144
Photos captures this trip: 2,279
Well, I'm always slow to get out of bed when I'm on the road. I'm not a early riser, and I didn't get to sleep until something crazy like 2:00 a.m. cuz I was up culling through my photos, and all.
Every night when I get checked into the hotel, I have a fairly rigorous ritual that I go through. Every camera gets the filters cleaned and removed from the lenses. The batteries and CF cards removed from the cameras. The batteries are charged. The images on the CF cards are moved onto the laptop and renamed. From there, the imaged are backed up onto a 1 terabyte external hard drive. Mileage is calculated for each fill up for the day.

Every morning, the motorcycle is checked out for the daily ride. Gas is topped off. Oil level checked. Tire pressure checked. Chain is oiled with PJ-1 chain lube. Headlight is cleaned. Helmet visor is cleaned.
Motorcycles need little rituals to keep them running right. Change is not a good thing on a bike. Change = uncertainty and unexpected events at highway speeds are never good. So, these little didactic rituals are what I do each day. Like my own private religion.
This morning, I got up and decided to do a little work on the bike before I took off. I hooked up a GPS to the bike. Wired it into the battery. Mounted it onto the handlebars with a little camera tripod someone gave me for Christmas. I think it's from Mom or Molly I can't recall for sure. But this little camera tripod thing actually holds the GPS fairly well, which is sort of funny. Because now, I'm riding this dirt bike down the road going 80 mph and tapping at the little silly GPS trying to get directions to this town or that.
I also adjusted the rear case (Givi), as it had shifted a little when I dropped the bike in front of The Grove at Avila and Chestnut in the Marina a week or so ago.
It's a great feeling to have the tools you need when you're on the road. So, I break them out in the motel parking lot and do a little maintenance. When I went through Mexico, I didn't have any tools with me at all because the one rear backpack I had strapped to my rear fender fell off while I was going down the interstate, so I left it in San Diego and went without it. On this trip, I'm definitely better prepared.
Before I leave the hotel, I print out a sheet of "business cards" onto plain white paper and cut them apart with scissors. When people find out I'm going to Alaska, they often ask to see my photos, so I created some little business cards to hand out, so I don't have to try to scribble it down every time someone asks for it.
It's much warmer today than yesterday, so I don't throw on nearly as much as I was wearing yesterday. I dress fairly light and I blow out of Fort Bragg and head north. I sort of wish I'd gotten to Mendocino in the daylight so that I could shoot there some, but I can't backtrack. That's a luxury I can't afford, so I head north, and the coast looks much like I recall the coast in the town of Mendocino, anyway. So I'm not feeling like I missed all too much.
As the coast scrolls by beneath the bike, I recall certain things. I've been here before, but it was about 7 years ago, I think. And I try to remember what drew me up here. Why did I come? What route did I take? Some things I recall clearly. Where I stayed. Basically the route I took. But it's odd how we remember some things, but others have faded over the years.
The Mendocino coast is at least as pretty as the Sonoma coast, and possibly more so. I stop and shoot a lot and I didn't get away until around noon. So, it's not looking promising that I'll get in my 300 miles today.
But eventually, somewhere north of Fort Bragg, the road turns away from the coast and now it's just two-lane a twisting roller-coaster through the redwoods. Now, I can open the bike up and let it run for a bit.
At Leggett, CA 1 ends, and you have to take the US 101 North to Eureka. At this point, all bets are off and I just open that beast up and let it run. I run 85 for about an hour or so. I personally don't believe that there are any CHP in California. Or, the ones that are around can't be bothered with writing speeding tickets. Cuz I mean I opened that dog up and let it run and no one said "boo". I passed one southbound CHP and he didn't even glance at me.
Once I get to Eureka, everything is new. I've never been north of Eureka before and, truth be known, this is really what this little journey is about. I've never seen the coast between Eureka, CA and Tillamook, OR, and it's been killing me for some time.
Once I get north of Eureka, I really start to enjoy the trip much more because now, I'm seeing places I've never seen before. And it's sort of odd because, we all see the maps of the United States. You look at a globe. And you see some 4 color representation of the states and countries. But what is it inside of you that makes you go there and check them out? I dunno. It's very confusing to me. This world that we live in. The boundaries that we place around ourselves.
I don't know why I've never been here before. I don't have a good answer for that.
In northern California, near the border with Oregon, I got to this bridge and there were loads of people hanging off of both sides of the bridge. It was insane. I figured someone had drowned or something. But everyone had cameras and was taking photos and they had police at each end of the bridge over the Kalamath River. So I asked this person standing on the bridge..."What are you idiots doing standing in the middle of a bridge? Is this some sort of mass suicide? Do you have your Nikes on? Are y'all trying to catch a comet?"
"There's a whale circling in the river - beneath the bridge."
"A whale? In fresh water? Have you been in the sun too long? Are you high?"
A ten year old girl informs me that, "she had a baby, but the calf swam down to the ocean and went away."
She leaves, and I find myself repeating the story to other people, with a 10 year old girl as the source. And so the story goes, from stranger to stranger. The story lives above the bridge, as the whale lives beneath the bridge.
And, sure enough, I looked over the side, and there's a 45 foot California Grey Whale swimming beneath the bridge in the Klamath River.
Pretty wild because, I've never seen a whale before. Not with my own eyes, up close and personal like. Pretty cool.
So I turn north and resume my journey, trying to get in my requisite 300 miles before it gets dark. I cross the border into Oregon and drive through the first little town of Brookings, Oregon. On the north end of town, I turn into a little park to get some shots of the coast. Per usual, I can't be bothered to stay in the parking lot where I'm supposed to, so I drive across the grass on the bike to get a better shot and after a minute or so, I turn around and see a police officer is approaching me, and he seems concerned.
I figure I'm in trouble for being off the beaten path. But it's worse than that. It seems he's been chasing me for some time and just now caught up to me. Doh!
"Do you know how fast you were going when you went through Bookings?" he asks.
"Is that a town?" I clarify.
"The speed limit is 35. I was going 55 mph and you were pulling away from me."
"It gets good gas mileage too. You'd be surprised. Sometimes I can get 42 mpg."
"I need to see your driver's license."
I produce a driver's license and hand it to him.
"Why do you have a Colorado driver's license and California license plate?" he wants to know.
"Well, I live in Colorado and I work in California.... I sort of commute."
"You commute to work from Colorado to California?" he clarifies.
"That's right."
"You drive between Colorado and California?"
"I fly."
"You fly to work every week in California."
"I do."
"Wait right here."
After reviewing my driver's license, he announces that I don't have a motorcycle endorsement on my license. Why? I dunno. Probably because the nimrods at the DMV in Denver screwed up. But I certainly had a motorcycle endorsement at one point in time. I took a written test and a driving. Oh, and I've been driving a motorcycle for say about 25 years, so there is that also. Like, I'm not sure what the endorsement is supposed to prove, but if someone's been driving a motorcycle for a quarter of a century and they're still alive, I'd argue that they know how to drive a motorcycle, but I digress.
"Do you know what the fine is for driving without a motorcycle endorsement is?"
"Not really."
"It's a $400 ticket. Now, I tell you what I'm going to do. I'm going to give you a verbal warning to slow down. Now. It's about to get dark. The next town up the road is Gold Beach. They'll take care of you. There's some hotels there you can stay in. Some restaurants where you can get a bite to eat. In the morning, you're going to call the DMV and straighten this out. Do we have an understanding?"
"Yes sir." And I smiled and headed North into the fading light, headed for Gold Beach.
The truth is that that Oregon coast is better than the California coast. Any part of the Oregon coast is better than any part of the California coast. I'm sorry, but it's true. The Oregon coast is magnicificent. Breathtaking. Stunning. Where as the California coast has some rocks and formations in the ocean, the Oregon coast has little tree covered mountains in the ocean. Just staggeringly impressive. And hopefully, my images will capture this tomorrow, as I move up the Oregon coast. I hope to make it into Washington tomorrow, but I really don't have a plan beyond that. I want to get to Vancouver Island on a ferry. That's sort of the plan at this point.
I assume that at some point, I'll have to leave the Washington coast and head toward Seattle, but I'm not convinced of that. There may be another ferry I can catch that would allow me to continue up the Washington coast and bypass Seattle altogether, which would suit me just fine.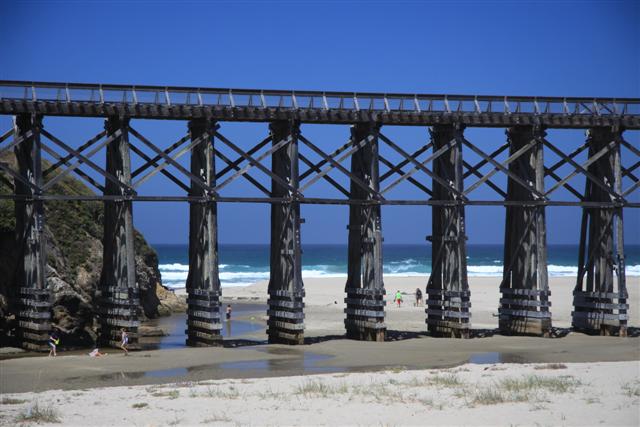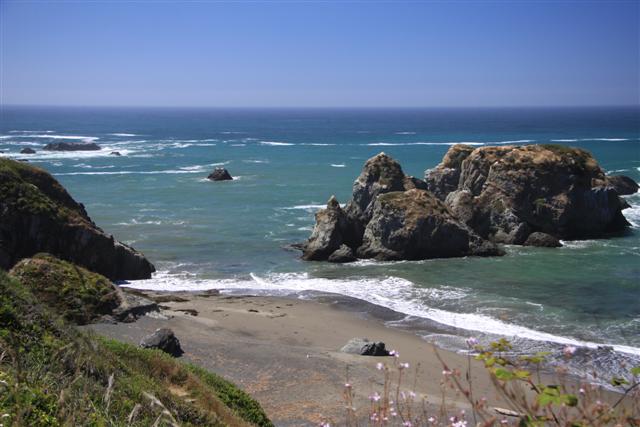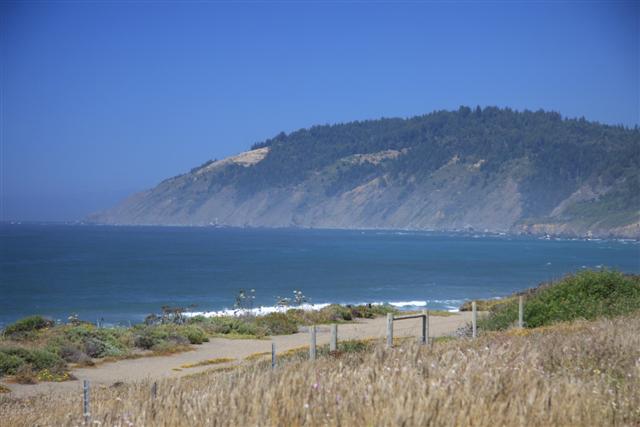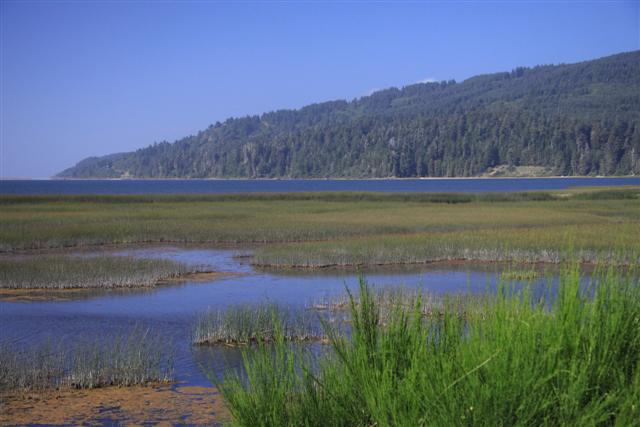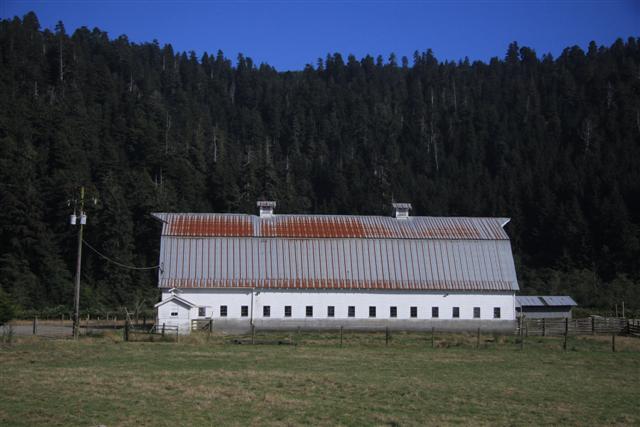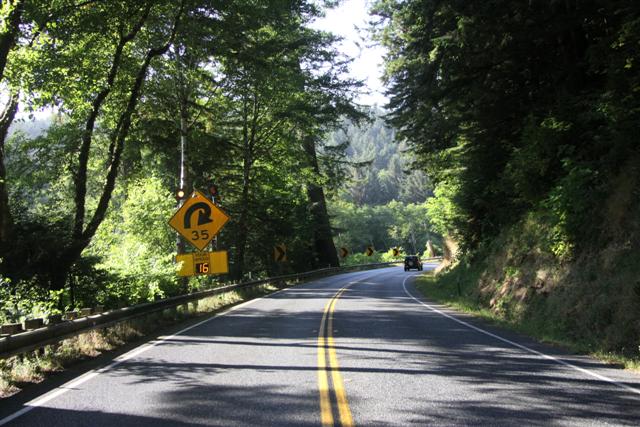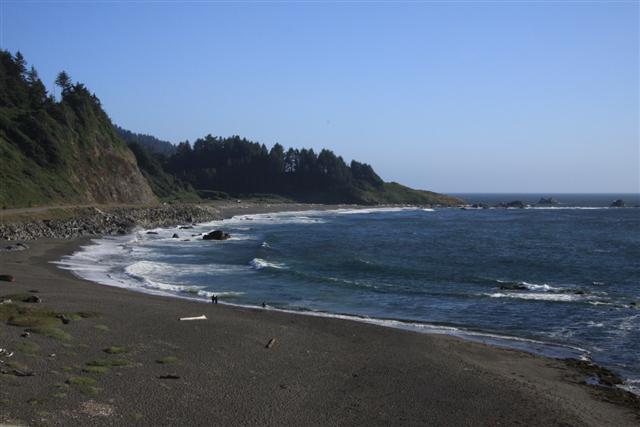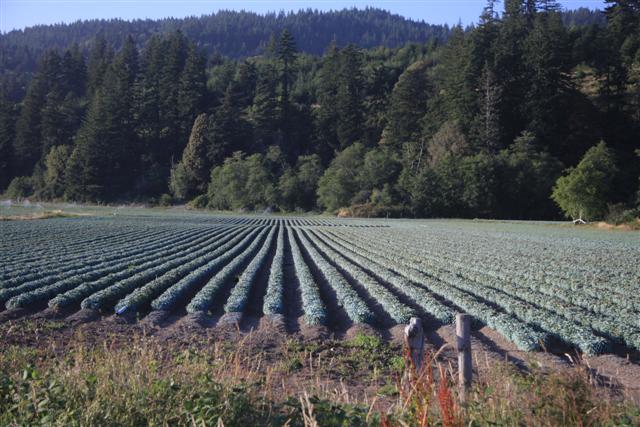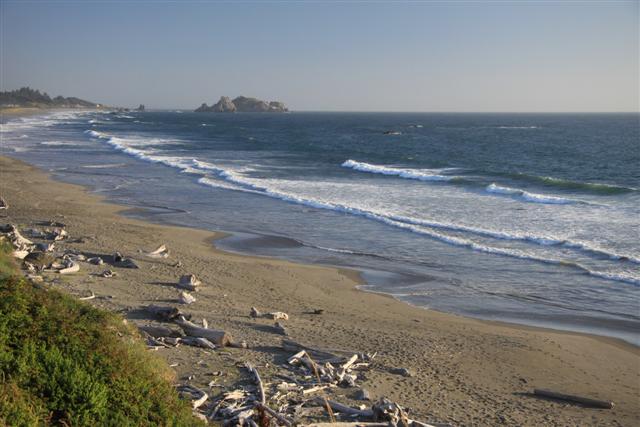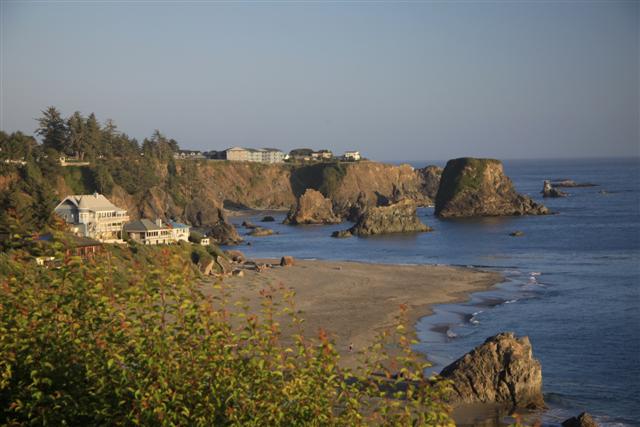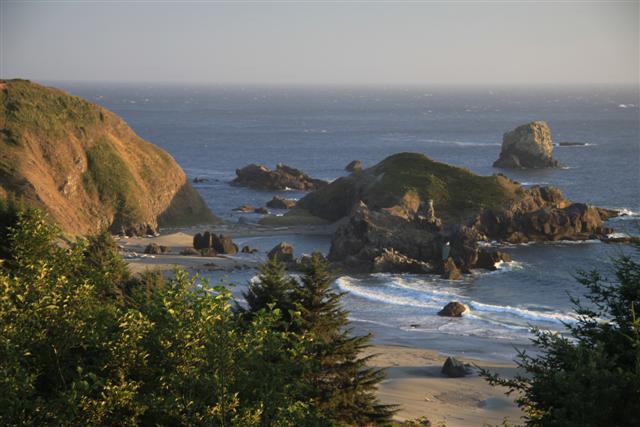 Technorati tags:

Delicious tags:

Folksonomy:These icons link to social bookmarking sites where readers can share web pages.

Posted by Rob Kiser on August 9, 2011 at 11:21 PM
Trackback Pings
TrackBack URL for this entry:>
http://www.peeniewallie.com/mt/mt-tb.cgi/3869
Listed below are links to weblogs that reference Day 2: The Lost Coast - Mendocino, CA to Gold Beach, OR:
» From San Francisco to Alaska and Back on a Dirt Bike from Peenie Wallie
The Left Coast Rally: Day 1- San Francisco to Mendocino The Left Coast Rally: Day 2 - Mendocino, CA to Gold Beach, OR Day 3: The Emerald Coast - Gold Beach to Astoria, OR Day 4: The Olympic Peninsula -... [Read More]
Tracked on August 22, 2011 3:34 PM
» From San Francisco to Alaska and Back on a Dirt Bike from Peenie Wallie
View Larger Map Click here to see all of the trip photos as a single post. Just click on the link and scroll down and you should see about 400 photos. Day 1: The Left Coast Rally - San Francisco... [Read More]
Tracked on August 26, 2011 4:58 PM
Comments
Posted by: Ryan O'Sullivan on August 10, 2011 at 9:14 PM
Yeah, I think I choked on that one. Someone else pointed this out. Scratch Atlantic. Make that Pacific. I hate it when that happens. I blame sleep deprivation and driving fatigue.
Posted by: Rob Kiser
on August 11, 2011 at 9:38 AM
That cop was doing 55 in a 35? Wow, he should be more careful.
I guess that's why the town is called Bookings.
Posted by: Tom on August 11, 2011 at 10:52 AM
Post a comment
-->