« Peenie Wallie Lives!!! | Main | Day 11: Return to the USA - Vancouver, B.C. to Astoria, Oregon »
August 18, 2011
Day 10: The 'Sea to Sky' Highway - Prince George, B.C. to Vancouver, B.C.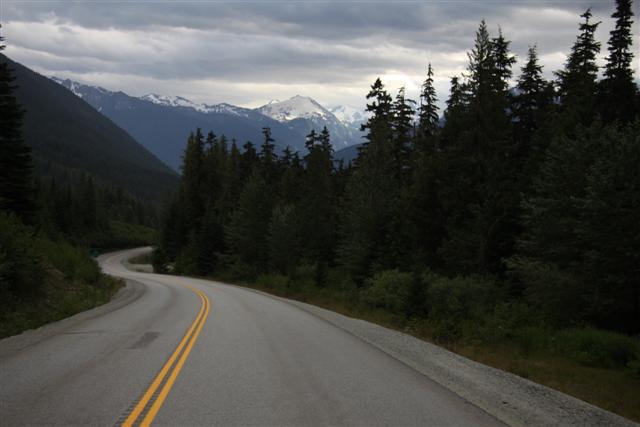 Update: I am alive and well and resting peacefully in Vancouver, B.C., on the shores of the Salish Sea.
Vital statistics:
Trip Odometer: 517 miles (gps)
Miles this trip: 2,841
Max Speed: 104 mph
photos taken today: 701
photos taken this trip: 8,002
The Sea to Sky Highway

I wake up in Prince George and peek outside the window to find a cold wet death. There is no sun in this land. I swear to God.
I get dressed slowly, putting on layer after layer of cotton because it's all that I have. Everything goes on. Then a leather jacket, and finally, one thin coat of something over it all that was waterproof when I started the trip. But now, thousands of miles down the road at 90 mph, it's all beat to hell with holes in it with white stuff poking out. Looks like feathers, but it isn't. Just some white threads peaking through in random places where the wind whiplashes it back and forth all day until finally the material fails and separates.
Gas up. Check the oil. It's dark already. Amazing how quickly that happens.
I don't want to ride 500 miles in the rain. I really don't. I circle the gas stations, looking for a truck with an 8' bed heading South. Most people are driving SUV's though. And not many trucks have the full size bed. And if they do, they have tool boxes in them or they're full of crap. I stop and ask a couple of people. But they're heading the wrong way.
I set the GPS for Vancouver and I just drive. I don't even look at a map.

Reluctantly, I take off in the rain, heading south and I just open the throttle.


Like, if I'm going to get a ticket, then so be it. But I'll be damned if I'm going to drive the speed limit in the rain just because some fucking bureaucrat thinks it's a good idea.
I drive like this, in a light rain, for about 200 miles. At one point, I go through a town, and as soon as I get out of the town, I check my rear view and there's some Canadian cop and he pulls me over.
Registration. Driver's license. I give him these documents. "Is there supposed to be a motorcycle endorsement on your license?" he asks. "I dunno. I'm not the DMV. I took a course though, so I should be good."
Writes me up for passing on a double yellow line. My 4th moving violation. OK. Thanks. Have a nice day.
I pass some irrigation equipment and laugh. Irrigation? Seriously? What are they trying to grow? Rice?
After about 200 miles or so, the country changes from a wetlands to a high desert. This is a welcome change, as it finally stops raining.
I drive for a while enjoying the warmth and beginning to dry off now. Finally. In a little town called Cache Creek. I see a couple of bikes and I pull in to a little drive in for lunch. Couple of Harleys parked there.
Walk up and chat with them for a bit. Order a burger and fries. Back in Kitwanga, they asked if I wanted gravy on my fries, which was amazing. But not now. Not here. Not this time.
Outside to talk to the Harley guys. At first, they seemed somewhat standoffish. Now, they're OK though. I tell them I came from Prince George. They're heading there.
"Absolute shit the whole way. 200 miles in the rain. And a ticket from the pigs."
And we're talking and having a good time. They warn me about the cops on the road ahead and they head off. More bikes pull in.
We all talk and chat. One guy walks up with a dog on a string.
"Yeah, I got tired of being wet and cold all the time. So, me and the wife drive that Honda car over there. It gets 47 mpg."
"Good for you," I offer. Like, I'd rather be on a bike, but thanks for playing.
"You know, when you're traveling, you should always ask the locals where to ride," he suggests.
"Yeah. I usually do. Sometimes I go into the local Honda shop and ask them."
"You should go back up the road about 11 kilometers and take Highway 99 into Vancouver, if that's where you're going," he suggests.
I look at the map. I've just been following the GPS. I haven't even glanced at it today. Now, he's telling me to go back up the road, but I don't really want to.
"I think I'll just go on the way I'm going," I replied, "I've got 500 miles to go today. I'm pretty tired. I just want to get there."
I'd already resigned myself that today would not be a big day for photography. I planned on not putting up any big numbers today. Riding in the rain sucks. The cameras are all packed away. I'm making distance today. 500 miles is my goal. Make it to Vancouver.
After a minute, he looks at me and he's like..."You're not hearing me, eh? You want to go that way. Down route 99. Either way takes you to Vancouver. Neither way is shorter. It's the same distance either way. It just depends on where you want to get to in Vancouver."
His route did take me by Whistler, and I knew that people in Vancouver went to Whistler to ski. I knew that much. I sort of half wanted to see it.
Reluctantly, I resigned myself to take his advice. I'd backtrack 5 miles and go down the way he indicated.
So, I backtracked 5 miles, because a guy with a dog on a string told me to turned left. At some little town, I saw a guy with a BMW GSA 1200 putting air in the tires at a gas station.
"You OK there buddy? You need any help?"
"I'm good."
"Is that the GSA?"
"Yeah."
"Good luck."
And I drive away. He looked at me suspiciously. Not everyone is sure, at first, why you're stopping. There is some apprehension.
At first the canyon is somewhat arid. Sort of like Moab in places. Dead Horse Point. Canyonlands. But it gets progressively greener. More water. More mountains.
Each turn gets better and better. At one point, I stop and shoot and I swear it looks exactly like the Sacred Valley in Peru.
More waterfalls. More flowers.
I really hadn't planned on getting any good photos today, because of the rain and all. Plus, I have so far to go, but now, everything's changed. Now I'm truly enjoying the ride. The sun is out and I find myself driving through the most beautiful mountain range I've ever seen. And, not just for a mile or two. But for two hundred and thirty miles. I'm racing through this canyon and it's just insane. It's indescribably beautiful. Closest thing I've ever see to it would be Jasper and Banff.
And I think how odd it is, that I came here looking for Alaska, but I discovered British Columbia. No one had ever told me I needed to go to British Columbia. OK. Maybe, people had said I needed to go to Vancouver. And I had heard of Whistler a few times. But oh my god I had no idea it was like this.
I'm like laughing and rolling through the turns and shifting and racing. This is good. The trip of a lifetime.
How glad I am that I took his advice in Cache Creek. I owe that guy in a big way. I'll never be able to thank him. Never be able to repay him.
As I'm shooting some photos, the guy comes by on the GSA...the same guy I saw at the gas station. So, I hop on my bike and I go after him. I pass him. He passes me. And it's on. We're racing down the canyon, through these insane turns.
Leaning so low in the turns that my elbow's about to touch the asphalt. His bike is faster than mine, so he beats me in the straights, but every road has it's turns. I get ahead of him. We come to a little town. There are lights. He pulls up beside me.
"You really have to watch your speed from here on in. Now that we're at Whistler, it's pretty heavily patrolled from here to Vancouver."
The light turns green and he's off like a shot.
That little bastard tricked me. And now, I'm off like a shot, and it's on. It's so on. And we're racing down the hill towards Vancouver.
There are signs everywhere that say "SHARE THE ROAD WITH MOTORCYCLES" and he and I are racing like mad, passing on double yellows, basically terrorizing the poor frightened tourists.
It has been made clear to me, by numerous riders on this this trip, that if the cops stop you for going over 40 kh/hr over the speed limit, they will take your bike from you. Will seize it on the spot. No questions asked.
Really, the GSA pretty much has me. Basically, it's just about me going as fast as I can...only about 95 mph now, for whatever reason. And, sometimes, I'll get around a car before he does, but we're just playing around now. I run wide open. He's sort of toying with me. God knows how fast his bike will go. But it is a beautiful ride. My GPS announces it's known as the "Sea to Sky" highway. Amazing. Unbelievable.
Eventually, I come to a new mountain range so spectacular that I give up the race and let him go ahead while I stop to shoot. I snap some shots of this spectacular mountain range.
It's about sunset now. It will be about dark by the time I get to Vancouver. But I don't care. I'm so glad I came this way. It's so amazing this view.
I go to turn around, and try to take a little shortcut back onto the highway. Normally, this would not be hard on my bike. A simple little ditch crossing. But now, the bike is heavily burdened. With street tires. I'm not able to make it through the ditch. The bike starts to go down. I catch myself, and hold it up. But my Filson suitcase that I use as a gas tank bag falls to the ground, with my laptop and camera gear in it. Doh!
My GPS, which isn't waterproof, has some water in it. The left side is a different color, because it's soaking wet.
My gas tank bag, which is really just a filson suitcase resting on the gas tank, didn't do so well under pressure.
But, nothing to do now but ride. So I take off after the guy on the GSA, but I never see him again.
Now, down into the Squamish Valley. All of the signs here are in two languages, but I'm not clear what the other language is. The translation for Squamish valley has a "7" in it though, so maybe they're aliens. I'm not clear.
Now, the road comes out onto the coast and we're driving down the coast of British Columbia just north of Vancouver and there just aren't words. There are no words. It's sunset and you couldn't design a coast any prettier than this. It would not be possible.
Mountain ranges. Islands. Forests. Spectacular. I keep stopping and shooting. I know it won't come out, but I'm shooting anyway. I don't care.
Now, more motorcycles come up. At a light I ask them where they are going.
English is not good. Into downtown Vancouver, apparently. Same as me. Across a bridge now and across, down into a forest. So, think about this. We're driving through a rain forest that I doubt you could get through without a machete. A huge forest. And suddenly, we're in Vancouver.
Now, Vancouver is the closest city I've ever see to Oz in the Wizard of Oz. Spectacular at sunset with the high-rises jutting up from the ground all around. Who built this city? And why?
It looks like San Francisco, a bit, with the bridges and all, but oh wow. I just had no clue. The most spectacular city I've ever been in.
Check into the hotel, try to turn on the PC, but it's toast. It tries to turn on. Make a few odd beeps. The hard drive grinds and moans with a pathetic sound that makes me want to cry. All of my photos are backed up, of course. I learned that much in Hawaii. I'm backing them up to an external hard drive every night, and storing it in my Givi case. So, I haven't lost any images. But I can't do much without a laptop on the road. This sucks.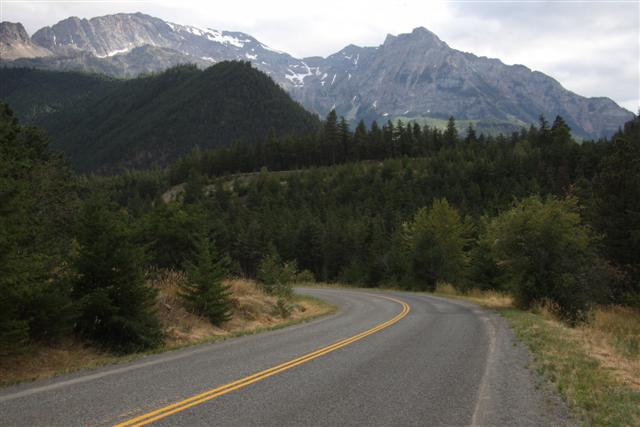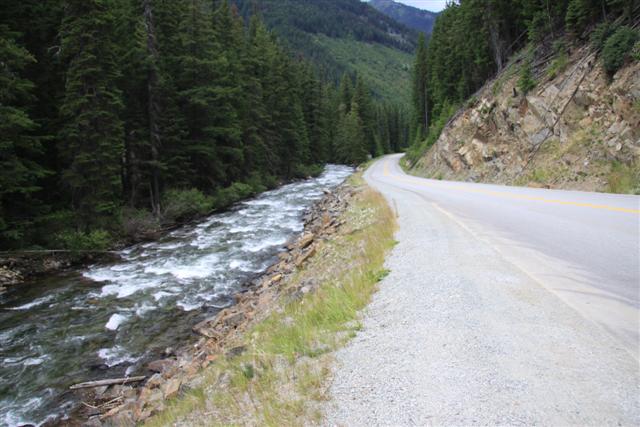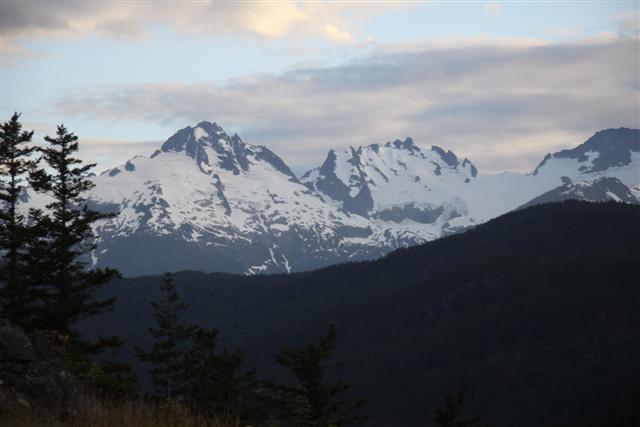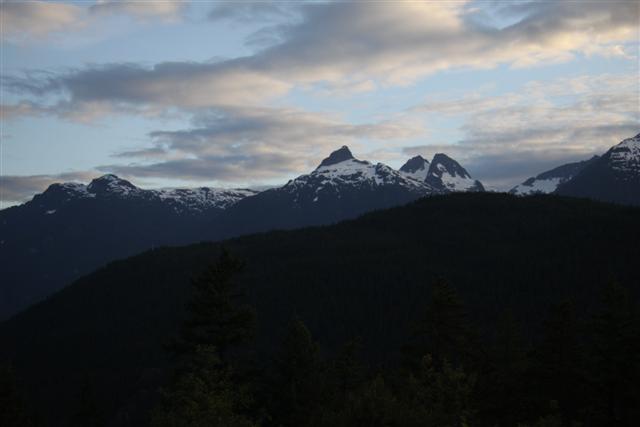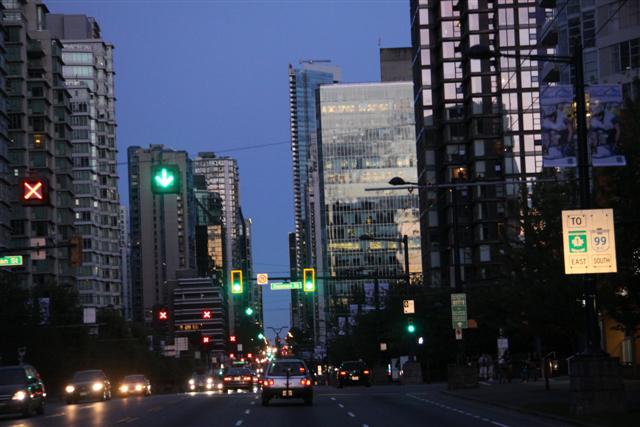 Technorati tags:

Delicious tags:

Folksonomy:These icons link to social bookmarking sites where readers can share web pages.

Posted by Rob Kiser on August 18, 2011 at 12:46 PM
Trackback Pings
TrackBack URL for this entry:>
http://www.peeniewallie.com/mt/mt-tb.cgi/3879
Listed below are links to weblogs that reference Day 10: The 'Sea to Sky' Highway - Prince George, B.C. to Vancouver, B.C.:
» From San Francisco to Alaska and Back on a Dirt Bike from Peenie Wallie
View Larger Map Click here to see all of the trip photos as a single post. Just click on the link and scroll down and you should see about 400 photos. Above: The Trip Up - San Francisco to Alaska... [Read More]
Tracked on August 26, 2011 5:19 PM
Comments
Post a comment
-->