« This guy sounds good | Main | Marcel the Shell with Shoes On »
April 29, 2011
Postcards from Nowhere: San Francisco Graffiti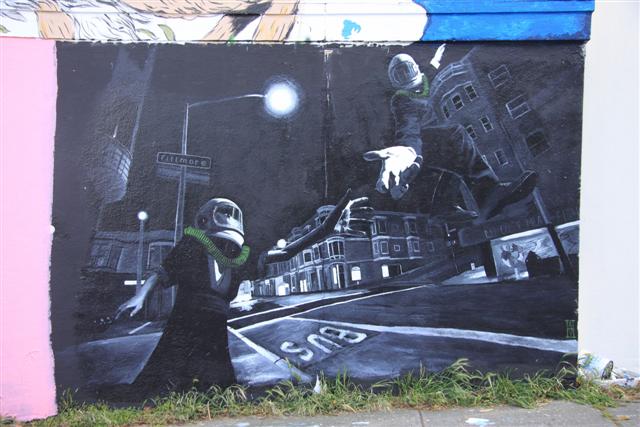 Here are some of my photos of murals, graffiti, and wheat paste art I've discovered in the city since my arrival in February.
The images were all captured on one of these frames [Canon EOS 7D, 40D, 50D] and a Canon image-stabilized, ultra-sonic telescopic zoom lens EF-S 17-85mm f/4.0-5.6 IS USM.
The images are compiled into a 9 Meg (3:30 Adobe Flash slideshow(2011_sf_graffiti.swf) that you should be able to open and view with any browser (Internet Explorer, Firefox, Safari, etc.). To view the slideshow, just click on the photo above. If you want to view the slideshow as a Windows executable, you can play this version (2011_sf_graffiti.exe), and it allows you to play, pause, skip forward, backwards, etc.
Image post-processing was done in Adobe Photoshop CS5 Extended. The slideshow was created using Imagematics Stillmotion Pro.
The soundtrack is 'Animal' by Neon Trees.

Click here to view the other slideshows.
Posted by Rob Kiser on April 29, 2011 at 7:50 PM
Comments
Post a comment