« San Francisco Sucks | Main | Red-Tailed Hawks »
February 26, 2011
Postcards From Nowhere: San Francisco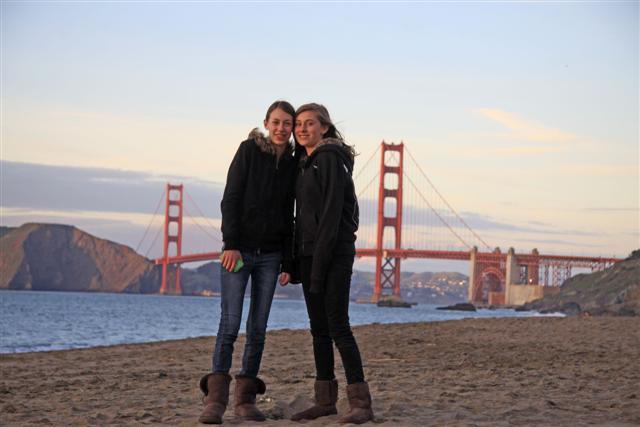 I had the girls out in San Francisco for the long President's day weekend. Really ran them ragged, of course. Here's some photos from our little trip.
The images were all captured on one of these frames [Canon EOS 7D, 40D, 50D] and a [Canon L-series image-stabilized, ultra-sonic telescopic zoom lens (EF 100-400mm f/4.5-5.6L IS USM) with ET-83C hood] or a [Canon image-stabilized, ultra-sonic telescopic zoom lens (EF-S 17-85mm f/4.0-5.6 IS USM)].
The images are compiled into a 6 Meg (3:52 Adobe Flash slideshow(sf_girls.swf) that you should be able to open and view with any browser (Internet Explorer, Firefox, Safari, etc.). To view the slideshow, just click on the photo above. If you want to view the slideshow as a Windows executable, you can play this version (sf_girls.exe), and it allows you to play, pause, skip forward, backwards, etc.
Image post-processing was done in Adobe Photoshop CS5 Extended. The slideshow was created using Imagematics Stillmotion Pro.
The soundtrack is 'Secret' by OneRepublic. I chose this song because I heard it while we were driving around California and when I asked the girls what it was, they actually knew the title to the song.
Click here to view the other slideshows.
OneRepublic
Secret
I need another story
Something to get off my chest
My life gets kinda boring
Need something that I can confess
Til' all my sleeves are stained red
From all the truth that I've said
Come by it honestly I swear
Thought you saw wink, no
I've been on the brink, so
Tell me what you want to hear
Something that were like those years
Sick of all the insincere
So I'm gonna give all my secrets away
This time, don't need another perfect line
Don't care if critics never jump in line
I'm gonna give all my secrets away
My god, amazing how we got this far
It's like we're chasing all those stars
Who's driving shiny big black cars
And everyday I see the news
All the problems that we could solve
And when a situation rises
Just write it into an album
Singing straight, too cold
I don't really like my flow, no, so
Tell me what you want to hear
Something that were like those years
Sick of all the insincere
So I'm gonna give all my secrets away
This time, don't need another perfect line
Don't care if critics never jump in line
I'm gonna give all my secrets away
Oh, got no reason, got no shame
Got no family I can blame
Just don't let me disappear
I'mma tell you everything
So tell me what you want to hear
Something that were like those years
Sick of all the insincere
So I'm gonna give all my secrets away
This time, don't need another perfect line
Don't care if critics never jump in line
I'm gonna give all my secrets away
So tell me what you want to hear
Something that were like those years
Sick of all the insincere
So I'm gonna give all my secrets away
This time, don't need another perfect line
Don't care if critics never jump in line
I'm gonna give all my secrets away
All my secrets away, All my secrets away
Posted by Rob Kiser on February 26, 2011 at 11:11 PM
Comments
Post a comment