« American Coot | Main | The Obama Bumper Sticker Removal Kit »
July 18, 2010
Kenosha Pass and the Fort Pitt Tunnel
Above: Showy Penstemmon (Penstemon spectabilis).
Jen and I took the scenic route back from Breckenridge yesterday, crossing over Hoosier Pass and then Kenosha Pass. It just fascinates me how she's not managed to figure out the names of the mountain passes yet. Yesterday, I asked her the name of the pass we were crossing (Kenosha) and she had no clue. Wasn't sure if we were on the continental divide or not. So, I laid it all out for her (again). But this time, we stopped, got out, and took some photos.
The thing that's unique about Kenosha pass is that, when you cross it heading toward Park County, you suddenly explode out of the mountains onto this enormous plain. It's a singular experience. In fact, the only thing I can think of that's even remotely close to it is going through the Fort Pitt tunnel on the way into Pittsburgh. And if you've never done that, well you should. That's all I can say about that.
So, yesterday, we stopped and got some photos and hopefully next time she'll remember Kenosha pass.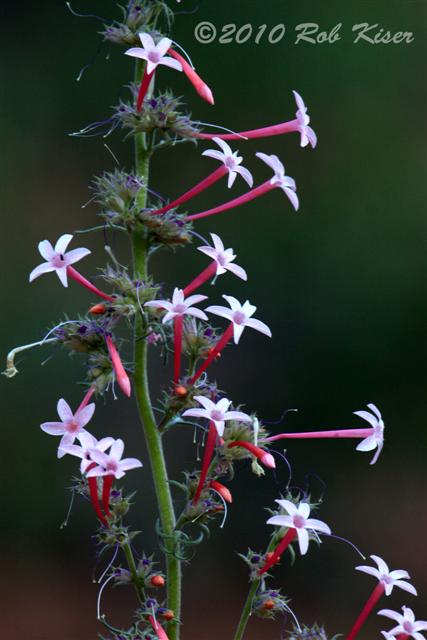 Above: Fairy Trumpet (Ipomopsis aggregata).
Posted by Rob Kiser on July 18, 2010 at 12:33 AM
Comments
I was in Ft Pitt tunnel 3 days ago. still not as pretty as Colorado. too much steel and concrete.
Posted by: mop on July 18, 2010 at 12:25 PM
True, Pittsburgh is all concrete and steel and glass, but when you're going through that Fort Pitt tunnel and then you emerge from the tunnel and you're on the top layer of the bridge heading into the city...it all just opens around from you and you feel like you were shot out of a cannon. It's a cool experience. :)
Posted by: Rob Kiser
on July 18, 2010 at 3:39 PM
Post a comment