« Bluebird Trail - 6/14/10 | Main | Red-tailed Hawk »
June 15, 2010
Pollywogs and Tadpoles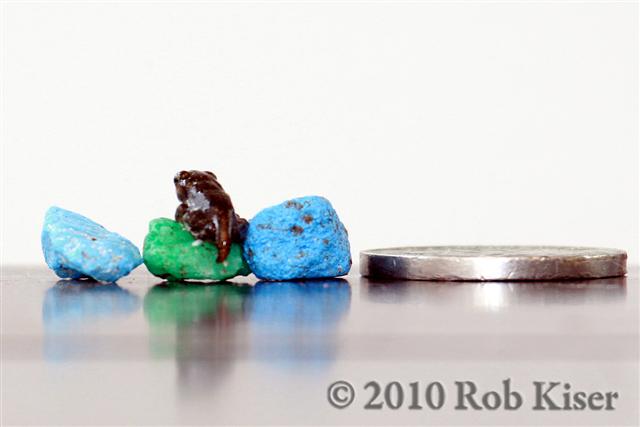 Jennifer and I captured some tadpoles (or pollywogs as we used to call them) in Mississippi and brought them back to Colorado in a cup. We stopped in Louisiana to get some more water for them, and ended up with another cup full of tadpoles. So, we brought them home and divied them up according to size. I got the big ones and she got the little ones. Less chance of cannibalism, we figured.
So I threw mine in an aquarium with a heater and in a day or so, these things started to emerge from the water. Jennifer asked me to take a photo and I was like "are you serious?" These things are tiny. To try to put some perspective in the photo, I put a nickel in the photo. So, that's what you see on the right - a nickel lying on its side. The tadpole/frog is perched on a piece of aquarium gravel with his vestigial tail still showing.

Posted by Rob Kiser on June 15, 2010 at 10:14 PM
Comments
WOW! Really cool photo, Rob! More please.
Posted by: Chick Voice on June 16, 2010 at 10:38 AM
Thanks, CV. We released one frog named "Quinter". Now, there's another frog named "Mingo" which we'll release tomorrow. There's a tadpole that swam up to the land/aquarium gravel. He has 4 legs and a tail and is sitting there, trying to decide whether to go forward or back.
Posted by: Rob Kiser
on June 17, 2010 at 10:01 PM
Post a comment