« You can't be that stupid... | Main | Soccer Photos »
April 16, 2010
Great-horned Owlets - Day 30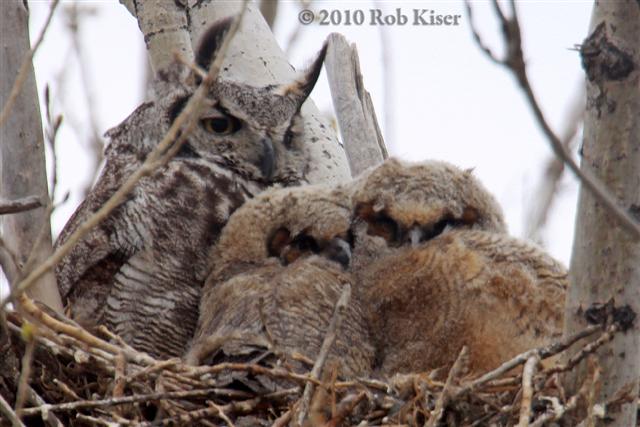 Above: Two Great-horned owlets with mom.
It was cooler today, so mom came back to help the owlets stay warm. They're large enough now that, on warm days, she leaves them alone. For some reason, the hawks leave them alone. I don't know why, really. I've seen hawks flying over the field and I'm sure they're aware of the nest. The only thing I can think is that the owls would put up a vicious fight at this point and the hawks don't want to risk attacking them.
My best estimate as to when the owlets were born is March 14-17, meaning that in this photo taken April 16th, the owlets would be approximately 30-33 days old.
I ran into a local guy shooting the owlets today named James Garrison. I've seen him down there before, and as it turns out, he's from Morrison also. He's shooting a Canon EOS 5D full-frame sensor with the Canon 100-400mm lens on a tripod with some sort of pistol grip head on it. I talked to him for a bit and he's a pretty cool guy. He has a website at http://www.jim3584.smugmug.com.
Categories: Photos, Birds, Owls
Posted by Rob Kiser on April 16, 2010 at 6:37 PM
Comments
Post a comment