« Red Bull Wing Walkers | Main | Honda XR 400 Rides Again »
April 14, 2010
Great-horned Owlets - Day 28
Above: Two Great-horned owlets.
My best estimate as to when the owlets were born is March 14-17, meaning that in this photo taken April 14th, the owlets would be approximately 28-31 days old.
When I was shooting today, I ran into a guy named Richard Seeley. He was shooting a Canon 7D, with the Canon 600mm f/4 lens and some generic teleconverter. He had the rig set up on a Wimberly mount and a generic carbon fiber tripod. He was shooting my setup as his backup frame (a Canon 50D w/ a Canon 100-400mm lens). He'd actually never seen the owls before, as he lives up in Summit county. I checked out his website at www.richardseeleyphotography.com. He's got some pretty decent shots out there.
Update: He was shooting a Canon 500mm f/4 with a Tamron 1.4x extender. He has a blog at www.richardseeleyphotography.wordpress.com. He's also a member of the Mile High Wildlife Photography Club which meets in Parker, monthly.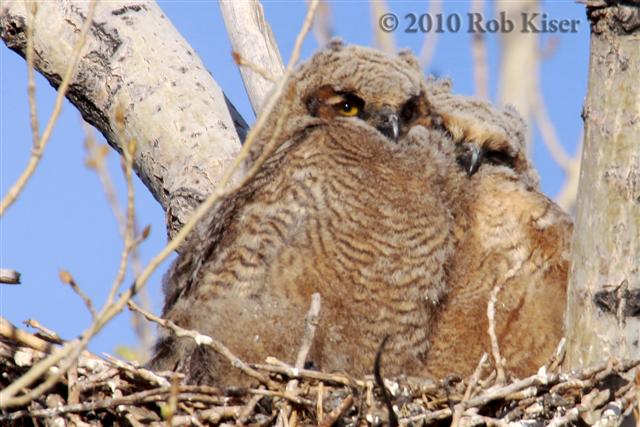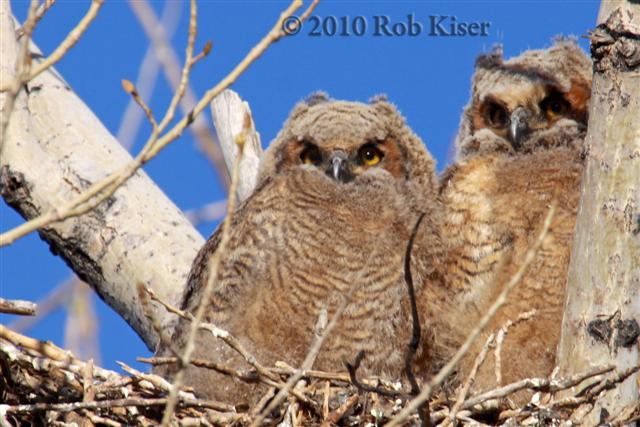 Categories: Photos, Birds, Owls
Posted by Rob Kiser on April 14, 2010 at 8:52 PM
Comments
Post a comment