« Insane Custom 4wd Vehicle in Idaho | Main | Mystery nest on bridge over Henry Fork of the Snake River »
April 6, 2010
Great-horned Owlets - Day 19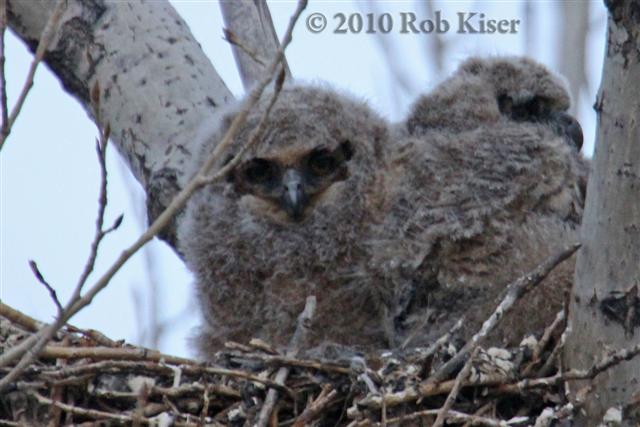 Wendy and I got back from Moab on Sunday and yesterday (Monday), I went down the hill to check on the owlet because I'd not seen him for a few days. What a difference a few days makes. Not only is he growing like a weed, but he now has a sister, apparently. I had no clue that there were two owlets.
Actually, I was always surprised that there was only one owlet, as this would be an unusually small clutch size. (There are normally 2-3, I believe.)
But still, I was floored when I looked through the lens and saw two enormous owlets. I say they're brother and sister, but I have no clue what sex they are.
For the first time this year, both parents were absent from the nest. I believe that, at this point, the chicks are able to stay warm on their own. It was much warmer yesterday (about 58 °F), and they both have grown a significant amount of down/feathers.
Additionally, leaving the nest unattended frees up both parents to hunt for food for the baby owls. Needless to say, they appear to be well fed.
My best estimate as to when the owlets were born is March 14-17, meaning that in this photo taken April 5th, the owlets would be approximately 19-22 days old.
Categories: Photos, Birds, Owls
Posted by Rob Kiser on April 6, 2010 at 9:04 AM
Comments
Post a comment