« Happiness | Main | Pendant Nests »
March 1, 2010
"Dark form" Red-tailed Hawk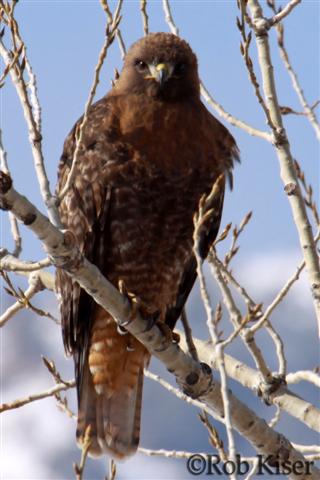 Above: "Dark form" of the Red-tailed hawk (Buteo jamaicensis). Most Red-tailed hawks I see have light chests with dark brown streaks. Because this bird has an almost completely brown chest, it appears to be a "dark form" of the bird, one of the many races of Red-tailed hawks.

Posted by Rob Kiser on March 1, 2010 at 3:52 PM
Comments
Just saw one of these on a utility wire not 40 feet from my face in Tiburon, CA. Went inside and Googled "hawk with dark chest" and found your web page. Red-tailed hawks are common here, but I never saw one with a dark chest until today.
Posted by: Judy on April 9, 2017 at 12:04 PM
Post a comment