« The Green Police | Main | Gibbs Shocked At Beltway Politics »
February 9, 2010
Hope and Change
Shortly after Obama's speech about the need for bipartisanship, this idiot Robert Gibbs takes the podium with "hope" and "change" scribbled on his palm, a clear shot at Sarah Palin.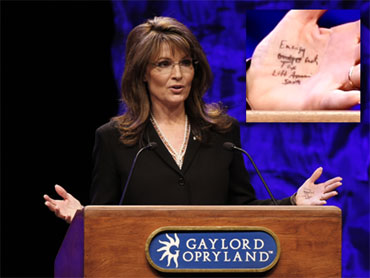 Granted, when Palin wrote notes in her palm, it looks kinda unprofessional. Fair enough. The truth is that I don't care if she sits up there and doodles with crayons and thumps paper footballs across her desk. Because the difference is that, at the end of the day, she's on our side.
When Obama's saying that we're small minded folk clinging to guns and religion, Sarah Palin is sitting on her couch with a bear skin rug. So, you know who's side I'm on.
Of course, CBS - little more than an propaganda channel for the Obama White House, didn't see anything wrong with Obama calling for bipartisanship while Gibbs publicly slams the next president of the United States.
But with morally bankrupt Dimocrats dropping like flies, someone needs to make sure the Robert Gibbs gets the memo that the ole' "we're going to shove it down their throats" mantra went south when Chappaquiddick Ted kicked the bucket and Coakley got her @ss handed to her by some no-name republican clinging to guns, religion, and a GMC Canyon.
Posted by Rob Kiser on February 9, 2010 at 1:37 PM
Comments
Post a comment