« Reid Tests the Waters with Reconciliation Proposal | Main | UCSD Students Celebrate Black History Month with 'Compton Cookout' »
February 20, 2010
Canon EF 1.4x II Extender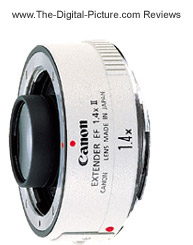 I ordered a Canon EF 1.4x II Extender today from B&H. I lose 1 F-stop of light on the extender, and I'm not clear if my autofocus will work on all (or any) of my autofocus points.
I'm trying to improve my shots of the hawks and owls and this seems like something worth investigating. It may or may not improve my images, but I felt like checking it out, anyway.
Of course, I'd like to get the Canon EF 800mm f/5.6L IS USM Super Telephoto Lens, but I don't have the cash right now. So we'll see how this works, anyway. If it sucks, I'll sell it.
Posted by Rob Kiser on February 20, 2010 at 2:44 PM
Comments
Post a comment