« Swag | Main | Ocean Beach »
May 3, 2009
Cabrillo National Monument
Juan Rodriguez Cabrillo was reportedly the Portugese explorer that discovered San Diego bay in 1542 and claimed it in the name of Spain. He was on a mission to find the mouth of the Colorado River, search for gold, and find a trade route to the Orient.
Like Coronado and De Soto before him, he failed to find any gold. He missed the mouth of the Colorado River by cutting across the Sea of Cortez to Cabo San Lucas. He did, however, discover the best port on the west coast of North America which he named San Miguel. Unfortunately for Cabrillo, he died on his mission and 60 years later, an explorer named Sebastian Vizcaino came along and renamed all of the places Cabrillo had discovered and named. In 1603, San Miguel was renamed San Diego and it's been called that ever since.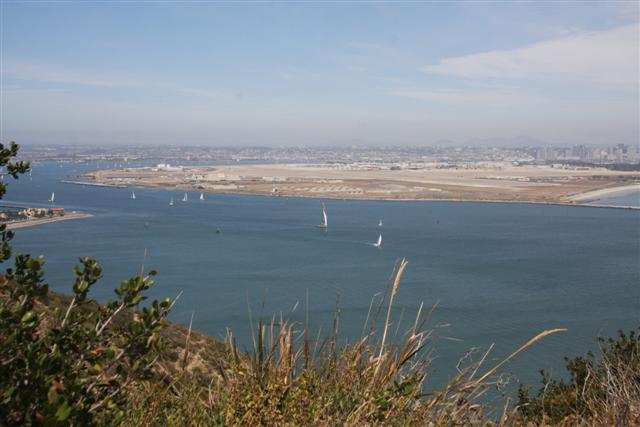 Cabrillo National Monument looking East at the North Island Naval Air Station on the Coronado peninsula, with San Diego in the background.
I got a photo of this bird singing in the vegetation out on Point Lomas. I'm thinking it's a Northern Mockingbird(Mimus polyglottos).

Posted by Rob Kiser on May 3, 2009 at 8:09 PM
Comments
It is funny what you forget. If you went in the lighthouse, the people mentioned as having lived there were my relatives.
Posted by: mgb on May 4, 2009 at 12:48 PM
I did go through the lighthouse. You can't go up into the very top of it, but they have it all set up with antique furniture and the rooms set off behind glass like what it would have been back set up in the 1800's.
Posted by: rob kiser on May 5, 2009 at 7:46 PM
Post a comment