« Austin At Sunset | Main | San Diego »
April 19, 2009
The Blizzard of 2009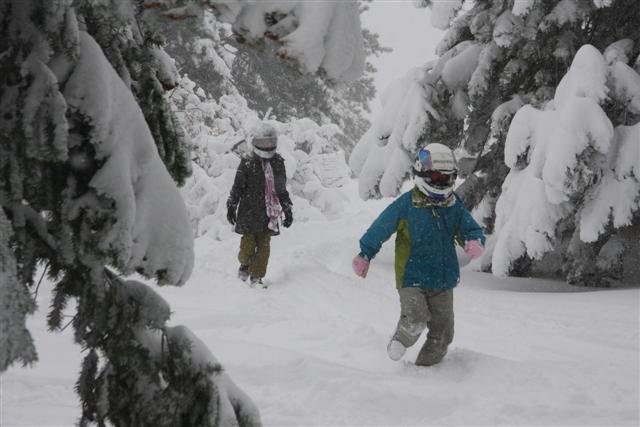 Power has just been restored to my house (approximately 6:30 p.m. MDT Sunday April 19th, 2009). We got 4-5 feet of snow over a 48 hour period and have been without power for 2 1/2 days.
I returned from Austin a day early because I didn't want to get trapped in Texas and be away from my home. So I flew back Thursday afternoon and picked up Jennifer at around 5:30 p.m. We ran to the grocery store and stocked up on food and then headed up to the house as it started to snow.
Thursday evening, Wendy came over with Sydney and Meagan as the snowstorm settled in. We cooked dinner and the kids played, but of course, we had no idea how bad the storm would get. The power went off on Friday morning at 9:00 a.m. But what saved us, if anything, was that we had the following:

plenty of food and bottled water
lots of flashlights
lots of spare batteries
lots of candles
lots of matches
lots of lighters
a wood burning stove
lots of firewood
a propane grill
lots of propane
two four-wheelers full of gas (one with a snowplow)
two jerry cans full of gas
two trucks full of gas
I drug the gas grill from the redwood deck, through the house, and onto the front covered patio (out of the snow) and we were able to cook meals on the gas grill outside. The wood-burning fireplace kept us warm enough.
We melted snow in pots on top of the wood-burning fireplace and poured the melted snow into a large plastic bin and siphoned it into the the back of the toilets with the aquarium siphon so the toilets would flush. We took all of the food out of the freezer and the refrigerator and threw it out in the snow.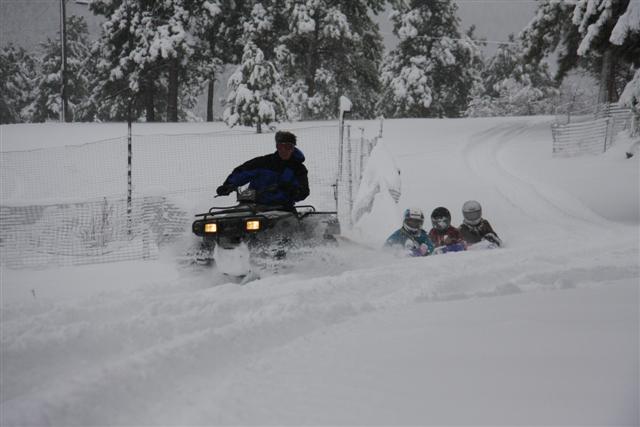 I ran the ATV to plow some driveways for four hours on Friday, but it was hard to keep up with the snow and eventually, I gave up.
All day and all night, we heard the sounds of mature ponderosa pine trees groaning, creaking, and finally snapping beneath the weight of the heavy spring snow. During the day, you could hear snow mobiles driving around the neighborhood, but no snow plows were running. Or if they were running, they weren't running anywhere near my house.
The hardest thing about not having electricity is that I can't walk by a light switch without turning it on. Can't stand in front of a sink of dirty dishes without trying to turn on the water. It's really amazing how little we can do up here without electricity. You can't open the garage door. Can't flush the toilets. The cat's electric litter box doesn't work. My Vonage Join-The-Revolution Voice-Over-IP-Phone doesn't work. The pumps that circulate the hot water through my baseboards don't work. No phone. No computers. No refrigerator. No freezer. No email. No faxes. No cell phones (cell phones have to be charged and the cell towers only worked sporadically). No internet access.
And without all of that, you sit around and think - People used to live like this. It really is hard to imagine. I mean...you could do it, of course. But I felt so isolated. So cut off from the outside world. The kids ended up building forts and playing back gammon and playin in the snow, of course. They were fine.
And I'm not sure that the experience hasn't taught us something. I'm not clear that having a generator would make things any better. The kids learned how to siphon water. They learned how the commodes work. They stepped away from their computers for a few days.
Jennifer's mom called and the conversation went something like this:
Jen: "Did it snow there?"
Mom: "Yeah. We got a lot of snow. About 2 1/2 inches."
Jen: "We got 6 feet up here and the power is out."
Mom: "Do you want to come down the hill? We have warm water and heat. You could take a bath. We can cook a hot meal inside."
Jen: "No. I want to stay here and stick it out."
So, overall, although we suffered some small inconveniences, the Blizzard of 2009 was a grand experience that few of us that experienced it will soon forget.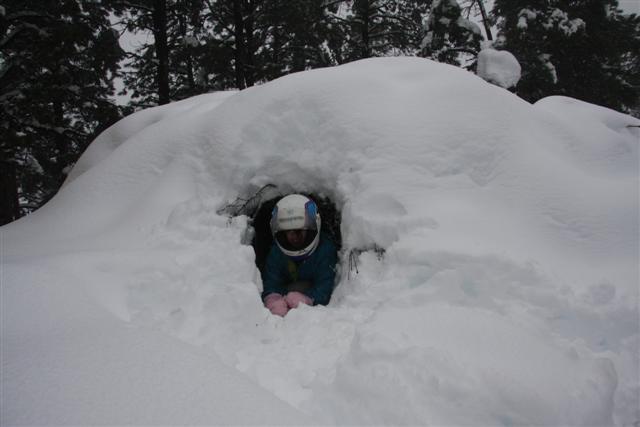 Update: This says we got 56 inches of snow, which sounds about right.
Posted by Rob Kiser on April 19, 2009 at 7:10 PM
Comments
Glad to hear that you survived the blizzard! I figured you were without power when PW went down. Have fun.
Posted by: sl on April 20, 2009 at 12:05 AM
These are great shots. I enjoyed reading.
Posted by: Wendy Katz on April 20, 2009 at 5:36 PM
Post a comment