« Jennifer's Easter List | Main | Change You Can Believe In »
January 21, 2009
Jennifer's Palace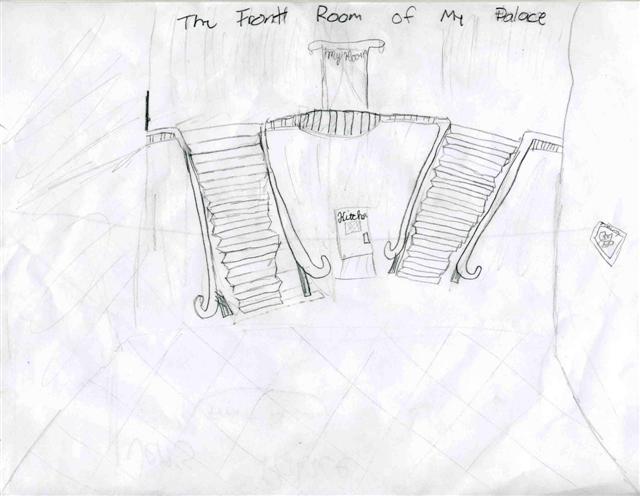 Jennifer and Allie have been drawing up plans for their palaces, apparently. Every time I look at this one, I keep expecting a coked-up Al Paccino to pop up with with an M-16 and th M-203 grenade launcher and shout, "Say hello to my little friend!"
These sketches remind me of the drawings that Maury Dale and Pam Wilson used to make in grade school. They were planning for their future houses - making detailed architectural plans complete with kitchens, bathrooms, bedrooms, etc. I swear you could have built a real house from their plans. I was just like...WTF? I was hoping I'd end up in a trailer that was a long way off the highway so the road noise wouldn't bother me too much.
Observe the Italian marble fountain with pool in the bedroom, as well as the hot tub. If you look above the hand carved mahogany four post canopy bed with pineapple finials, I believe that is a window, as opposed to a mural. Note there there are both mountains and an ocean.
There are only a few places in the country that offer views like this. Nothing on the Gulf coast looks remotely similar. Florida is as flat as a pancake. Possibly around Bar Harbor, Maine. Parts of California and parts of the Oregon coast look like this. Maybe the Napali Coast of Kauai. That's it.
This would be a palace on par with say, Hearst Castle in San Simeon, for instance. I've been to Newport, and there' are some nice mansions there, like The Breakers, for instance. But the coast of Rhode Island looks nothing like this.
Of course, I'm looking at these sketches and all I see is a hole to throw money into. Taxes, insurance, maintenance. I see a lot of pets, so I'm thinking they'll be eating someone out of house and home with food, vet bills, ruined rugs and furniture. And then you have to pay someone to pet-sit when you're on the road because if you've got enough money to built a palace like this, I'm thinking you've got to travel a lot, right?
Plus, I'm not sure this property is zoned properly for some of these vermin. It looks like there's a pet squirrel in the house, and I'm not sure what those are crawling across the bed and hopping around the little pet cemetery out back there. But I'm sure the county will send someone by one day to make sure the pets are all within the zoning guidelines.
Posted by Rob Kiser on January 21, 2009 at 8:37 PM
Comments
Post a comment