« Riding Lawn Mower DUI | Main | Black Hawk Formation »
January 31, 2009
B-25 Pilots from WWII
Jennifer, Piper, and I met Robert up at Fort Lupton, Colorado. The Vintage Aero Flying Museum (home of the Lafayette Foundation) had a free spaghetti dinner with two local WWII B-25 bomber pilots as the guest speakers.
The first speaker was Colonel Bill Bower(above). He is the only surviving pilot from the famous Dolittle Raid on Japan, immortalized in the movie Thirty Seconds Over Tokyo. Bill turns 92 in two weeks on February 13th.
Bill gave a short speech after lunch. I took notes during his speech, and have tried to convey his speech as accurately as possible. I'm paraphrasing him in the quotes, so if someone was there and says 'Bill never said that', well possibly that's true. But I've told it as accurately as I possibly could, and I wrote it in first person with quotes because it's a better story that way.
Bill said (roughly) the following:
"Shortly after Pearl Harbor, when I was 23 or 24, General Jimmy Dolittle came to me and said 'Bill...I've got a mission for you.' But the mission was so secret that they couldn't even tell me what it was."

"Prior to the war, you have to understand...no one had any money, and flying wasn't cheap. So, I was looking for someone to pay for me to fly. We all were."
"So I volunteered for the mission and they immediately started training us on low-level flights over the ocean in a B-25, essentially flying at wave-top level."
"Keep in mind that, before I started flying the B-25, I was flying around in those planes like you see behind you." [Here, Bill gestured broadly toward a bi-plane and tri-plane behind us.] "So we learned to fly the bombers, but not as well as we should have."
"Then we flew to San Francisco where I was in charge of loading all of the B-25 bombers onto the aircraft carrier USS Hornet."
"After we loaded the boat with the planes, we shipped out and sailed for 18 days across the Pacific. I was in a lower bunk in the foward cabin just beneath the anchor chain. So, this area of the ship pitched the most as the ship rocked on the rough seas. I had only one uniform and one pair of 'low-quarter shoes'. "
"There were 16 B-25's and each plane had a crew of 5, so there were 80 of us in all. We were in the U.S. Army AIr Corps but the Navy was operating the USS Hornet and since we were wearing the wrong uniforms, we couldn't go many places on the ship."
"Once we were out at sea, General Jimmy Dolittle took us into the officer's mess hall...it was very informal and told us what our mission was. That we were going to bomb Japan. Word had kinda got out, but he told us flat out. Now, I didn't know any Japanese except the chinamen that did our laundry back home. There weren't that many Japanese in our country back then. The only Japanese I knew was 'Lucia Megawa" which means "I am American" in Japanese."
"Our mission was that we would fly over Japan and drop four 500 pound high explosive(HE) bombs them, but then there was no place for us to land. You have to realize that the United States only had 3 aircraft carriers at the time, and we had two of them with us, the U.S.S. Enterprise, and the U.S.S. Hornet. So, they really didn't want to lose those aircraft carriers, so they didn't want to risk getting us any closer to Japan before we launched."
"But we couldn't return to the ship and land, of course. And we couldn't stay in Japan, obviously. So we would try to fly to China, which was occupied by Japan at the time, but we had no real place to land. We knew that before we took off."
"I was asleep in my bunk on the 18th day when they sounded the alarm to man the battle stations. There were 15 planes and my plane was the 12th plane in line to take off. There wasn't any real reason that mine was 12th. I was the maintenance officer, and I was responsible for getting them loaded onto the carrier in San Francisco and that was just the way they got down to the dock."
"Lined up on the deck of the boat, they stacked up just past the forecastle...i think that's what they call it...the tallest portion of the carrier. The first one took off...they didn't have any trouble because there was a 40 knot head wind and the carrier was going 25-30 knots. We flew 400 miles to the island of Japan. We used a weird RPM setting so that the plane was just about to stall...everything we could do to save fuel...we had extra fuel tanks as well."
"When we got to our targets, we flew up to 10,000 feet. We weren't flying in formation or anything. There was no radio contact. You didn't know where anyone else was. We were flying in bad weather and we had no experience with that. No one know anything about any instrument flying or anything."
"We flew toward China very low on fuel. We were approaching land when the fuel ran out and the right engine went out. The right engine and the left engine are a little different on the B-25. I forget what exactly made the right engine different but we only had the left engine going. It was dark outside and bad weather and I told everyone...'Put on your chutes.'
"When the right engine quit, I told everyone to jump. Then I got up and I got out of the hole. I have no idea how I even made it out but I jumped out of the hole and I floated down, gently landing on the ground. It was night, so I went to sleep right where I landed. In the morning, the sun came up and I woke up and discovered that I was about 40 feet from the edge of a 500 foot cliff."
"There was just nothing around us. Nothing but fields and mountain and grass. Just China, really.
"A man with a big black hat came by and I said "Lucia Megwa", which means 'I am American'. He grinned and shook his head. He wasn't a Jap. He was very friendly. He took me into his house to meet his wife and family."
"There were Americans on the ground all over China. Some had even landed in Russia. The Chinese were very friendly people. They took care of us. 2 or 3 were turned over the Japanese and they were shot."
They helped us to escape through India into Arabia. We came home on a PanAm flight through South American and up into Miami. When we got back, it was really something because very few people had ever been to Japan. We'd not only been to Japan, but we went there and bombed them. So they treated us like we were heroes. There were parades and a lot of back slapping. Two months later, we were in England, and then on to Africa where we flew with the 310th bomb group.
We spent about 25 to 30 months bombing the Germans and the poor Italians. We felt bad for the Italians because a lot of people in my home town were Italians.
I went from 2nd Lieutenant to Colonel in 3 years and the whole time I was in the war, I never fired a gun. I'm the only pilot left alive from the Doolittle Raid...knock on wood...is this wood?"
"No, it's plastic," someone replies, "It says Made in China."
Standing ovation.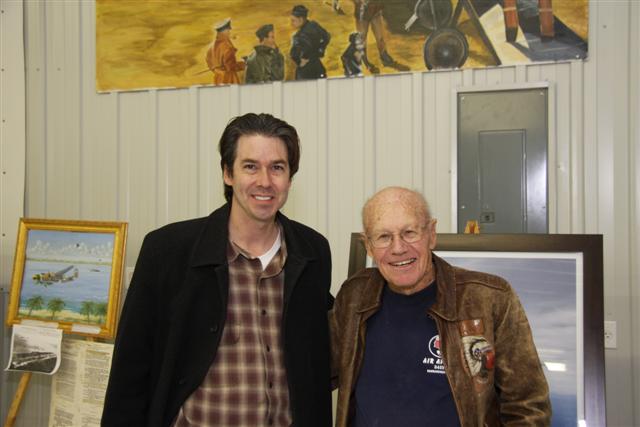 The second speaker was Lt. Lynn Daker. Lieutenant Daker flew in the Air Apache 345th Bomber Group. He flew 40 combat missions in the B-25 bomber in the Pacific theater during WWII. He lost two planes and had five B-25's and one A-20 shot down nearby and received damage to his plane on 28 of the 40 missions.
He talked about flying across the pacific in a B-25J armed with 18 .50 caliber machine guns. Lynn indicated that with 18 .50 caliber machine guns you could lay down some serious strafing fire.
Lt. Daker flew a B25-J with a solid nose from the mainland to Hawaii in 12 hours 40 minutes. The planes flew to the Pacific theater solo. They didn't fly over there in formation or anything. They flew solo and carried additional fuel tanks to make these longer flights possible. In addition to the 970 gallons of fuel in the wings, they carried a 160 gallon "radio tank", and another 400 gallon tank as well.
After Hawaii, Lt. Daker went island hopping through the pacific...Tarawa...Guadalcanal...etc. They fought the war at tree top level.
The Japs had a Navy base in Rabaul in the Philipines where they shipped all their supplies down from Tokyo. The Japs were running their supplies down to Rabaul unmolested until the Air Apache 345th Bomb Group came to town. The B-25's stopped the ships by strafing them. They didn't have a bombardier. Instead, the co-pilot would release the 500 pound bombs and the 500 pound high explosive bombs did a number on the Japanese ships.
On the 18th of October, 1943, the B-25 Tondelayo was on a bombing run, piloted by 1/Lt. Ralph G. Wallace. The plane was named after Hedy Lamar's characterin the 1942 film "White Cargo". The weather was so bad that all of their fighter escorts turned back, leaving 24 unescorted B-25 bombers of the 500th Bomb Squadron on a mission over Simpson Harbor.
The Tondelayo bombed and sank a 6,000 ton enemy freighter off of Vunapope, the skies filled with Japanese zekes. There were approximately 50-60 fighters from the 204th Japanese Kokutai Zeros flying around.
During the battle, the Tondelayo's engine was shot out and for over an hour it combated scores of Japanese fighter planes as it headed down the New Britain coast.
In one hour, the Tondelayo's turret gunner, Sgt. John A Murphy, shot down five Japanese fighters and was given credit for nine, as some of the attacking planes misjudging distance and flew into the ocean by accident. At one point, a copilot of one of the bombers was shooting at the Japs with his .45 pistol out of his window.
Despite tremendous damage "Tondelayo" was repaired. It received two new engines and a new right wing and returned to service in May of 1944.
On April 8, 1944, plane #41-30034 B-25D-5 "The Wolf Pack" was transferred from the 498th Bomb Squardron to the 500th Bomb Squadron. They kept the falcon-head nose design, but they added a white fuselage band and the Rough Raiders racehorse insignia on the tail.
In September of 1944, Lieutenant Daker was flying airplane 034 "The Wolf Pack". THey were dropping parafrags(fragmentation bombs with parachutes) on the Lembeh Straits, the secondary target. Intense anti-aircraft fire blew the doors knocked off the bottom of his right engine and blew out his tires. With no tires, he made an emergency landing on a 6,000 foot steel Marston Matfield runway on Middleburg Island. Another guy on the same run had his ailerons all shot up and crashed landed on the same island. The planes are still there today, apparently.
On January 21, 1945, Daker was piloting a B-25J-22 with eight 50-caliber nose guns near Luzon in the Philippines when he lost oil pressure to his right engine. When the right engine eventually seized, he ran the left engine wide open, but the sea slowly rose to meet his plane. Although the plane was capable of flying on one engine, something that Daker had done many times, the plane was double-loaded with 34,000 pounds of gas, oil, and ammo. Eventually, he was forced to ditch just 300 yards off one of the largest islands in the Philippine chain. He hit the ocean, tail first with his nose up, ripping the 160 gallon radio tank out of the bottom of the plane.
As the plane sank, the navigator reached up and released the top hatch above the cockpit. Then they had to wait for the pressure to equalize so they could escape. Daker had trouble releasing his seatbelt was was the third one to exit the plane.
Everyone was able to exit from the plane except for his top turret gunner and friend S/Sgt. Desire W. Chatigney, Jr. His wingman, Lt. Herman F. Reheis flew the SeaBiscuit in circles above the downed crew for 3 1/2 hours to keep the Japs from killing them.
Lieutenant Daker is returning in February 2009 to give Chatigney a proper funeral.
Daker lost #41-30034, B-25D-5 "The Wolf Pack" and #44-29586, B-25J-22.

http://www.collingsfoundation.org/cf_news_08-08-2002_B25.htm
http://www.pacificwrecks.com/aircraft/b-25/41-30669.html
http://www.hyperscale.com/features/2001/b25cddf_1.htm
http://74.125.95.132/search?q=cache:2UBR-4PeDZ0J:www.aerovintage.com/b25news.htm+B-25J-22+daker&hl=en&ct=clnk&cd=3&gl=us&client=firefox-a

Posted by Rob Kiser on January 31, 2009 at 3:54 PM
Comments
Post a comment