« The New Dollar Bill | Main | Steve Fossett's Plane Wreckage Possibly Found »
October 1, 2008
Steve Fossett's Personal Items Found
Hiker Preston Morrow said he found the Federal Aviation Administration identity card, pilot's license and a third ID and $1,005 in cash while hiking with his dog, Kona, west of the town of Mammoth Lakes Monday. Steve Fossett was last seen on the morning of September 3, 2007, when he took off from the Flying-M Ranch outside Minden, Nevada, in a Bellanca Super Decathlon tail dragger.
He filed no flight plan for the solo flight and was never seen or heard from again.
Update: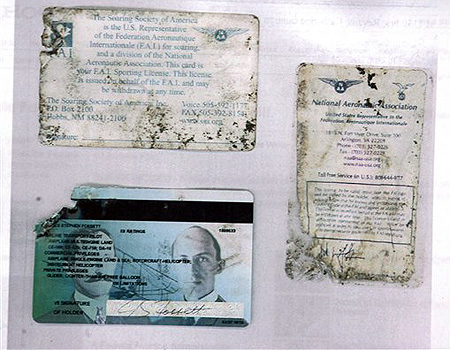 http://www.foxnews.com/story/0,2933,431605,00.html
Preston Morrow, a local ski shop owner, told FOX News that he was hiking alone with his dog near his home in Mammoth Lakes, Calif. on Monday afternoon when he stumbled across what appeared to be three identification cards containing Fossett's name that were issued by the Federal Aviation Administration in Illinois, as well as $1,005 in cash.

Morrow, 43, returned to the site on Tuesday to get a GPS reading of the site when he spotted a sweatshirt on top of a ridge

Morrow then brought the items back home to his wife, a local fire captain, Mammoth Lakes Police Chief Randy Schienle told FOX News, correcting earlier reports that she found the cards and bills.He then turned the items over to local police Wednesday after unsuccessful attempts to contact Fossett's family.

The bills were tattered and crumpled on the ground; the weather-worn sweatshirt was nearby, Morrow told FOX. Both human and animal hair were found on the sweatshirt.

"I have to admit, his name didn't pop in my head immediately," Morrow told FOX. "But I did wonder, 'gee why is there some id cards and money right around here when there is nothing else? There was no wallet, no little bag ... nothing.'"
Morrow was "on a difficult trek in the mountains off trail above Mammoth Lakes California near the area of Minaret Lake and Minaret Mine."
Here's the Minaret Mine. Here's a USGS Topo Map someone scanned in that shows Minaret Lake and the Minaret Mine.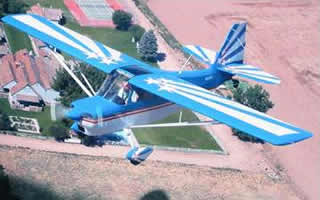 Posted by Rob Kiser on October 1, 2008 at 9:56 PM
Comments
Post a comment