« Steve Fossett's Plane Wreckage Possibly Found | Main | Steve Fossett's Plane Found »
October 2, 2008
Searching For Steve Fossett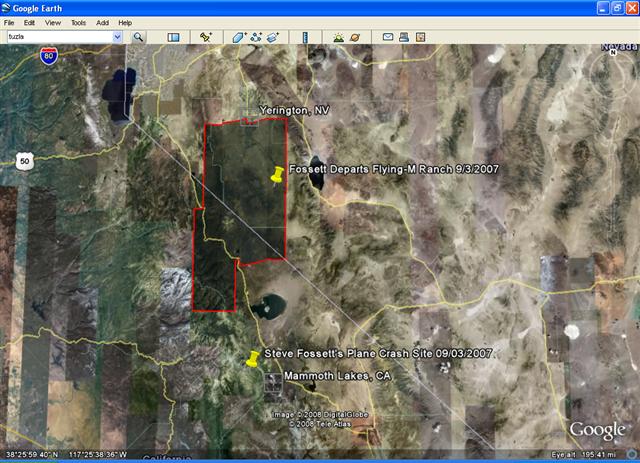 I'm searching for Steve Fossett's plane using Google Earth. I helped search for him last year using Google Earth and the Mechanical Turk. You can see the search area we focused on last year in the photo above. Obviously, he wasn't in our targeted search area.
I'm trying to search for him again now using Google Earth, but there were no dates on the images, so I couldn't even be sure they were taken after he disappeared. Then, I found this post from April of 2008:
Today Google will release Google Earth 4.3 that includes some new interesting features:

1. You can now find the exact date when a particular satellite image was captured - move the cursor over the image and the date (when that image was taken) will appear near the status bar of Google Earth.

2. Google Maps street view pictures will become available inside Google Earth 4.3.
So, I checked and of course, I had version 4.2 of Google Earth, so I upgraded to Google Earth 4.3, but now I see that the Google Earth images I have of Fossett's plane crash site are from 2005, so they're about as useless as teats on a bull.
Google Earth KMZ files:
Fossett departs from Flying M Ranch on 9/3/2007. Hours later, the Bellanca Super Decathlon (not a Citabria) tail number N240R piloted by Fossett crashes above the Minaret Mine, in California's Eastern Sierras just east of the Minaret Mountain Range, and southwest of Mammoth Lakes, California.
The latest version of Google Earth has a Ruler feature that allows you to measure distance between points in Google Earth. So, I measured and the distance from the Flying-M Ranch to the crash site is exactly 65.45 miles, as the crow flies.

Posted by Rob Kiser on October 2, 2008 at 7:02 AM
Comments
I think that it is odd that after steve died they were looking for a petit women to drive his car. Could it be that he got snookered buying that car because he could not fit in it?? Funny Would a man who was allegedly looking for a place to set a speed record have committed suicide???
Posted by: Joseph DuPOnt on September 11, 2017 at 2:58 PM
Post a comment