« Experimental Alzheimer's drug is 'astonishing' | Main | NASA Tests Lunar Rovers in Moses Lake, WA »
June 12, 2008
Mountain Bluebirds
Daddy feeding the babies.
The other egg has still not hatched yet.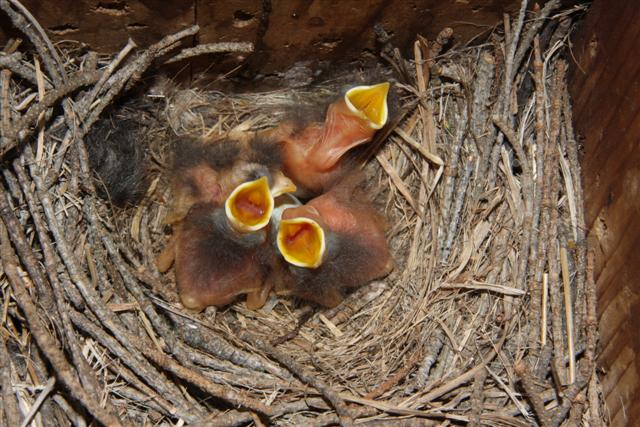 Update: I don't think the other egg will hatch. The mom lays one egg a day, and normally lays 3-5 eggs. Only after the last egg is laid does she begin to incubate them. That way, they all hatch at the same time and they all mature at roughly the same rate. The chicks look to be a few days old, so at this point, I don't think the other egg ever will hatch.
Posted by Rob Kiser on June 12, 2008 at 7:22 PM
Comments
Very cool, Rob. The bluebirds have twice stopped by our backyard for about one minute each time. One of them checked out our birdhouse briefly last year. Guess they headed up to your place instead! I'm enough of an amateur birder to get a big kick out of seeing a bluebird.
Posted by: The Chick Voice on June 12, 2008 at 10:25 PM
Chick V,
Now that I've been spending more time studying the bluebirds, I noticed that some of the bluebirds were more blue than the other bluebirds. A virulent color of blue, if you will. So, I grabbed my favorite bird book (The Guide To Colorado Birds by Mary Taylor Gray) and discovered that there are actually two types of bluebirds here in the foothills - the Western Bluebird and the Mountain Bluebird. They're different in that the male Mountain Bluebird lacks the rusty-red patches on the breast and back of the other male Bluebirds(both Eastern and Western). Also, the Mountain Bluebird hovers like a helicopter when hunting for insects in open fields. I'll try to get some better shots of the birds this evening now that the winds have died down.
Posted by: Rob Kiser on June 13, 2008 at 11:37 AM
Post a comment