« Unearthed Parachute Not Used By D. B. Cooper | Main | It takes a village to take a village »
April 1, 2008
Connecting Laptop Drive to Desktop Computer
I ordered a part off of eBay that supposedly allows a desktop 3 1/2" drive (with 40 pin IDE controller) to access data on a 2 1/2" laptop drive (44 pin). So, I get this little circuit board about the size of a pack of chewing gum in an envelope in my mailbox today and I'm like....hummm. Directions would have helped, but that would take all of the guess work out of it.
First of all, I liberated the 2 1/2" drive from my laptop. There was only one screw holding it in and it slipped out fairly easily. So far so good. Now, I'm looking at the 44 pins on the back of this 2 1/2" drive. And I've got to plug them into a little 40 pin connector on my new adapter doohickey. And there's no key or anything to indicate how to hook it up. You can do it wrong. There's probably several wrong ways to hook it up. According to this site:
When you connect a laptop IDE adapter, a desktop IDE cable and a laptop hard drive to each other, make sure to connect pin 1 on the hard drive, pin 1 on the desktop IDE cable to pin 1 on the adapter. On a desktop IDE cable the side painted in red goes to pin 1.
So I'm trying to locate "Pin 1" on the back of my laptop drive. Finally I find this website: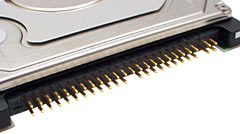 The layout of the 44-pin connector is actually the same as it is for the bigger 40-pin IDE connector. Looking at it like this, pin 1 is at the top right of the main block of pins (the four separate ones are "vendor specific" and need not concern us here). Pin 2 is below pin 1, pin 3 is to the left of pin 1, pin 4 is to the left of pin 2, and so on. So, as with regular 3.5 inch drives, the striped wire of the cable goes to the right, if you're looking at the drive right way up and from behind.

Check Your Work addendum: The missing "key" pin is number 20.
OK. So, this helps. I've located the elusive Pin 1, in any event. Now, I can kind of see how things are supposed to go. Pin 20 is missing on both the 40 pin and the 44 pin side. So, that helps me line things up. They're both missing pin 20 and now I see how they fit and I connect the adapter card to the back of the laptop 2 1/2" 44 pin drive. 4 pins are not connected. Their loss.
Now, I have top open my desktop and hook up a power cable to my adapter card and hook the 40 pin cable into the back of the adapter card. If I'm lucky, then Pin 1 will be painted red on the IDE cable in the desktop.
I hooked up two different laptop drives to two different desktop computers and wasn't able to access any data. I'm giving up for the night.
Continued...
I started searching for laptop drives on eBay thinking that, I'll get a known good hard drive and connect that to my desktop. Then, if I can't access it, I'll have some idea that there's a problem with my laptop adapter/desktop setup. But, as I'm searching on eBay, I see that most of the drives for sale on eBay are SATA laptop drives. I think that my laptop drives are IDE, but I decide to verify.
The laptop drives I'm dealing with are the following:
Fujitsu MHM2100AT - 10GB 4200 RPM 2MB BUFFER 9.5 MM IDE/ATA-66 2.5INCH ULTRA SLIM LINE LAPTOP HARD DRIVE. This drive is alternately described as IDE or EIDE.
Hitachi DK23EA-40 2.5-inch ATA-5 Hard drive - 40GB - 4200rpm - 100MBps Ultra ATA/100 (ATA-6) - Ultra ATA/66 (ATA-5) - IDE/EIDE.
Now that I'm looking at these drives, I'm noticing that they have directions on them for setting jumpers just like on desktop desktop drives. Neither one of these two drives has any jumpers, but they both could have jumpers, apparently. This makes me wonder if I don't need to pay more attention to the jumper settings, or lack there of. Because these drives do not have any jumpers, that means that they are essentially configured as "Master", instead of "Slave" or "CSEL(Cable Select)".
So, now this makes me curious because when I tried to hook one of the laptop hard drives to one of my desktop computers, it gave me an unexpected message about "No Operating System Present" or some such nonsense. This makes me think that the desktop was looking for the O/S on the laptop drive and couldn't find it. So, maybe if I hooked up the laptop drive with the jumper set to "slave" it would work?
I tried hooking up both drives to my old Pentium III 600 Mhz Gateway and they did nothing. When I disconnected the Gateway's hard drive and only connected the laptop hard drives, I got the following error messages for both of them:
"Ultra66 BIOS is not installed."
"Error: ROM mapping failed."
"Operating System not found"
So, the drives are not recognized at all by the Gateway PC's disk drive controller, for whatever reason. Maybe the drives are bad, or maybe I just too dumb to know what I'm doing wrong.
Posted by Rob Kiser on April 1, 2008 at 7:20 PM
Comments
Post a comment