« Free 2D Animator Software | Main | Supreme Court Debates 2nd Amendment »
March 18, 2008
Mummified Dinosaur Discovered in North Dakota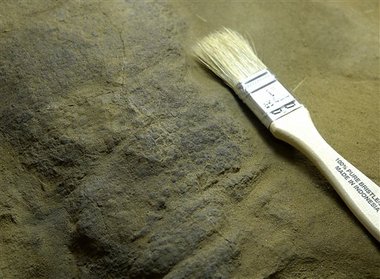 Scientists have recovered a mummified dinosaur in the badlands of North Dakota. The dinosaur, recovered from Hell Creek, is unique in that it was mummified before it was fossilized. So, basically, the entire dinosaur has been fossilized, including the skin and muscle tissue, not just bones and teeth. The dinosaur, named Dakota, is one of only 4 mummified dinosaurs ever discovered. Cat-scans of the tail section have already revealed many surprises about about the muscle and skeletal structure.
National Geograph photos of Dakota.
National Geographic videos of Dakota.
1. What is a Dino mummy?
2. Cat-Scanning the Dino mummy.
The fossil was originally discovered by Tyler Lyson on his Uncle's ranch in 1999. It was unearthed in 2004, but was only recently moved into North Dakota's state museum. Now that they have been able to do some preliminary work on the dinosaur, they have announced that the genus is Edmontosaurus. The dinosaur is a hadrosaur, also known as a duck-billed dinosaur. So far, only the genus has been identified. The species has not been identified at this point.
More details here.
Posted by Rob Kiser on March 18, 2008 at 11:55 PM
Comments
Post a comment