« Annoying IE Clicking Sound | Main | Outlook Missing BCC Field »
March 25, 2008
Has D.B. Cooper's Parachute Been Discovered?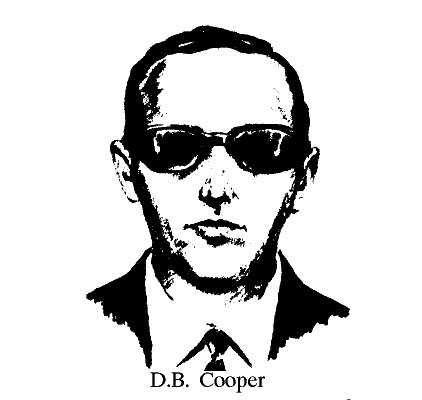 Feds check parachute for D.B. Cooper link
"The FBI in Seattle has begun analysis of a long-buried parachute - the same type used by skyjacker D.B. Cooper when he jumped from an Northwest Orient Airlines 727 with a 25 pound money bag containing $200,000 dollars ransom on Thanksgiving eve 1971.

The children of a Clark County contractor found the parachute buried in a field that their father has recently plowed for a road. The chute is white and conical shaped, dirty and deteriorated. Seattle Agent Larry Carr will clean it and search for a label, which could match the chute to a companion reserve chute left behind by Cooper in the plane.

The Clark County property owner says the plow blade unearthed something. He didn't notice it at first, but later his children, playing there, saw some cloth sticking above the earth. They pulled on it, and more cloth came out. They kept pulling, until the chute's shroud lines appeared. They cut them and notified the FBI in Seattle. Part of the chute remains buried in the field and will need to be dug out with heavy equipment.

Agent Carr showed KOIN other evidence items in his possession, including Cooper's clip-on tie and clasp, from which FBI forensics experts were able to extract the hijacker's DNA. The agency is releasing this information to the public, hoping it will produce more information about the hijacking case."

Update: This is apparently not the parachute used by Dan Cooper (a.k.a. D.B.Cooper).
Previous article on D.B. Cooper.
Technorati tags:

Delicious tags:

Folksonomy:These icons link to social bookmarking sites where readers can share web pages.

Posted by Rob Kiser on March 25, 2008 at 08:02 PM
Trackback Pings
TrackBack URL for this entry:>
http://www.peeniewallie.com/mt/mt-tb.cgi/1674
Comments
Who cares? I'll bet the FBI has spent well over $200K (of tax payer dollars) on this 37 year investigation.
What can you possibly prove? Ignorance?
Posted by: turtle power on March 26, 2008 at 12:34 PM
Well, they might could prove who did it. Might could discover his DNA, his skeleton, or they might find him living in the Bahamas. ;)
Posted by: Rob Kiser on March 27, 2008 at 03:47 AM
Post a comment