« What Caused British Airways Flight 38 (BA038) to Crash? | Main | Tom Cruise Spoof Video »
January 21, 2008
ISBN Number for Killing Strangers
Well, I finally got my ISBN number today for the book Killing Strangers. I applied for an ISBN at this website. The 13 digit ISBN number I was assigned is....(drum roll).... 978-0-615-18758-7. I generated my EAN-13 bar code symbol using this free online barcode generator.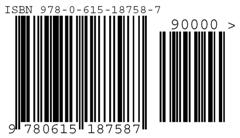 How much space should I leave on my back cover for my ISBN barcode?
Placing an ISBN on your book cover.
Posted by Rob Kiser on January 21, 2008 at 12:17 PM
Comments
Posted by: sl on January 21, 2008 at 2:51 PM
Posted by: will on January 22, 2008 at 12:35 PM
Post a comment