« Oh My God Photoshop Sucks! | Main | Fake Gifts »
October 27, 2007
FEMA - Fake Emergency Media Actors
Michelle Malkin has been covering the debacle where FEMA staged a press conference with their own employees posing as reporters. Classic.
Michelle was trying to get the FEMA logo changed to read "Fake Emergency Media Actors". Seeing as how I find myself with a lot of time on my hands, I decided to help her out. I managed to make the change by creating some circular text in Photoshop Elements 4, which was excruciatingly painful, but after about two hours of playing around, I finally got a logo that I think we can work with.
You're doing a fine job there, Brownie....errr Chertie!
If you want to create your own FEMA seal, click on the extended entry for a sample FEMA logo, a FEMA logo with the text removed, directions for creating your own circular text for the logo using Photoshop Elements, and a handy Acronym Generator.
Update: Glenn Reynolds has more.
Update 2: Michelle likes my new FEMA logos. :)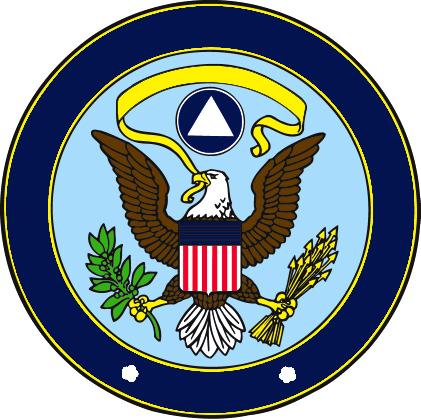 Here's a handy little Acronym Generator created by Jason Schramm. It can help you come up with some creative, alternative ideas for what FEMA really stands for.
If you want to change their latin slogan, you may find this English to Latin translator handy. I recommend translating it from Latin back into English to make sure that you get back the same results.
FEMA claims their slogan "PACE AC BELLO MERITA" translates as "Service in Peace and War", but that's not what I get when I translate it. I changed their motto to "VOS ES NON TUTUS" which translates to "YOU ARE NOT SAFE".
Directions for creating your own circular text using Photoshop Elements 4:
How to create circular text using Photoshop Elements 3 & 4:
1 Create a new square page. In this tutorial I will use a 6" x 6" page at 300ppi, colour white. Remember that the circle will be half the size of your page. View grid on, snap to grid off.
2 Select horizontal type tool, for this I chose Times New Roman at 22.5 pts. Make sure you have left alignment selected. Now start typing at the extreme left of your page. I used the word "smile" in lower case, then space and the word repeatedly until you reach the extreme right edge of your page. You can of course select the first smile; control C, space, Control V until the right edge is reached. The type should not go out side the page.
3 Now making sure the type layer is selected do Control J to create a copy, click back on the original type layer and click on the eye to close it.
4 Select the copy type layer, Go to Image – Rotate Layer 180 degrees. Right click on the type layer and click on simplify. Now press Control T and in the height box enter 250.
5 Go to Filter – Distort – Polar Co-ordinates. Make sure that Rectangular To Polar is selected then click OK.
6 And there is your circular text.
If you can't quite follow the 6 steps above, then click on this
Video Tutorial link for putting text in a circle for PSE 3 & 4. It covers it a lot more clearly, showing it all in a clever little step by step presentation.
http://www.photoshopelementsuser.com/forum/showthread.php?t=8754
Technorati tags: FEMA Fake Emergency Media Actors PACE AC BELLO MERITA VOS ES NON TUTUS

Delicious tags: FEMA Fake Emergency Media Actors PACE AC BELLO MERITA VOS ES NON TUTUS

Folksonomy:These icons link to social bookmarking sites where readers can share web pages.

Posted by Rob Kiser on October 27, 2007 at 10:08 PM
Trackback Pings
TrackBack URL for this entry:>
http://www.peeniewallie.com/mt/mt-tb.cgi/1448
Comments
This is a snap in ULead PhotoImpact. Just type the text, bring up the text path tool, and select the half-circle option. Size to suit and you're there.
See my creation at: http://i20.tinypic.com/4u6wrm.jpg
Posted by: BaldSpot on October 28, 2007 at 04:01 PM
Post a comment