« Run Fred, Run! | Main | For The Birds.....(Pixar) »
September 7, 2007
The Best Pencil Sharpener On Earth
Jennifer needed a new pencil sharpener, so we searched for a little bit and found this gem. The Boston Ranger 55 Wall Mounted Pencil Sharpener.
The Ranger 55 is Boston's finest manual pencil sharpener. Built with strong double-bearing, all-metal construction, this sharpener handles the heaviest workloads.

The new adjustable pencil guide now sharpens a wider selection of pencils. An extra-large hinged swivel receptacle and twin steel cutters with 30 cutting edges makes the Ranger 55 ideal for all heavy-duty use.

Built of steel, and weighing a rugged 1.68 pounds, it's practically indestructible. Wall mount. Made in the USA since 1947.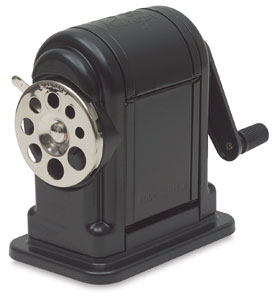 Posted by Rob Kiser on September 7, 2007 at 8:25 AM
Comments
similar to the one we have had since the beginning of time. Feel sure it will last at least as long as you do. There is not much that is more satisfying than a pencil with a good point.
Posted by: sl on September 7, 2007 at 6:21 PM
Yeah, that's what I remember. We had that nice one out in the laundry room, and it was the best one I've ever used. So, I was looking around for one simular, and found this beast.
Posted by: Rob Kiser on September 7, 2007 at 9:00 PM
Post a comment